Talking about pictures is a great way to speak Spanish with children. The activities in Learn Spanish with Pictures are ordered to help children master the vocabulary and gain confidence with the language. Start with Describe the photo (1), and be sure to point to the objects in the picture as you talk about them.  When your child understands the key words, ask questions from Choose the answer (2) and Pointing and counting (3). Ask the questions in Yes and No (4) to practice more of the vocabulary used in the description. If your child is comfortable enough with the Spanish words to produce them easily, include the questions in Say a little more (5). You will find a list of the words used in the description and questions in Vocabulary (6). Read more about Learn Spanish with Pictures here.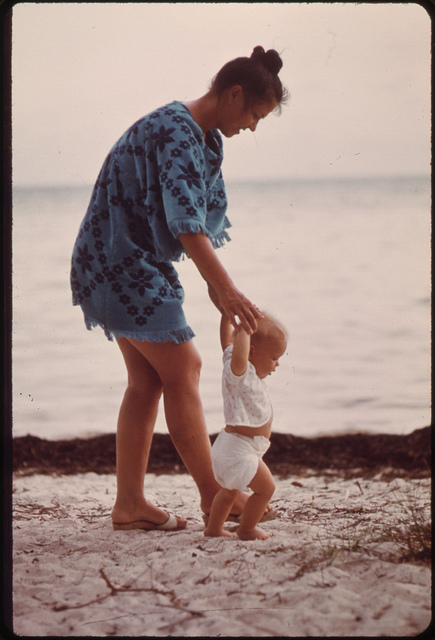 1. Describir la foto – Describe the photo
Una mamá y su bebé están en la playa. Caminan en la arena. Se puede ver el mar detrás de ellos. El bebé es pequeño. Aprende a caminar. La mamá lo toma de las manos para ayudarlo a caminar. La mamá lleva un vestido azul y sandalias blancas. El bebé lleva una camiseta blanca y un pañal. No lleva zapatos. Están contentos.
2. Seleccionar la respuesta – Choose the answer
¿Es la mamá o el bebé? (point at one of them)
¿El bebé camina en el mar o en la arena?
¿La mamá lleva un vestido rojo o un vestido azul?
3. Señalar con el dedo – Pointing and counting
¿Cuántas personas hay en la foto?
¿Dónde está el mar?
¿Puedes ver las sandalias de la mamá? ¿Dónde están?
¿Dónde están las manos de la mamá?
4. Sí o no – Yes or No
¿El bebé aprende a caminar?
¿La mamá ayuda al bebé?
¿El bebé lleva una camiseta azul?
5. Decir un poco más – Say a little more  (respuestas/answers)
¿Dónde están las personas en esta foto? (Están en la playa.)
¿De qué color es el vestido de la mamá? (El vestido es azul.)
¿Cómo se sienten la mamá y el bebé? (Están contentos.)
6. Vocabulario – Vocabulary
la mamá – mom
el bebé – baby
la playa – beach
la arena – sand
el mar – sea
detrás de – behind
pequeño – small
aprender – to learn
caminar – to walk
la mano – hand
ayudar – help
la camisa – shirt
azul – blue
las sandalias – sandals
blanco – white
la camiseta – t-shirt
el pañal – diaper
los zapatos – shoes
contento – happy