I am fascinated by the traditional games children play in Mexico, Peru and Nicaragua. My children learned many traditional Mexican games growing up, and the more I learn about traditional Spanish games for kids, the better I understand what a tremendous resource they are for language learners.
Traditional games in Spanish teach culture as well as language. Many traditional Latin American games have rhymes and songs that kids memorize and recite as they play. In addition, traditional playground games in Spanish are active, and we know movement enhances language learning.
I use many traditional Spanish games in my classes. At times, I adapt them for my students, but many we play just as children play them across the Spanish-speaking world. Wikipedia also has a collection of traditional games in Spanish to use with advanced or native speakers.
Favorite Traditional Spanish Games
These 12 Traditional Games in Spanish are some of our favorites. This is because they all have a significant language component that makes them especially valuable to play in Spanish class.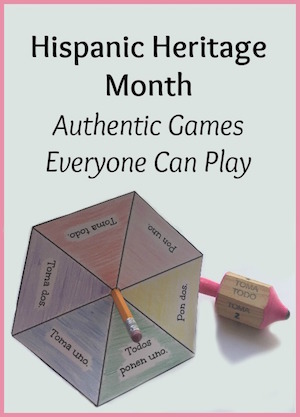 These Hispanic Heritage Month Games, on the other hand, are ones all kids can play. You'll find versions of the traditional lotería, or bingo, and other games kids can play without speaking much Spanish. Try them for occasions and events when you want to share culture through Latin American games or games from Spain.
Traditional Spanish Games with Rhymes and Songs
Many traditional Spanish games have rhymes and songs. Children chant or sing them as they play, internalizing structures and vocabulary.
Hand Clapping Games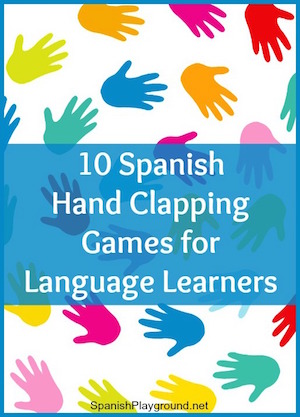 There are dozens of traditional hand clapping games in Spanish. Some are easy, based on a single word, while others are complicated with elaborate rhythms and more advanced language.
Check out 10 Spanish Hand Clapping Games for Language Learners for traditional games that work well in the classroom.
Traditional Spanish Choosing Rhymes for Games
Choosing rhymes are used to start games or choose between two things. In Spanish, these rhymes are called retahilas, and children also recite them for fun.
Check out Spanish Choosing Rhymes For Learning Language to find a variety of choosing rhymes and a printable page to download.
Rock Paper Scissors in Spanish is another traditional choosing rhyme you can do with language learners. Piedra papel y tijera is a fun brain break by itself or a good way to determine who will begin an activity.
Traditional Spanish Jump Rope Rhymes
Movement enhances language learning and also keeps our kids strong and healthy. Jumping rope and reciting rhymes is a fun way to learn language, and there are Spanish jump rope rhymes for kids of all language levels.
See our favorites Spanish Jump Rope Rhymes to use with language learners.
Veo, Veo Game
Veo, veo is the Spanish equivalent of I Spy, and there is a fun song and rhyme to go with the game. Like quite a few traditional Spanish games, Veo, veo involves guessing and categories, so it is an excellent way to practice language skills.
You can find instructions for playing the game, the song and rhyme, books and printable versions of the game here: Veo Veo Song and Activities
¿Quién robó el pan?
¿Quién robó el pan? is a fun traditional game with a chant and rhythm. Kids catch on quickly and they love it! Spanish Game for Small or Large Groups: ¿Quién robó pan?
Juguemos en el bosque
Juguemos en el bosque is a traditional Spanish game that teaches clothes vocabulary and other language. It is a version of tag, where one player is a wolf who chases the kids playing in the forest. You can read about the traditional way of playing, as a playground game, here: Fun Game Reinforces Spanish Clothes Vocabulary
Fun for Spanish Teachers also has an article about Juguemos en el bosque with an version using a felt wolf to play indoors.
Traditional Spanish Number Game A Pares y Nones
A pares y nones is a traditional Spanish game often played with groups of kids in Mexico. Everyone walks in a circle singing and when the teacher calls out a number, the kids hurry to form groups with that number of people. Check out Spanish Number Game A Pares y Nones to hear the traditional song and see videos.
Traditional Mexican Game La Pirinola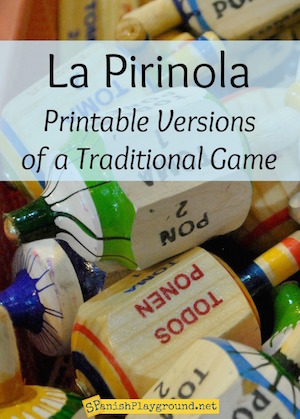 Toma Todo Game: La Pirinola uses a wooden top, but you can also play with spinners. Find a history of the game, instructions and printable versions in the post.
Traditional Mexican Game Lotería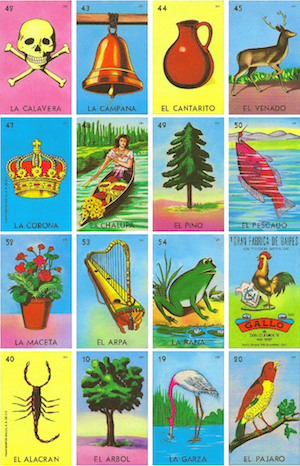 Lotería, or bingo in Spanish, is a traditional Mexican game that you can adapt for different vocabulary. You can print the traditional Mexican lotería cards here, or use versions for Spanish learners like the one in this post with Spanish body parts vocabulary or this Valentine bingo game in Spanish.
Traditional Spanish Paper and Pencil Games
Basta
Basta is a traditional category game with many names in Spanish. Children call it Tutti frutti, ¡Mercadito!, Stop, Lápiz quieto, Animales con E, Alto el fuego, or Ensalada rusa, depending on the country. Whatever the name, it is great fun and an excellent traditional Spanish game to share with language learners.
Read more about Basta Game for Spanish Vocabulary Practice and get printable game boards for language learners.
Comecocos
You make a comecocos or sacapiojos game by folding paper and adding questions. In English, we call them cootie catchers or fortune tellers.  Check out several Printable Spanish Cootie Catchers and this summer Spanish Fortune Teller for Language Learners.
Tripas de gato
Tripas de gato is a paper and pencil game where kids create mazes. See the instructions and printable versions to teach numbers and vocabulary here: Printable Spanish Game: Tripas de Gato.
Tres en Raya
Tic tac toe is a traditional paper and pencil game that children play in Latin America and throughout the world. It is tres en raya in Spanish and is a game even young children can play. Check out suggestions for teaching vocabulary with tres en raya and phrases for playing in Spanish at Spanish Games for Kids: Learn Vocabulary with Tic Tac Toe.
Traditional Nicaraguan Game El Repollo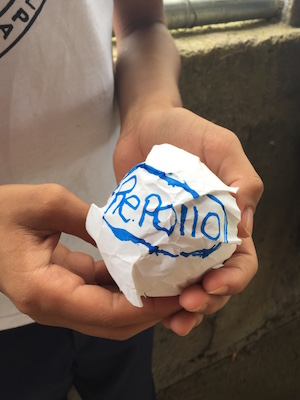 El repollo is a traditional game I learned from students in Nicaragua. It is a version of hot potato with questions on paper that you form into a ball like cabbage. It's very fun and can be adapted to any content. Spanish Question Game: El Repollo
There are many other traditional Spanish games to play with language learners. We'll continue to add to this list as we play with our students. Please share your favorite games in the comments below.