La pirinola, or the toma todo game, is a traditional Mexican six-sided top. In some countries, the game is known as perinola. My kids grew up playing the toma todo game, and now I play with my students.
The toma todo game is hands-on learning that engages children with Spanish. Kids take turns spinning the pirinola, a wooden top with instructions on each side. As they play, they read and say simple sentences with the verbs pon, toma, and ponen. The focused language, repetition, and cultural component make this an excellent game for Spanish learners.
Be sure to check our complete collection of traditional Spanish games for kids.  You'll find our favorite games for language learners, with everything from playground games to board games.
Toma Todo Game History
Children and adults play with the pirinola, or perinola throughout Latin America. The toy is a spinning top with a history dating back to ancient Rome. Very similar to the dreidel, the traditional wood pirinola is a "put and take" game.
I get wooden tops in Mexico, but they are available in many Latino markets in the U.S. too. You can also purchase plastic tops or make your own out of card stock. There is a link to a pattern for a printable pirinola below, as well as a toma todo spinner.
You can also order pirinolas from Amazon.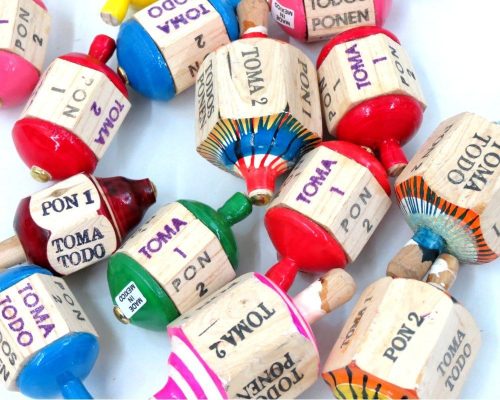 How to Play Toma Todo Game with a Pirinola
The toma todo game can be played with two or more players. Each player needs about ten tokens. We use beans, and children sometimes play with candy, but any small object will work.
Everyone puts one token into the center to start, Then one player spins the pirinola. When the top falls, she follows the instructions on the side facing up.
These are the traditional instructions in the pirinola:
Toma uno. – Take one (token from the pile).
Toma dos. – Take two (tokens from the pile).
Toma todo. – Take it all (the whole pile).
Pon uno. – Put one (in the pile).
Pon dos. – Put two (in the pile).
Todos ponen. – Everyone puts a token in the pile.
When toma todo comes up, in order to continue, everyone must put one token in the pile. Play continues until one person has all the tokens.
How to Make a Pirinola
You can also make a pirinola out of cardboard and a pencil using this printable toma todo game. You can cut the pattern down to a smaller size and use a shorter pencil if you like.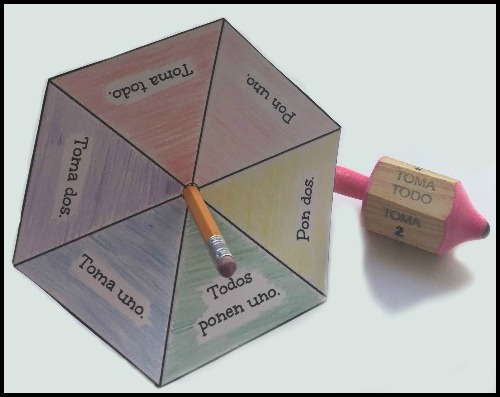 There are more printable six-sided tops online, and you can write on the pirinola phrases. I like the patterns by for spinning paper tops from AHC Arts and Crafts. Scroll down their page for black and white and color templates with instructions. They have lots of other fun paper toys on that page too.
Toma Todo Spinner
Another way to play the toma todo game is with a toma todo spinner. This is not the traditional toy, but the spinner does familiarize kids with the game and language. It is an economical option if you have a large class.
This is my printable toma todo spinner. The PDF has two black and white spinners, so kids can color the sections different colors. Color pencil works well so they can still read the words.
The easiest way to make a spinner is to put a paper clip around a brad or a paper clip around the point of a pencil and flick the paper clip. You can also attach an arrow with a brad.
More Useful Phrases for the Toma Todo Game
Te toca a ti. – It's your turn.
Me toca a mí.- It's my turn.
¡Qué bien! – Great!
¡Ay, no! – Oh, no!