Many tener expressions are common, everyday vocabulary, and my students learn the high-frequency vocabulary early. We use these phrases all the time! I made this tener expressions game for my youngest students to take home and play with their families.
This tener expressions game is a fun way to involve parents, and it gives focused practice with four basic phrases. It is also good counting practice.  Of course, we play in class before I send it home.
These are the tener expressions and pictures in the game. This key is at the top of the board.

As we play the game in class, I use related vocabulary. See suggestions below for adding questions such as ¿Qué vas a comer? ¿Qué vas a beber? ¿De qué tienes miedo? ¿Dónde vas a dormir?
The Verb Tener
This game works well for my classes because I teach tener in context right away. That is because it is so necessary! In fact, it is one of the "super seven" Spanish verbs. In other words, it is expresses a concept (possession) central to a large percentage of communication.
My students learn tengo and tienes through all kinds of activities. For example, you can see how my youngest students use tengo in this Spanish poem about fall to act out. It's perfect for preschoolers and they learn tengo and no tengo.
I play the card game Uno to practice tengo (and colors and numbers) with my older students. My students have to use a full sentence with tener (Tengo un tres rojo. No tengo una carta verde, No tengo un dos. etc) each time they play a card or draw. If they forget, they have to draw an extra card.
Tener expressions fit in with learning the verb in general, and we learn the expressions in different contexts. For example, the song Los pollitos introduces kids to tener frío and tener hambre. I also teach tener hambre and tener sed when we talk about food.
Playing the Tener Expressions Game
This tener expressions game is a basic board game played with one die. Players roll the die, count and move that number of places. Then, they say the word or phrase that corresponds to the picture on the space. ¡Tengo hambre! I make sure they say it with expression because it is more fun.
I've had good luck with this kind of game with preschoolers and kindergartners. They are happy to shout out the answer and seeing who finishes first usually provides enough excitement.
For older children who are beginner learners, you can make the game more interesting by adding to the board. For example, you can add a red outline to some of the spaces and if players land there, they have to go back two squares. You can also designate a couple of squares "return to start." You can draw in shortcuts, too, giving players an advantage when they land on a square and can cut across the board.
If players have the vocabulary, you can also designate some of the squares as question squares. When players land on those squares, they have to answer a related question. For example, ¿Qué vas a comer? ¿Qué vas a beber? ¿De qué tienes miedo? ¿Dónde vas a dormir?
You can also add "answer" cards to this game, so you can ask the questions with students who can't produce the language spontaneously. I make a set of cards with food, drink, scary (and not scary) things and places that you can sleep – all familiar vocabulary. I put words and pictures on the cards, and students draw the card to answer the question. This is a good way to practice the Voy a + infinitive structure as they answer Voy a comer/beber/dormir.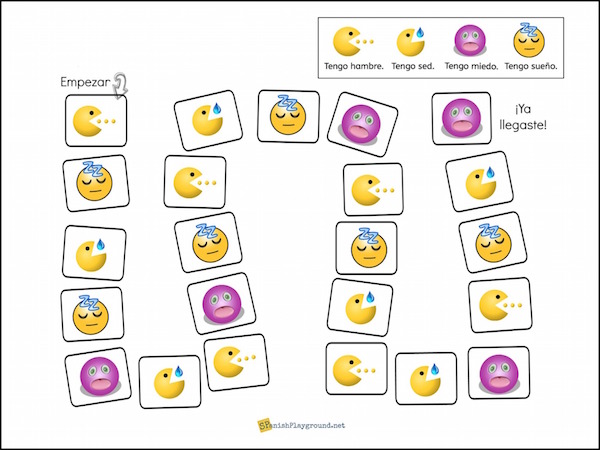 Tener Expressions Game Download
Download the tener expressions game for kids.
Games are a fun way to practice language in class, and they also make a good home connection. Parents can play this tener expressions game with their young Spanish learners.  It's a great way for them to show support and enthusiasm for learning Spanish.