There are tremendous advantages to being bilingual. So, it's up to us, parents and teachers, to provide children the opportunity to learn a second language. If you want to teach kids Spanish, we are here to help!
Here, you'll find information about how to teach kids Spanish, either as a parent or an educator. You'll also find resources to make the job easier.
Everything on Spanish Playground is to teach kids Spanish, so explore a little.  If you're looking for specific activities, use the top menu to find free Spanish printables, songs, videos, books and games.
Reasons to Teach Kids Spanish
Not sure about where a language learning adventure could lead? Or do you know someone who needs a nudge to take the plunge? You're in the right place to start to teach kids Spanish.
First, check out these 7 Things That Might Happen If Your Child Learns Spanish and then take a look at the 10 Worst Reasons for Not Teaching Your Child Spanish.
Also, consider these 9 Hidden Advantages of Being Bilingual in our competitive academic system. And if someone questions your choices, here are some clever answer to Why Are You Teaching Your Children Spanish?.
If you're looking for recent research to back up the advantages of language learning, read Top Language News Stories. In addition, the British Council has a general article about how young children best learn languages.
How to Teach Your Child Spanish
Wanting to teach kids Spanish and knowing how to get started are very different. It is easier said than done! Don't worry though. Teaching your child Spanish takes time and effort, but it is certainly possible and well worth the effort.
Getting Started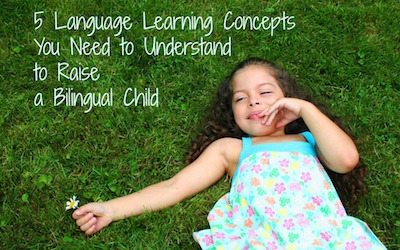 First, read about these 5 Language Learning Concepts You Need to Understand to Raise a Bilingual Child.
Next, if you are ready to get started right away, read 5 Surprisingly Simple Ways to Teach Your Child Spanish.
How to Make Teaching Kids Spanish Work
If you're already teach kids Spanish, you know that the process is demanding. To take stock and plan ahead, ask yourself these 15 Questions to Prepare for a Year of Spanish Learning.
Also, read about tapping into your super powers in Raising Bilingual Kids: Printable Superhero Posters and be sure to check out  Teaching Kids Spanish: Reminders for the Hard Days.


Working with Spanish Teachers
If your child has the good fortune to be part of a Spanish program, check out 10 Things Spanish Teachers Want Parents to Know. Also, read about Supporting Spanish Learners: Dos and Don'ts for Parents.
In addition, as they teach kids Spanish, both parents and teachers should keep in mind these 5 Attitudes to Model for Spanish Learners.
Resources to Teach Kids Spanish At Home
You will need a plan and support as you raise a bilingual child. My favorite guide is by Adam Beck, and you can read about it here: Raising Bilingual Children: How To Succeed
For specific resources, we have packed Spanish Playground with videos, songs, readings and games for teaching kids Spanish. See the top menu and also check out these ideas to get started.
First, print this list of phrases: 61 Common Spanish Phrases to Use With Kids: A Printable List
Next, check out Montessori Treasure Baskets for Language Learning for little ones, or 5 Creative Ways to Learn Spanish on Your Phone.
Making Spanish part of everyday play is important, so take a look at Play in Spanish, a vocabulary resource for parents and teachers. Also read 5 Tips for Enhancing Language Development through Conversation.
These 21 Ideas for Adding Spanish to Bedtime will give you additional ideas for making language learning part of your daily routine.
If religion is a part of your family or school life it can be a valuable source of language for children. These Spanish Prayers for Kids at Mealtime and Bedtime can be part of a daily routine.
Homeschool Spanish
If you homeschool, you'll find many free activities for your Spanish lessons on Spanish Playground. In addition, Spanish at Home: Strategies and Lesson Plan Template will help you structure learning.
If you are working with several children, Homeschooling Spanish for Multiple Children has suggestions for making working with different ages at once.
Teaching Spanish to Preschoolers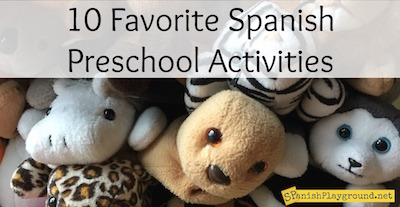 Preschool is an fabulous time to begin teaching Spanish to children. 10 key components of a preschool Spanish lesson will give you insight into how little ones learn. Also check out our 10 Favorite Spanish Preschool Activities.
Our favorite app for preschoolers is the Canticos Spanish app for kids, a completely bilingual resources with award-winning videos, songs, books and games. The app is a fabulous way to get your preschooler learning Spanish and a wonderful resource for teachers to recommend to parents.
Spanish Curriculum for Kids
If you are an educator or home school your children, you may be looking for a Spanish curriculum. Read our Spanish curriculum reviews here.
Also read this article on Comprehensible Input: Essential CI Tools for more information on creating communicative, comprehensible classroom.
Teaching Spanish to Elementary Students
Teaching Spanish to elementary students requires lots of input, so Spanish Playground has many free activities to use in your classes. Check out the top menu for specific materials.
In addition, read 5 Things You're Not Doing Enough With Spanish Learners and Spanish Listening Activities You're Not Doing (But Should Be) for great ideas on how to engage kids more actively with language.
These 7 Elementary Spanish Blogs You Should Know About also have strategies and materials to teach Spanish to kids.
Spanish learners come from many different backgrounds, and it is important to support all their language skills. Read 5 Ways Teachers Can Support a Home Language for ideas on how to build on home language and culture.
The number of terms in language education can be intimidating, so this download of Language Education Terms: A Glossary comes in handy for parents or teachers who have not taken a traditional path to the classroom.
Finally, for a fun look at Spanish from a different perspective, check out 10 Life Lessons Learned from Spanish Grammar.
Teaching Spanish to children, as a parent or as a teacher, is a joy. It is an invitation to open minds and to play along as they learn. Enjoy every minute of the process, and let us know how we can help!