Speech bubble photos are a fun and effective way to encourage students to speak or write in Spanish. They also make good reading practice when you create dialog for the bubbles.
I have used comic strips for years, but now that it is easy to edit a photo and project it, speech bubble photos are one of my favorite prompts for speaking and writing.
The photos provide a context for language, and you can create bubble photos for any theme. Photos can be beautiful, funny or moving, so use interesting photos to engage your students.
Activities with photos and dialog can also be adapted to any level. For example, the language can range from single word or short sentences to longer, creative responses where characters in a photo respond to each other.
If you enjoy using speech bubble photos, you may also want to use comic strips in class. Make Beliefs Comix has a comic strip generator and many blank templates. It's a great resource!
You can download the full size version of any of the photos in this post. Just click on the photo, then right click and choose "save image as."
Speech bubble photos can be used in dozens of ways. The same photo can be used at different levels, so adapt these ideas to your students.
Keep in mind, speech bubbles communicate direct speech. Be sure to have students do the dialog aloud and use voices for the characters, if it is appropriate.
How to Use Speech Bubble Photos in Class
Practice personal information by asking questions like ¿Cómo te llamas? ¿Cuántos años tienes? and ¿De dónde eres? in bubbles. You can write in one part of the conversation and have students complete the response.
Use speech bubble photos to practice greetings, polite expressions and kind words.
You can personalize activities by using photos of your students or staff at your school. I don't post photos of my students on Spanish Playground, but I have used their photos in class. They love it!
Give students dialog for a photo with 2 characters and have them decide who is saying what.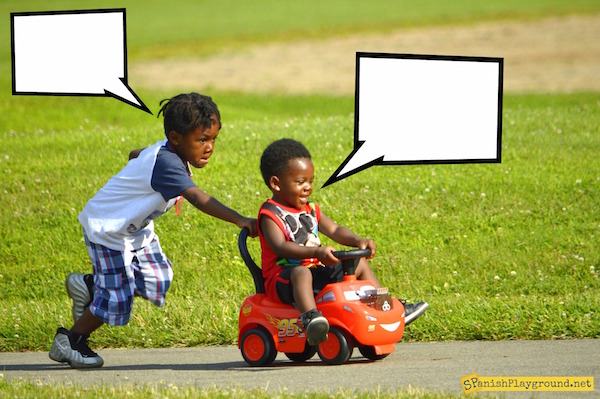 Put partial text into a speech bubble and let students complete the sentence.
Have students create a dialog using words you give them in a word bank.
Show several photos and have students match speech bubbles to the pictures.
Use speech bubble photos to practice theme vocabulary by having students create dialog commenting on details in the photo.  For example, for the photo below students came up with Mi pelo es largo. Mi pelo es largo también.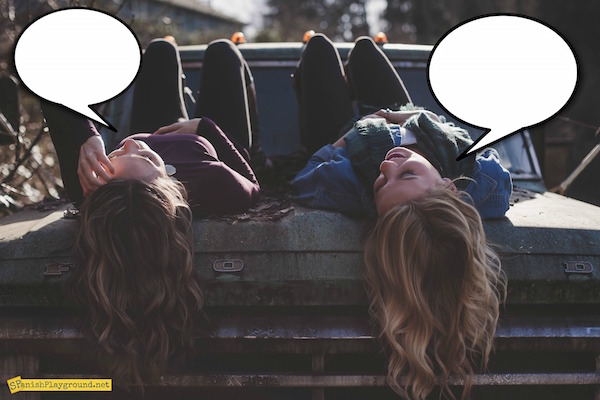 Use speech bubbles to practice information questions based on the photo. For the photo below, students came up with sentences like ¿Dónde están los zapatos? and ¿Qué tienes en la mano?
Use speech bubble photos to review the story line of a video or book. You can do this by putting a line from the video or story in one bubble. For example, I teach the video series Buena Gente. I use speech bubble photos to review before we start a new episode. You can learn more about the Spanish video series Buena Gente here.
Students can also create original responses for a character in a video or story. Again, I put a line from the video or story in one bubble. For example, I do this to discuss the characters in Buena Gente Spanish learning video series. It is also a fun way to give students the opportunity to give creative responses.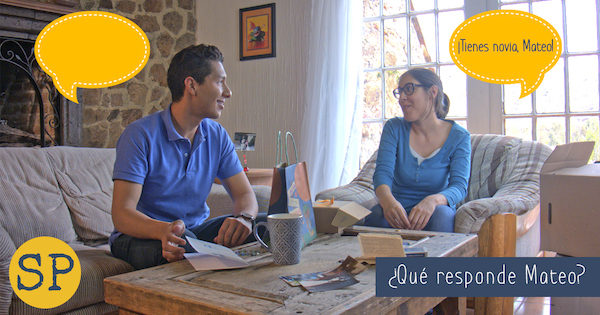 Explain the difference between speech and thought bubbles and show photos with both kinds of bubbles. Then, talk about them and create text to practice the verbs decir and pensar. With younger kids, this is a good way to talk about they can think things that they don't say out loud.
Speech bubble photos also make good writing prompts. The responses are short and even reluctant writers want to participate. You can have students write on paper speech bubble shapes.
More Speech Bubble Photos
Here are a few more photos to use if you like.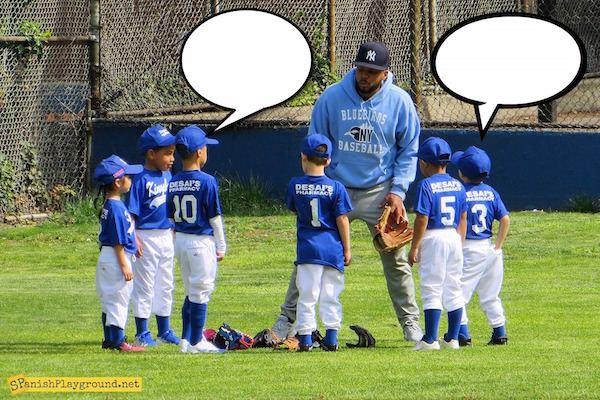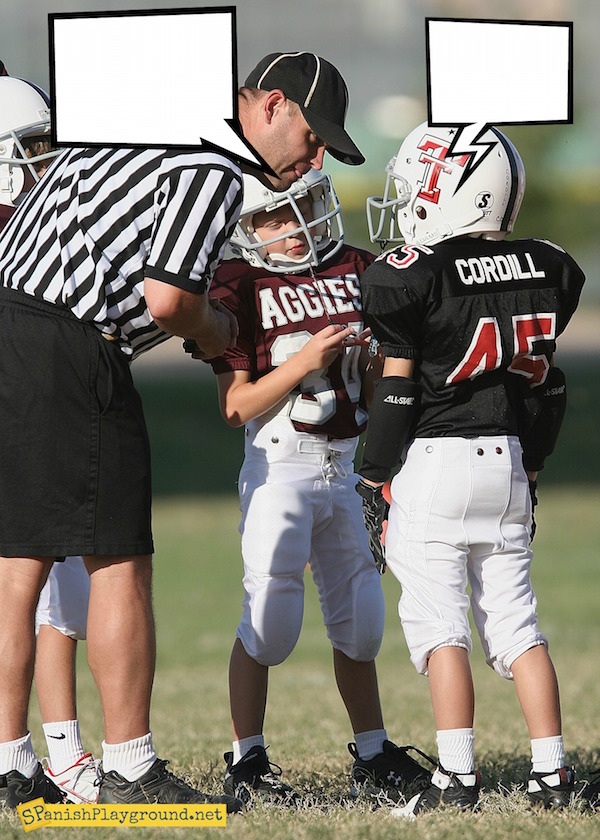 Speech and thought bubbles aren't just for photos of course, but that is one of my favorite ways to use them. How do you use speech bubbles in class? I would love to hear your ideas!