This is part of a series of posts featuring multicultural bloggers who are raising their children speaking Spanish and another language. Their blogs offer valuable perspective into Spanish, kids and culture.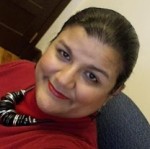 Frances is a part-time blogger, mommy and wife of a beautiful multicultural familia.  She has a Bachelor's Degree in Business Administration with a certification in Human Resources.  She blogs about  heritage, culture, bilingualism, multicultural children's books, and discovering the world through her son's eyes. You can follow her at Discovering The World Through My Son's Eyes.
¡Saludos! As a multicultural familia we're teaching our son a love for life, and different cultures. I am a Latin mom, hubby is Black American; and our son is a beautiful mixture of both! As a biracial family it is important for our child to embrace his own multicultural identity; and learn my heritage language: Spanish.
In my blog you'll find themes such as heritage, culture, children's books, mostly multicultural and in Spanish/English, and my greatest passion – bilingualism.  Teaching my child another language falls heavily on me since I'm the only Spanish-speaking person at home and where we live. I feel that planting and watching grow the heritage language seed in our son is vital to his identity and his culture. Both are so closely tied together that he can't have one without the other.
Our son is 5 yrs. old and goes to a monolingual school. However, at home I speak to him in Spanish, and Daddy speaks in English.  That's the OPOL (One parent one language method) but there have been times that I've spoken in English only to translate in Spanish.
Little one also goes to a pre-elementary Spanish immersion class that meets on Saturdays. Yes, I know once a week may not sound like a big deal, but trust me it has made a big difference in our child's language learning.  At home I supplement what he's learned in his Spanish immersion classes, we sing songs, make crafts, read books, and play games in Spanish.  I also use a lot of on-line resources such as Spanish Playground!
It is a lot of work especially when you're the sole language provider for your child, but the rewards your child will reap, will by far outweigh the sacrifices you've made.
To follow our journey, you can visit my blog at Discovering The World Through My Son's Eyes, Facebook, Pinterest, or Twitter.