We created the Spanish YouTube series Buena Gente for language learners. These Spanish videos for beginners teach everyday language in the context of a story. Below, you can download a free timeline activity and matching activity to use these fun Spanish videos for class or independent learning at home.
Videos are a great way for children to learn Spanish. Check out all our Spanish videos for kids.
Buena Gente YouTube Series
When we conceived of the Spanish YouTube series Buena Gente, we knew we wanted to create comprehensible input and also come up with an entertaining show. Below you can read about what we have in mind, and you can check out Season 1 of the Learn Spanish Video Series Buena Gente on YouTube.
Spanish Videos for Beginners
Spanish YouTube series Buena Gente is for beginners and intermediate learners. Advanced learners tap into a large selection of authentic materials, but Spanish videos for beginners are hard to find.
Structure of Buena Gente
We created the Spanish video series with short episodes and lots of repetition. Beginning language learners need to process small amounts of content at a time, and they also need the opportunity to hear important information over and over.
Language of Buena Gente
Language needs a visual reference to be comprehensible input. The language in Buena Gente is concrete, and supported by objects, pictures and gestures. There is also plenty of practice with the Super 7 verbs in Spanish.
Support for Spanish YouTube Series Buena Gente
Subtitles
Independent learners and teachers can turn on subtitles for the Buena Gente videos if they choose. There are also complete transcripts with translations into English available on Spanish Playground.
Vocabulary Video
There is also a separate vocabulary video for Buena Gente that presents key words with images from the series. This video is useful to introduce new words and also to review the content of the story by discussing the importance of the different objects.
Activities
We have created a variety of support materials for the Spanish YouTube series Buena Gente. Below you can download free timeline and matching activities and learn about other materials we have available.
Fun Spanish Videos for Class
In addition to creating the Spanish YouTube series Buena Gente specifically for beginning and intermediate learners, we wanted to make Spanish videos for students to watch in class.
A Problem-Driven Story
The stories in the Spanish YouTube series Buena Gente are plot-driven, using language that builds naturally from the story. For years I taught from textbooks that came with artificial, stilted videos. They were so bad, I never used them.
Now, with the opportunity to create our own stories, we started with a good story. In each season, a series of events drives the story line, and the language arises naturally from the narrative.
Likable Characters
As the title suggests, the characters in Buena Gente, are basically nice people.They face normal frustrations, but the interest is generated by the plot, not by diabolical characters.
The characters in the Spanish YouTube series Buena Gente are goodhearted young people, doing their best, much like our students. Let's face it, students get plenty of sensational video out of class. For language learning purposes, normal life provides enough drama!
Considerations for a Video-Literate Generation
When we consider Spanish videos for students, we have to realize that today's young people are sophisticated viewers. Therefore, we have to ask ourselves how to create video that will intrigue our audience.
For example, are animated Spanish videos for middle school students effective? Young people of this age often object to to the simplicity and color of animated drawings. At some point, form works against the content we are trying to teach. It is distracting and takes away from language learning.
Or, can Spanish videos for high school students hold their interest with one camera angle? Good camera work supports language learning by reinforcing meaning. In other words, it focuses a viewer's attention much the way a good teacher does. It also makes a more visually interesting video and keeps students engaged.
Even young language learners have a clear sense of video quality and high standards. Spanish videos for elementary students are more effective if they respect the viewing experience kids bring to the task.
100% Class-Friendly
A Spanish class video series has to be appropriate in every way. That means no inappropriate topics, scenes or language. So, does that make the Spanish YouTube series Buena Gente boring? Not at all, because we tell a good story and write the episodes with language that students can actually use (as opposed to less appropriate language).
Culture in Context
We film the Spanish YouTube series Buena Gente in Guanajuato, Mexico. In addition to the setting, we deliberately include cultural components in the story. We think it is important for Spanish videos for students to communicate culture as well as language. From food and games to places and sayings we build Mexican culture into the content.
Of course, the cultural components really have to fit. The director, actors and crew are Mexican and we all continually ask each other "Would you say it this way?" "Would you do it this way?." Our goal is typical, but never stereotypical. Authentic, but never artificial.
Buena Gente Spanish YouTube Series Activities
The Spanish YouTube series Buena Gente make it easy to learn. So, independent learners can watch and learn new vocabulary without doing specific exercises. In addition, teachers can use the videos in class with little or no preparation.
However, many teachers and learners want to reinforce and build on the language in the Spanish video series, so we have created some activities and will continue to make more.
Listening Activities
Matching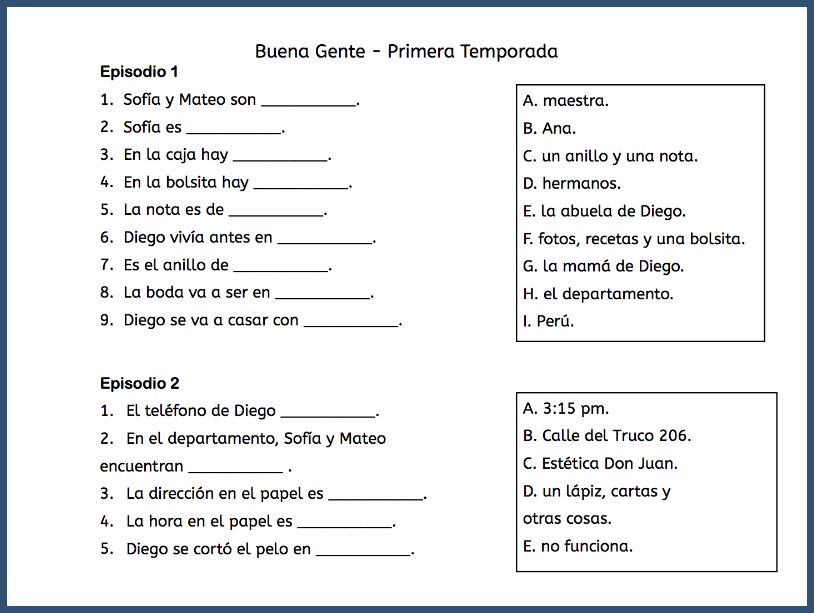 This free matching activity is a good way to review key points of the story. It reinforces a range of vocabulary for each episode and clarifies events and plot movement.
Download the Matching Activity for the Spanish Video Series Buena Gente Season 1.
Timeline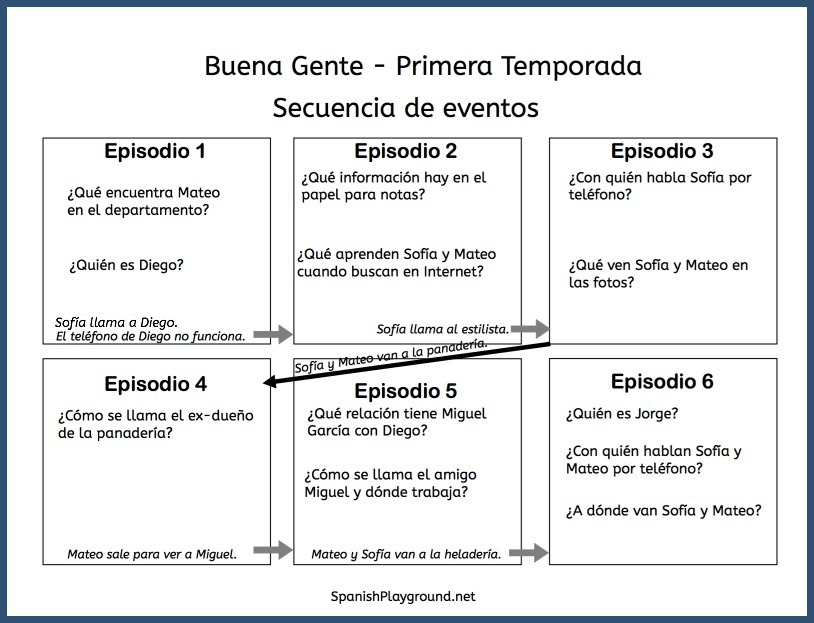 This free timeline activity is a good way for students to keep track of events and plot movement in each episode. It is a useful reference and starting point to review the action of the story. It is a good complement to the matching activity.
Download the Timeline Activity for the Video Series Buena Gente Season 1.
Listening Activities by Episode
The listening activities for the Spanish video series include cloze, multiple choice, and sequencing for each episode.
Speaking Activities
You can use photos as prompts to review information from the series or as a speaking task with original answers. Find images for all episodes with the Listening Activities bundle for episodes 1-6.
Song Activities
We have activities for the theme song Buena Gente. They include an mp3 download of the song, a cloze activity and a graphic organizer for students to complete to personalize the concepts in the song.
More YouTube Videos in Spanish
We have created other educational videos in Spanish. Although these are not a Spanish video series that tell a story, they all use language in natural context with lots of high-frequency vocabulary and visual support.
The Kids Learn Spanish Videos are YouTuber-style videos where native Spanish speakers talk about everyday objects in fun and funny ways. It's an excellent set of Spanish YouTube videos for kids.
The Spanish Words Kids Love videos combine simple sentences with beautiful images. They all have a question-answer segment in the second half to encourage young Spanish learners to produce the language. There are also printable picture cards for these videos on Spanish Playground.
We hope you enjoy the Spanish YouTube series Buena Gente. Season 2 will be available in January, 2019.