Spanish vocabulary picture cards help kids understand and learn new words. The pictures represent words so you do not have to translate, and you can use them for all kinds of games and activities.
You can find many sets of Spanish vocabulary picture cards on Spanish Playground in posts about different themes and games. Most are for vocabulary themes, like fruit or animals, but I made others for language concepts like rhyming words or opposites.
Several readers suggested collecting the cards in one place, so I have combined the different sets in the list below.
You can also check out all our Spanish vocabulary games grouped by theme.
I have linked directly to the printable PDFs of the Spanish vocabulary picture cards. Below each set of cards, I have also included links to the original posts. In the posts, you will find game and activity ideas for the specific vocabulary.
I have grouped the Spanish vocabulary picture cards with videos into a separate section. The posts about the videos have other activity ideas using the vocabulary.
Spanish Natural World Picture Cards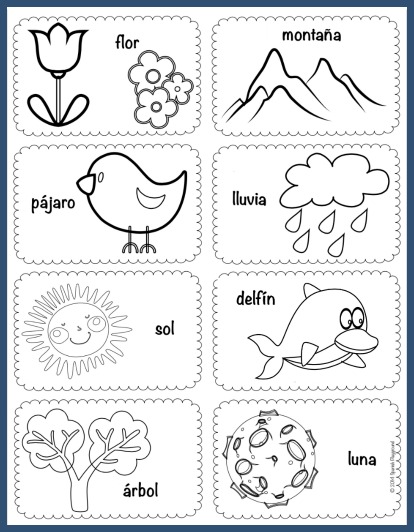 Natural world picture cards
Clapping activity with natural world vocabulary and picture cards
Spring theme picture cards
Count-and-clap board game post with spring theme picture cards
Spanish Transportation Words Picture Cards
Transportation picture cards
Spanish transportation vocabulary resources with sentences completion and other activities
Means of transportation picture cards
Transportation video and activities
Spanish Animal Picture Cards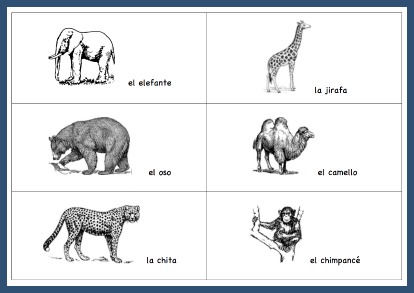 Wild animal picture cards
Activities for learning wild animal vocabulary in Spanish
Farm animal picture cards and activities In this post you will find a link to a set of black and white farm animal picture cards. An illustrator drew these cards for Spanish Playground, and they are available in a set with several different sizes for $3.00.
Spanish Food Picture Cards
Food vocabulary picture cards with NO text
Food vocabulary picture with text
General food vocabulary activities including complete the sentence, I spy and elimina el intruso
Food originally from Latin America picture cards
Infographic, video and activities with food from Latin America
Fruit picture cards
Fruit video, activities and flip book
Vegetable picture cards
Vegetable video and activities
Spanish Halloween Picture Cards
Halloween picture cards
Spanish Halloween resources and picture cards
Spanish Country Name Cards
Country names and sizes cards
Card game using country names and sizes
General vocabulary picture cards
Card game for practicing general vocabulary and size vocabulary
Spanish Clothing Picture Cards
Clothing vocabulary cards
Clothing vocabulary –  video and activities including fill-in-the vowel printable
Miscellaneous Spanish Vocabulary Cards
Picture cards of various objects
Video to learn "tiene" with various objects.
Picture cards of toys and animals in Mexican market
Video and activities for toys in Mexican market including fill-in-the-vowel printable
Flip book for the verb veo and the words on the Spanish vocabulary picture cards of toy and animals.
Spanish Vocabulary Picture Cards with Language Concepts
Alphabet picture cards
Spanish matching games with plastic eggs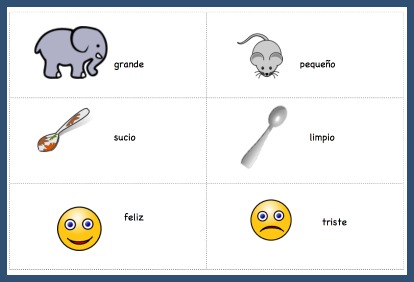 Opposites picture cards
Opposite activities including picture search and listening activities
Rhyming-word picture cards NO text
Rhyming-word picture cards with text
Activities using rhyming words in Spanish
Picture cards for making easy associations
Language practice with easy associations
Activities with Spanish Vocabulary Picture Cards
There are many ways to use Spanish vocabulary picture cards. Here are a few ideas to get you started.
1. Draw and color. Many of the cards are black and white so kids can color them.
2. Do sorting activities. For animals, for example, sort by two legs or four legs, animals that fly, swim, run, or from biggest to smallest. For any theme, sort words by number of syllables, number of letters, or gender.
3. Play hiding games. Hide the cards and search for them. Try it in a dark room with a flashlight.
4. Match the cards to stuffed toys, objects, figures or photos.
5. Cut out the pictures and use them as stick puppets.
6. Play Memory. Print two sets of pictures or match word cards to picture cards.
7. Put the cards in alphabetical order.
8. Make cards with the first letter of the words. Match the letter to the animal.
9. Have races and relays. For example, call out a word, kids race to touch the card and repeat the word.
10. Have a face-off race. Print two sets of cards. Players face each other and each lays out 5-10 cards between them in a vertical line. Each player starts at the bottom and they race toward each other saying the words.
11. Place cards in a 3-by-3 square. Play tic tac toe by placing markers on the cards.
12. Toss bean bags to try to hit the cards. Be sure to say words as you play.
13. Set out out 3-5 cards and let children study them for a moment. Have them close their eyes, take away one and ask which is missing.
14. Set out cards like the spaces in a board game. Add a salida and a meta (start and finish). Roll dice to move pieces along the path. Say the name of the card you land on. Add cards for roll again, go back two spaces, etc.
15. Do listening activities by naming items and having kids place the cards in order. Try naming three items at a time so they have to hold the words in their mind.
You will find more ideas in the posts that accompany each set of cards. What is your favorite activity to do with Spanish vocabulary picture cards? Please share in the comments below.