In general, with novice learners I teach high frequency Spanish vocabulary that is general enough to understand in a range of contexts. I also teach high frequency verbs and structures that give students the tools they need to communicate information.
In addition, I introduce vocabulary related to specific content or themes. I love images as a reference for this new vocabulary because with clear pictures I can point and I don't have to translate. Below you'll find Spanish vocabulary infographics to use with language learners.
Of course, there are lots of ways to include images for language learning. For example, I hold up pictures or draw simple objects. However, I've found that a set of related images is a great tool to support comprehensible input and stay in the target language.
In addition to making it easier for me to create comprehensible input, these sets of images provide students with support for speaking and writing tasks related to new vocabulary.
Below you'll find vocabulary infographics for common topics.  Of course, you have to present the vocabulary in context. On Spanish Playground you can find readings or activities to go with many of these images.
As you can see, I limit these sets of Spanish vocabulary to common words. Most of the images have 10 words or fewer.
Spanish Vocabulary for Spring
The spring of 2020 has difficult, but there is still plenty to celebrate and talk about with Spanish learners. We've made 4 new infographics to help you engage kids with the language of the season. You can download them all for free here: Spanish Spring Vocabulary Infographics.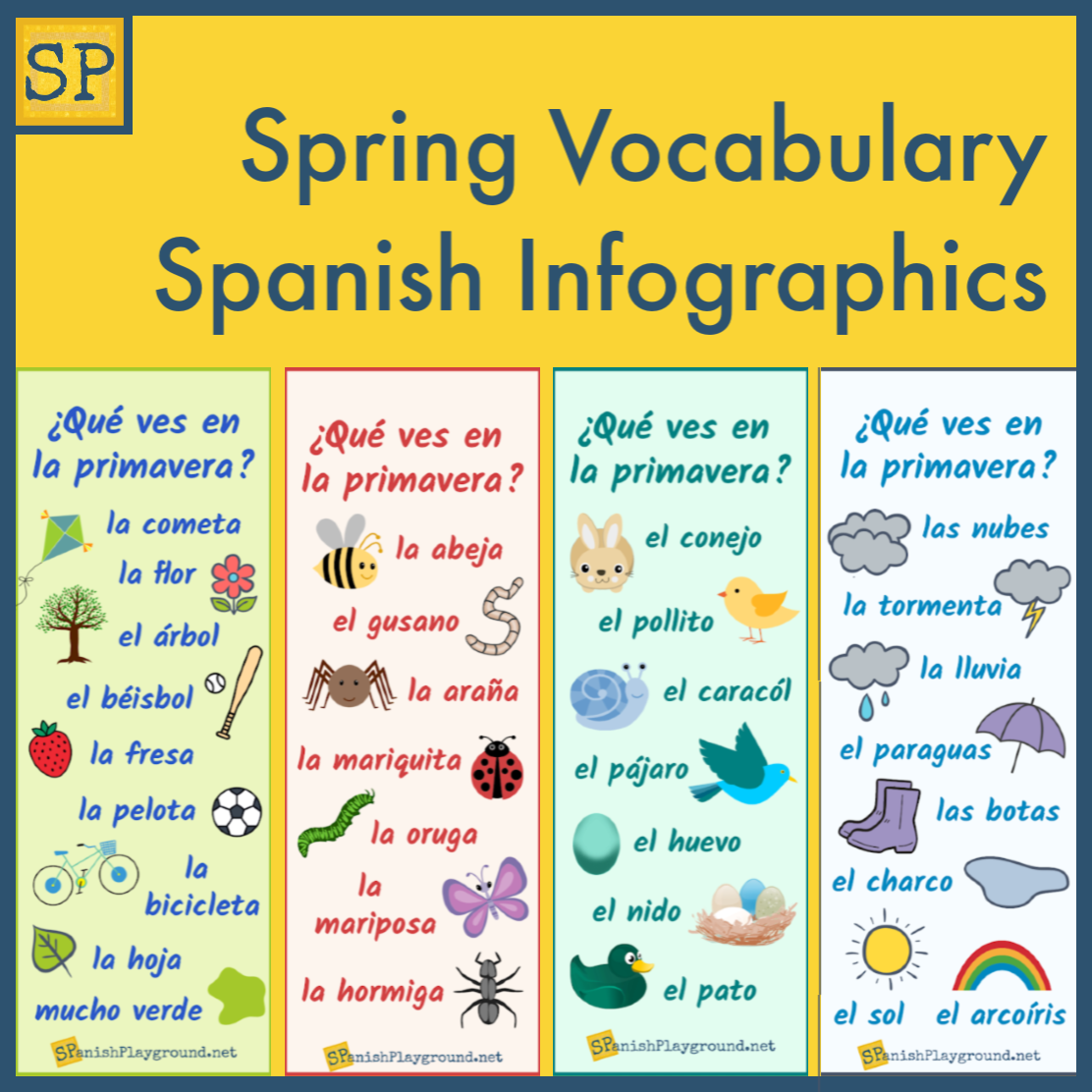 Spanish Vocabulary for Fruit
There are many different fruits and fruit vocabulary varies according to region. Nevertheless, there are some basic words that are useful for beginning learners. The basic fruit vocabulary I teach includes la piña, la fresa, la cereza, las uvas, el plátano, la naranja, la pera, el limón and la manzana.
Check out these activities for learning Spanish fruit vocabulary.

Spanish Words for Animals
We learn about animals as we learn about different habitats and farms and food production. These infographics group common animals by habitat or region.
Farm Animals in Spanish
The farm animals I teach vary with the stories we are reading and other content we are learning. The animals I included on the infographic below are el caballo, la vaca, el cerdo, la oveja, el perro, el gato, el gallo, and la gallina.
Sea Animals in Spanish
I love learning about sea animals with kids. I usually teach the ocean animals you see on the infographic: la tortuga, la foca, el congrejo, el delfín, la gaviota, el pulpo, el pez, el tiburón, and la ballena. You can also find a set of dolphin activities here.

Spanish Vocabulary for Forest Animals
In Wisconsin, we have lots of forest animals, so these are some of the first animal vocabulary my students learn. The animals on the infographic include el pájaro, la ardilla, el conejo, el oso, el mapache, la serpiente, el venado and el lobo.
Spanish Vocabulary for River Animals
We live beside the Mississippi River, so river animals are important to our area. These are also animals that appear in stories we read and that live in rivers in Latin America. The Spanish vocabulary for animals on the infographic includes la tortuga, el pez, el pato, el cocodrilo, la serpiente, el castor and la rana.

Spanish Vocabulary for African Animals
We talk about African animals when we talk about different habitats. The vocabulary for animals from Africa that you'll find on the infographic is el león, la jirafa, el hipopótamo, el rinocertante, el leopardo, el mono, la cebra, and el gorila.
Spanish House Vocabulary
House vocabulary is important for Spanish learners because it lets them describe their daily routines and it also features in many stories. This vocabulary varies considerably from country to country, but the words on the infographic widely recognized. They are la mesa, la silla, el refrigerador, la cama, la lámpara, el sofá, el lavadero, la ventana, and la puerta.
Check out these activities for learning Spanish house vocabulary.
School Supplies in Spanish
Giving instructions in the target language is much easier when students have a reference for school supply vocabulary. Basic school supplies in Spanish include el lápiz, el cuaderno, las tijeras, el pegamento, los colores, la pluma, el libro, la mochila, and la regla.
Check out these activities for learning Spanish vocabulary for school supplies.
Spanish Vocabulary for Fall
Vocabulary related to seasons comes up in many contexts. We use words related to fall when we talk about the weather, plants, food and animals. These are a few of the words we related to the season: los pájaros, el árbol, las hojas, la pelota de fútbol americano, la calabaza, las manzanas, and el pavo.
Check out these readings and activities with fall vocabulary.

Spanish Vocabulary for Halloween
It's fun to learn Spanish vocabulary for Halloween, and of course these words come up in other contexts, too. The words I put on the infographic are la telaraña, la araña, la luna llena, el murciélago, el fantasma, la bruja, el búho, la calabaza, el gato negro.
Find suggestions for learning this Spanish Halloween vocabulary.
Food from Latin America
So many foods we eat everyday are originally from Latin America. The infographic below shows Spanish learners which foods originated in Mexico, Central or South America. It includes el aguacate, el chile, el maíz, el tomate, la papaya, el chocolate, la calabaza, la fresa, la piña, el maní, el camote and la papa.
Check out these activities for learning vocabulary for food from Latin America.

Learn Vocabulary with Onamatopoeia
Sounds are a fun way to learn basic words. Check out these activities for using onomatopoeia for learning Spanish vocabulary.