Kids love games, and playing with language is an excellent way to learn. Below you will find Spanish vocabulary games for kids, grouped by theme.
Of course, vocabulary has to be introduced and students need to work with the words in increasingly complex contexts. See these Foreign Language Teaching Methods modules from the University of Texas at Austin for information on how to teach vocabulary.
Spanish Picture Cards for Games
Games with General Vocabulary
Spanish Color Games
Number Games in Spanish
Letter Games in Spanish
Games with Spanish Vocabulary for Seasons
Spanish Animal Vocabulary Games
Games with Spanish House Vocabulary
Spanish Games with Body Parts Words
Geography Games in Spanish
Spanish Games for Holidays
Spanish Vocabulary Picture Cards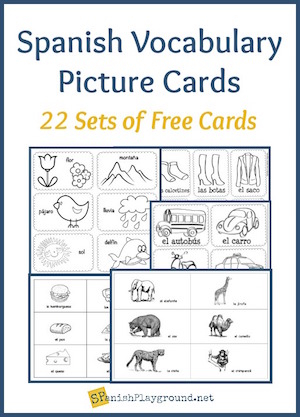 When you play games with picture cards, the images reinforce the meaning of the Spanish vocabulary. I use picture cards all the time, and you can find many free sets on Spanish Playground.
To start, check out 22 sets of Spanish Vocabulary Picture Cards by Theme, and a list of activities to do with the cards.
In addition, you'll find a list of 30 Spanish picture card games to play with cards here.
Below you'll find games for different themes with game board or cards.
Spanish Games with General Vocabulary
Games are a good way to build core vocabulary with beginners.
This printable Spanish Greetings Board Game, for example, it perfect for preschoolers and beginning learners in the early grades.
Likewise, this printable Spanish game Batalla de los tamaños, builds a variety of basic vocabulary with a fun, easy-to-play game.
The easy Spanish vocabulary game ¿Qué falta? also uses basic vocabulary, as kids identity what is missing from each picture.
I use these game cards to practice general vocabulary at different levels. They have simple associations in Spanish, such as gallina – huevos, ratón – queso, pie – zapato. So, there are several ways you can play.
Spanish Color Games
I teach colors in context, rather than as a separate theme, and we use color words in lots of games. If you want to focus specifically on colors, this active Spanish color game Camino de colores is a hit with kids.
Spanish Number Games
Numbers are basic vocabulary. Counting activities are easy to do in class, but it is harder to get enough exposure to higher numbers in conversation, stories and themed activities. Spanish number games are the solution! They are a great review of Spanish numbers and kids practice math skills at the same time.
Check out our list of 25 Spanish Number Games
Spanish Letter Games
There are many Spanish letter games and word-building activities. For example, in this printable domino game kids practice vowel sounds and words that begin with vowels.
Likewise, this guessing game is a letter game in Spanish and it's great for initial sounds and vocabulary.
Finally, check out this list of Spanish letter and words games with Bananagrams. Of course, the games can be played with any set of letters.
Connect 4 is a Spanish vocabulary game you can play with any theme. Read about the game and find a printable Connect 4 game board for Spanish letters here.
Spanish Games with Season Vocabulary
Spanish vocabulary for the seasons includes clothes, weather, nature and holiday words. You'll find more games for Spanish seasons with those themes.
Winter Vocabulary Games in Spanish
These Spanish Winter Vocabulary Dice Games review clothes and weather.
Spring Vocabulary Games in Spanish
With this Spring Vocabulary Game in Spanish, you count and clap syllables as you move around the game board.  For beginning readers, try this Spanish word-building game for spring.
Summer Vocabulary Games in Spanish
This Summer I Spy Reading Game has cards with descriptions. It's good reading practice or adults can read the cards to younger children.
Spanish Animal Vocabulary Games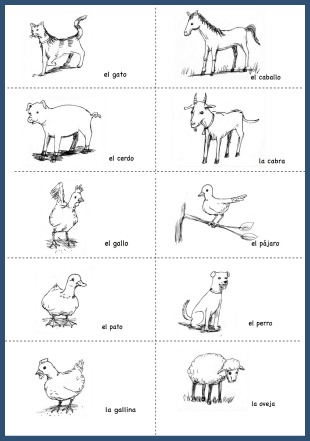 Kids learn tons of language as they learn about animals. These games with Spanish animal vocabulary are a fun way to get the basics so you can then talk about appearance, behavior and habitat.
For example, this I Spy with Spanish animal vocabulary uses the words in the book Brown Bear, Brown Bear and is perfect for beginners.
Likewise, this list of 25 activities to do with Spanish animal picture cards has cards and teaches basic words.
Also, our Spanish Animal Vocabulary Card Game adds context to the classic game Go Fish, so that players are looking for animals in different places.
Finally, Connect 4 is a Spanish vocabulary review game you can play with any theme, including animals. Read about the game and find a printable Connect 4 Game with Spanish Animal Vocabulary.
Spanish House Vocabulary Games
You can also find Spanish house vocabulary games in this list of activities.
Spanish Body Part Games
Body parts in Spanish are fun to learn because the vocabulary lends itself to movement. Find active games for Spanish body parts, as well as a printable board games, a lotería game and a roll-a-monster game in this set of Spanish Body Parts Games.
Geography Games
Try this Spanish card game to practice the names of countries in Spanish. It's also an excellent game for comparisons, because players are saying which country is larger.
Spanish Holiday Games
Spanish games are a fun addition to holiday celebrations in class or at home. Below you'll find Spanish games with vocabulary related to holidays, but be sure to check out our holiday activities for readings, crafts and other activities related to celebrations.
Games for New Year's Day
You can start the year with these two Spanish New Year's games, a word search and I Spy, to practice words vocabulary to ring in the New Year.
Spanish Valentine Games
Next, this Spanish Valentine Bingo Game has phrases we associate with love and friendship, and this Spanish Valentine Matching Game focuses on verb-pronoun combinations using questions for the holiday.
Also, try this Spanish Valentine Game with silly rhymes.
Easter Vocabulary Games
When spring arrives, if you celebrate Easter, use questions to celebrate the holiday and get the family talking. Many of these Easter conversation questions are general conversation starters, so you can use them at any time of year.
You might also like to try these 10 Spanish matching games with plastic eggs.
Spanish 4th of July Games
Next, gear up an Independence Day celebration with this printable Spanish July 4 vocabulary game. Try this 4th of July scavenger hunt, too.
Spanish Halloween Games
For spooky fun in October, try a matching game with our Spanish Halloween picture cards or an active Spanish game for Halloween, 1, 2, 3 Momia Es.
Thanksgiving Games in Spanish
Later in the fall, try this active gratitude game in Spanish for Thanksgiving.
Christmas Vocabulary Games
Finally, our Spanish Christmas countdown prompts are perfect for charades or any game that involves answering questions. They are full of Spanish vocabulary for Christmas and winter.
We will continue to add to this list as we use games in class. Do you have favorite Spanish vocabulary games for themes you teach? Let us know in the comments below!