Spanish videos for kids are a fabulous learning resource. Video creates comprehensible input through visual cues and context, and it is also an excellent way to expose kids to a variety of native speakers.
I use both authentic language videos and videos for Spanish learners with my students. To ensure students are engaging with the language, I focus the task and provide plenty of support.
Below you will find a range of Spanish videos for kids and ideas for using them with language learners.
For example, we share our favorite Spanish videos for students and Spanish videos for beginners. In addition, you'll find YouTube channels and Spanish cartoons for kids. Finally, don't miss the series of articles with activities and strategies for teaching Spanish with videos.
Spanish Videos for Students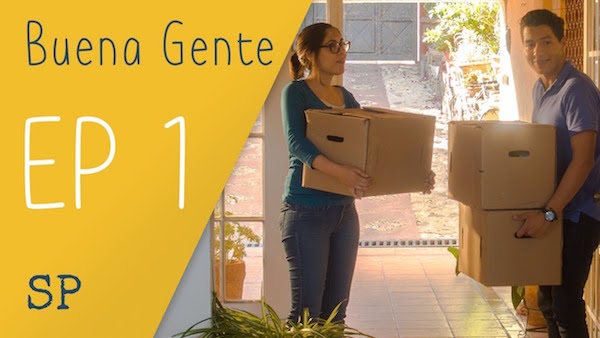 Buena Gente Spanish Video Series
Buena gente is a free Spanish video series on YouTube, and it tells a fun story, using clear, natural language. Currently, 6 episodes of Season 1 and 5 episodes of Season 2 are available.
Read more about the series and find learning materials, including free listening activities, for each episode here: Spanish Video Series: Buena Gente.
Easy Spanish Conversations
One of the advantages of video is that learners can hear natural dialogue paired with images to make language comprehensible. So, we have created a set of short, easy Spanish conversations to introduce high-frequency vocabulary.
Find the YouTube playlist of Easy Spanish Conversations here.
Printable Listening Activities
You can find printable listening activities for the Easy Spanish Conversation videos in this collection of Spanish Listening Practice and Activities.
Spanish Video Stories in Present and Past Tenses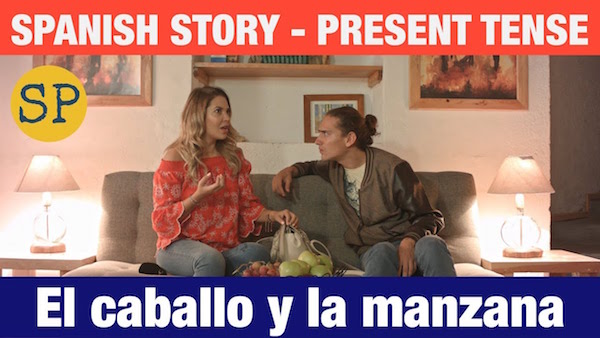 We have an excellent set of comprehensible stories for Spanish learning. In these narrations, one character tells another about something that happened during the day. The story is supported by gestures, expressions and props. We target specific structures and build in repetition. For each of the stories there are versions in the present and the past. These are an amazing learning tool!
Find the videos, more information and free printable activities here: Spanish Video Stories.
Spanish for Beginners
Video is a terrific way to engage beginning learners with Spanish. Try these Spanish videos for beginning learners.
Kids Learn Spanish Videos
We have a series of YouTuber-style videos focusing on Spanish for beginners. We add new videos to this series several times a month.
These videos feature native speakers talking about everyday objects using easy Spanish words, and the videos have subtitles and printable transcripts.
Because we regularly publish new videos in this Spanish for beginners series, there is always new content for novice learners. Find all the Spanish for beginners videos and support materials here: Kids Learn Spanish Videos on YouTube
Spanish Words for Kids
You can use Spanish learning videos for kids to introduce or review vocabulary in specific themes. For example, I use Spanish videos for kids with novice learners as they learn words for clothes, transportation, fruits, vegetable and other themes.
Spanish Words Kids Love
This set of videos uses short sentences, repetition and beautiful images of Mexico to teach important verbs and high-frequency vocabulary. In addition, each of the videos has free picture cards, as well as other activities such as flip books and fill-in-the-vowel pages.
Check out all the Spanish Words Kids Love Videos.
More Easy Spanish Videos
PBS created a series specifically dedicated to Spanish for beginners. You can learn more here: Oh Noah: PBS KIDS Expands Spanish Learning Series
Calico Spanish also has videos for beginning Spanish learners. Learn more here: Free Online Spanish Games and Videos: Calico Spanish
This picture-based video is also good for beginners: Easy Spanish Listening Practice: A Thirsty Dog
Whistlefritz Spanish for Kids
Whistlefritz produces wonderful DVDs and CDs for language learners. Their products are themed-based and teach Spanish words for kids in context.
You can find a review of Whistlefritz Las estaciones here and of the Spanish DVD by Whistlefritz La Fiesta de Fritz here.
Spanish for Kids YouTube Channels
For streaming Spanish video for kids, nothing beats YouTube. You can find our favorite Spanish for kids YouTube channels here: 5 Great Spanish YouTube Channels for Kids
There is a tremendous amount and variety of authentic language Spanish video for kids on YouTube. For example, you might want to check out Spanish language kid YouTubers: Spanish YouTubers: Videos for Kids By Kids
Spanish Cartoons for Kids
Many authentic Spanish cartoons for kids are difficult for Spanish learners because they have distorted sound and unusual voices. However, there are a few Spanish cartoons for kids that are very effective.
One of our favorites on YouTube is Pocoyo. The voiceover is clear and it's accessible to Spanish learners.
Semillitas: Online Spanish Videos and Games offers educational and culturally rich content. Their Spanish cartoons for kids are also a good options for language learners.
BookBox: Online Spanish Stories are another option for Spanish cartoons for beginners. They are animated stories with same language subtitles to support reading and literacy development.
How-To Spanish Videos for Kids
Another type of Spanish videos for kids are tutorials, or how-to videos. Videos with instructions are often easy to follow with focused vocabulary.
Spanish Craft Videos for Kids
Craft videos are one kind of how-to Spanish videos.
Try this Spanish Sun Craft and Video. It is a simple craft with basic vocabulary.
This  Spanish Craft Video to Make a Butterfly is also good language exposure for kids.
Educational Spanish Videos for Kids
How-to videos that teach children about a topic are also good for language learners. These educational Spanish videos for kids deal with topics related to the environment, health or family responsibilities.
For example, try Taking Care of Our Water: Online Video and Listening Activities in Spanish featuring Doki from Discovery Kids.
This Spanish Video about Pets with Activities is another good educational video for kids.
Cultural Videos for Kids
With video, children experience countries and cultures as well as language.
For example, Worlds Together Cuba is a 25 minute documentary DVD that gives children a window into Cuba and its people.
Likewise, Puerto Rican Culture: Families of the World DVD is part of the award-winning series Families of the World and gives children a glimpse of daily life in Puerto Rico.
Magic Trick and Card Trick Videos
Card trick or magic trick videos are another type of Spanish how-to videos to use with kids. Read about an Easy Card Trick Story: Los tres ladrones and a Simple Magic Trick for Kids Learning Spanish.
Learn Spanish with Video
Spanish video for kids is a fabulous resource and there are lots of great strategies for using video with language learners. Read these articles for methods and activity ideas to learn Spanish with video.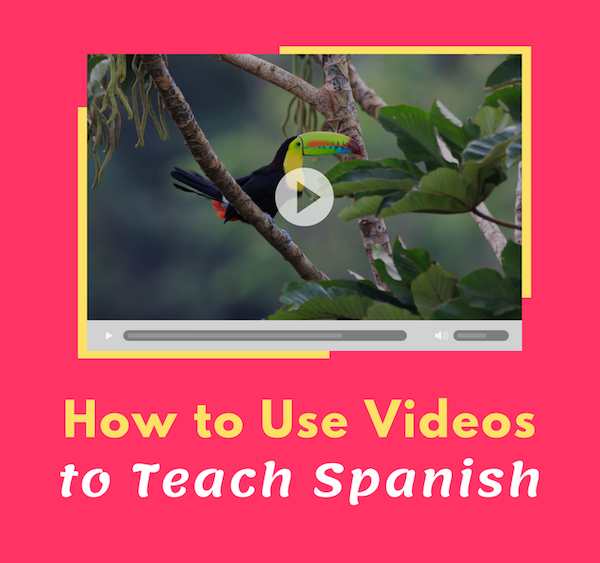 How to Use Videos to Teach Spanish
26 Video Activities for Language Class
Listening Activities You're Not Doing (But Should Be)
Spanish Listening Skills: While-Listening Activities
7 Speaking Activities for Any Video Clip
Spanish Children's Songs on YouTube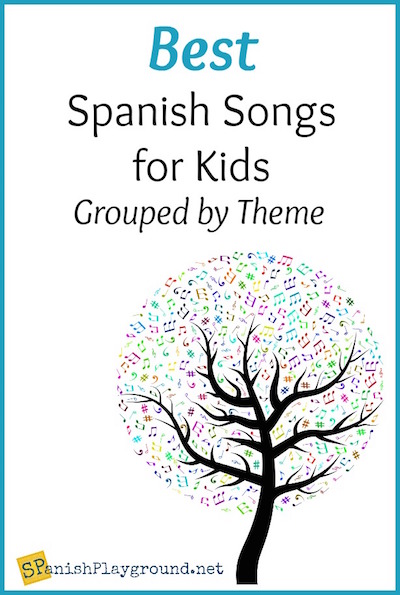 We tend to think of music videos primarily as songs, but they have many of the advantages of other Spanish videos for kids. Spanish children's songs on YouTube have images, and many tell a story or create a context for language. Often, they have the lyrics on the screen so kids can sing along.
Check out our Spanish Songs for Kids page where we have our favorite Spanish children's songs on YouTube grouped by theme.
Spanish video for kids teach language and culture, and of course, students love them! Do you have favorite Spanish videos for kids? Share your go-to resources in comments so we can all discover new materials for our Spanish learners.