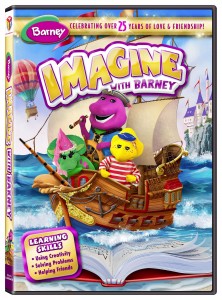 The new video Imagine with Barney has a wonderful Spanish audio track filled with music. The producers of Barney are masters at taking familiar children's songs and making them really work in Spanish. This Spanish video for kids is an entertaining, educational way to expose children to the language. Imagine with Barney is now available on DVD, Digital Download and Video on Demand.
There are many features that make this Spanish video for kids an excellent choice, but the songs in particular engage kids with the language. Singing is the best way for beginning learners to produce Spanish. The songs are based on familiar tunes so it is easy for kids to learn them. Also, the songs are so singable! The tempo is not too fast and there is lots of built-in repetition, so that kids can sing along right away.
Spanish Video for Kids – Ten Favorite Songs
The video has many short scenes with songs in almost all of them. I am going to mention ten of the songs that I think work particularly well with Spanish language learners.
– Si las gotas de lluvia fueran de caramelo
This is the version of "If all the raindrops…" that children in Mexico learn. It is a simple song to learn, fun to sing, and teaches a structure many non-native speakers never use correctly (Si + past subjunctive, conditional). If kids learn this song as preschoolers, it will make it much easier for them to master this structure later. The song is one of my favorites on this Spanish video for kids.
– Rema, rema sin parar
This is a great translation of the classic Row, Row, Row Your Boat. Short and sweet, this is a good first song in Spanish: Rema, rema sin parar/qué felicidad/ río arriba, río abajo/ hay que disfrutar.
– Señor sol
The Spanish version of Mister Sun. This song has useful sun-related vocabulary for kids learning Spanish: sol, brilla, calor, sentir, rayos.
– Estrellita ¿dónde estás?
This is the version of Twinkle, Twinkle Little Star that my children learned. I love that in this Spanish video for kids there are actions for the song, and that they sing it three times, each time a little faster. It is an excellent mini-language lesson! Also, I have a pretty printable version of the lyrics here.
–  Iremos a explorar
The kids in the Spanish video sing this song when they are pretending to be pirates. It is to the tune of The Farmer in the Dell and the simple chorus goes like this: Iremos a explorar, iremos a explorar, buscamos un tesoro e iremos a explorar. After watching the video, it would great fun to do a treasure hunt at home or school, singing that line as you search for a hidden treasure. Combining music, movement and imaginative play is how children best learn language.
– Te quiero yo y tú a mí
This is the Barney theme song. It is repeated a few times in this Spanish video for kids.
– Figuras
This song about shapes is to the tune of the children's song Bingo. It is also an activity, because one person holds up a shape and others find shapes that match:
Una figura como ésta
es muy divertida,
aquí hay otra igual,
aquí hay otra igual,
aquí hay otra igual
y se llaman estrellas (corazones, triángulos, etc.).
This would be an excellent activity for kids learning Spanish.
– Voy por todas partes en el autobús
This song is to the tune of One Little, Two Little, Three Little Fingers. It is a simple, fun song and teaches different vehicles like mi taxi amarilla and mi coche de carreras.
– Para vivir contentos
Sung to the tune of The More We Get Together, this song is very easy to sing along to:
Para vivir contentos, contentos, contentos,
Para vivir contentos hay que compartir.
– El auto vamos a lavar
This song about washing a car is to the tune of This Is The Way We Wash Our Clothes. The verses take kids through the whole process: las llantas vamos a lavar, el auto vamos a enjuagar, el auto vamos a secar. Once kids learn the song, they could sing about washing anything from dishes to the dog.
This Spanish video for kids has live action footage of children having fun as they sing these songs. Many of the songs are combined with movement as the kids act out what they are singing about. Children watching will naturally do lots of the actions too, and Barney encourages them to play along.
Watching Imagine with Barney, kids also hear simple, focused Spanish conversation. The video is about using your imagination, but the language is not at all abstract. It is directly supported by what is on the screen as the kids in the video make believe with plenty of props and costumes.
Imagine with Barney is 88 minutes long. That is a lot of Spanish for children learning the language, and it is best for them to watch small segments at a time. This is easy to do because each of the four episodes has several different scenes.
There is a Barney website in Spanish with songs (go to Rockola de Barney), coloring pages and a variety of activities for teachers and parents. Under Maestros, there is a section called Aprendamos juntos where you will find lots of printable materials.
This Spanish video for kids is designed for preschoolers in the native language, and it is perfect for that age group of Spanish language learners, too. Older children will also learn lots of Spanish from this video and the songs, so if you have little ones with older siblings, be sure to encourage the older kids to watch too!
Disclosure:The company sent me the DVD to be able to write this article. All of the ideas and opinions are my own.