I believe communicative instruction is the best way to teach and learn a language, so I try to keep my classes as interactive as possible. Still, kids do need activities that make them aware of language patterns. Even native speakers practice verb conjugation, so it is logical that some Spanish verb conjugation practice is useful for children learning the language. Below you will find a cut-and-paste activity to practice Spanish -ar verbs.
Hands-On Spanish Verb Conjugation Practice
These printable pages give kids Spanish verb conjugation practice with coloring, cutting and gluing. Hands-on activities like these help students process the learning at a deeper level than simply saying or writing the verb forms. Of course, you will want to combine activities like this with Spanish movement songs and games to teach the meaning of the verbs. For higher level students, try activities like this Spanish Valentine's Day game that involves matching questions and answers.
First, I have kids color the subject pronouns tab and the corresponding verb forms the same color. The colors are not indicated on the sheets because you may choose to skip this step or want to use different subject pronouns or nouns. There are extra pronouns, nouns and blank tabs on a separate sheet.
Then, students cut out the pronouns, place the pronoun over the correct verb form, and glue the left edge of the rectangle down. Be sure to tell students to only glue the end of the rectangle. The idea is to make a tab that they can lift to read the verb form below.
Expanding on Verb Conjugation Practice
Once students have completed the cut-and-paste Spanish verb conjugation practice, you can use the verb sheets as support for speaking activities. As a large group or in pairs, kids can answer questions with the verbs, lifting the tab to check the form if they are not sure.
The verb sheets can also be used as support for a writing task or as a way for students to quiz each other in pairs. The important thing is to include context so the language is meaningful.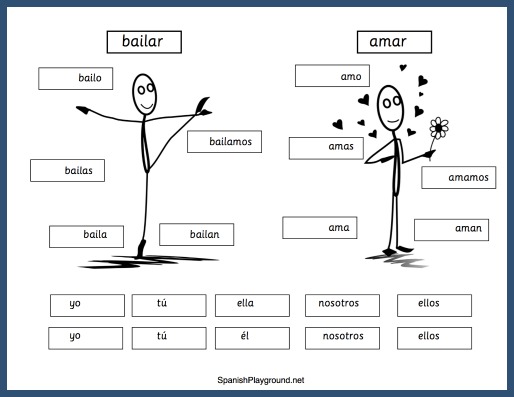 Conjugation Practice with -AR Verbs
This Spanish verb conjugation practice for kids focuses on -ar verbs. The verbs are regular and the only stem-changing verb is pensar. I teach common stem-changing verbs from the beginning, but you can certainly leave out that page if you think it will be confusing for your students.
The verbs on the activity pages are hablar, saltar, cantar, llorar, bailar, amar, mirar, cepillar, pensar and tirar.  If you are also teaching the verb llevar, you may want to use this video in the Spanish Words Kids Love series to reinforce the third person singular and clothing vocabulary.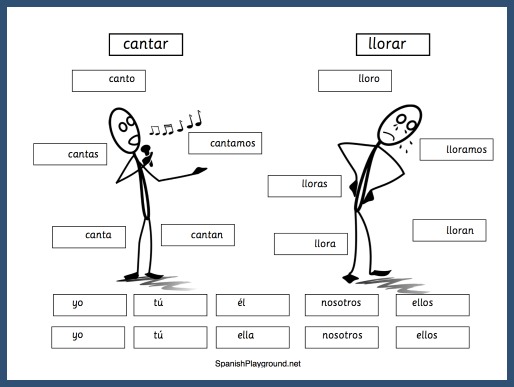 Download Spanish Verb Conjugation Practice for Kids
You can download the PDF of the Spanish verb conjugation practice for kids here.
You can find similar Spanish verb practice for kids with -er and -ir verbs here.
Of course, you should try to incorporate verb practice into communicative activities as much as possible. The pictures support the meaning of the verbs, but be sure to include actions and other visuals.  Spanish verb conjugation does not have to be boring. If it is communicative, hands-on and personal, it is also fun!