Task cards are a set of cards with a single question for students to answer on each card. Spanish task cards are an easy way to add variety and flexibility to class because they can be used in different ways. Having task cards available for your themes makes your life much easier! Below you'll find a set of my Spanish task cards to practice animal vocabulary.
I use Spanish task cards to practice or review vocabulary and also to work on early literacy skills. You can make your own task cards with the words you teach and to focus on specific skills.
Check out our Spanish reading for kids resource page for more printable reading activities, activities for favorite picture books and online stories.
Using Spanish Task Cards
I'll mention a few of the ways I use task cards, but to learn more I highly recommend Rachel Lynette's free download The Task Card Handbook: Everything You Need to Know.  It is an excellent introduction and resource, with lots of additional suggestions for using task cards.
Spanish Task Cards for Independent Work
Setting up situations for students to work independently is probably the most common way to use task cards. Pair a set of cards with a recording sheet for a center, or have sets available for students who finish early. You can include the answers and make the activity self-correcting.
If you are using task cards for fast finishers, be sure they are not simply more of something the student has mastered. Language learners need repetition, but they also need variety and challenges. Spanish task cards can be an excellent enrichment opportunity.
Spanish Task Cards for Games
Task cards are ready-made material for board games or quiz games. You can also use them to play Muévete, or Scoot in English.  If you don't know how to play, there are some good Scoot tips here.
You can also use Spanish task cards for a search game, where you hide the cards around the room. Students search, record their answer, put the card back, and search for another card. This is a fun activity that gets kids up and moving.
Spanish Task Cards for Spiraling
Task cards are not designed to teach new content. Rather, they are a good way to reinforce and re-enter content students have learned. Working Spanish task cards into your class routine lets you efficiently and easily spiral material you have covered into your lessons.
More Ways to Use Task Cards
Spanish task cards are very versatile. You can use them as warm-ups or as exit tickets as students leave. Send them home for students to do with parents, or leave them as part of your plans for a substitute teacher. Use task cards for formative assessment and modify your plans based on what you learn. You will think of other ways to use task cards too.
30 Spanish Task Cards
You can download a free set of my Spanish task cards to practice animal vocabulary.
In the PDF you will find:
12 Animal Picture Cards for games or review of the words used in the task cards. You can cut them apart to use for activities or use the page as a reference sheet.
30 Task Cards:
12 cards – ¿Qué animal es? – Students write the name of the animal in the picture.
6 cards – Escribe el nombre de dos animales usando estas sílabas.  – In this task, students order a set of syllables into two words. In class, we practice dividing words into syllables, building words from syllables, and ordering mixed-up syllables. Be sure to practice this skill as a class before you ask students to do the task cards.
6 cards – Escribe la letra de la respuesta. – Students answer these questions by choosing correct picture and writing the letter. The questions include vocabulary such as leche, huevos, más grande and más pequeño. If your students are not familiar with these words, be sure to teach them and practice with them before doing the task cards.
6 cards – Ordena las palabras y escribe la oración.– This is an activity we do in class. If your students have not practiced this, do it as a class first. Be sure to remind them that the first word in the sentence will be capitalized and the last word will be followed by a period.
1 recording sheet
1 set of answers
Download the Spanish Task Cards.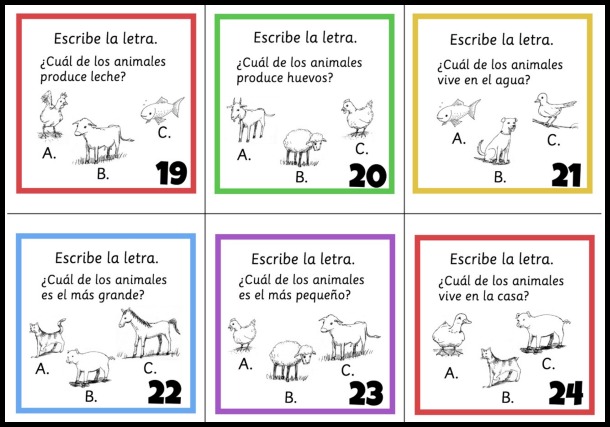 Printable Game with Animal Vocabulary
You may also be interested in the printable game Encuentra los animales. The game uses the same vocabulary, but focuses on speaking skills (Interpersonal Communication if you are using the World Readiness Standards for Learning Languages from ACTFL)). Learn more here: Encuentra los animales.