This is more than a story to read or listen to. We want kids to participate as much as possible, so they help tell this story by adding details. There are simple embedded questions with cut and paste answers to add to the pages. Of course, kids can create their own answers, too. Download the Spanish story for beginners PDF below.
Check out all our Free Printable Spanish Books for Kids for more printable books, mini-books and stories with cutouts and activities.
This Spanish story for beginners PDF is an easy version of the classic Tortoise and the Hare fable. We told the story with high frequency vocabulary and in the present tense to make it accessible for beginner learners. However, because kids add details, readers of all levels can have fun telling the story their way.
If you have been participating in our Spanish summer read and play program, this makes a good final activity. In addition to reading the story, kids complete the pictures to answer the questions and color the book. If your child has more Spanish, they can add more action.
Check out more stories and Spanish reading for kids.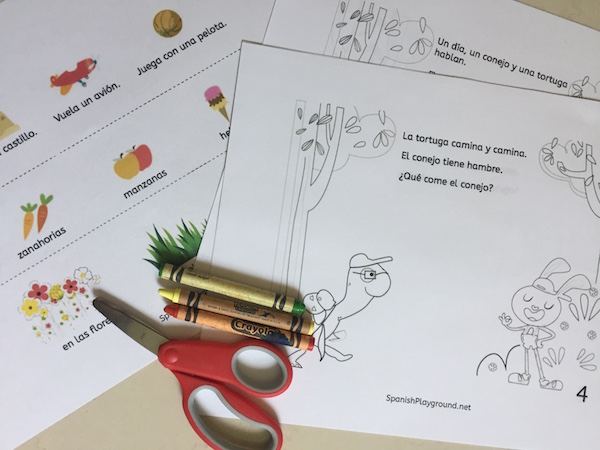 Answer Questions to Add Details
Beginning learners have enough language to contribute details to stories, and adding details is fun! In this story, for example, el conejo stops running to play, to eat and to rest.
¿Qué hace el conejo?  ¿Qué come el conejo? ¿Dónde descansa el conejo?
We added the questions to the story, and provided cut-and-paste answers with illustrations that kids can use if they choose. Of course, drawing their own pictures is the best way to use language, so if you don't want to print the answer page, that is just fine!
The details kids contribute do not change the end of the story. An open-ended story, where students create an ending, is a high-level task that requires a lot of vocabulary. So, this familiar Spanish story for beginners PDF ends just the way kids expect it to.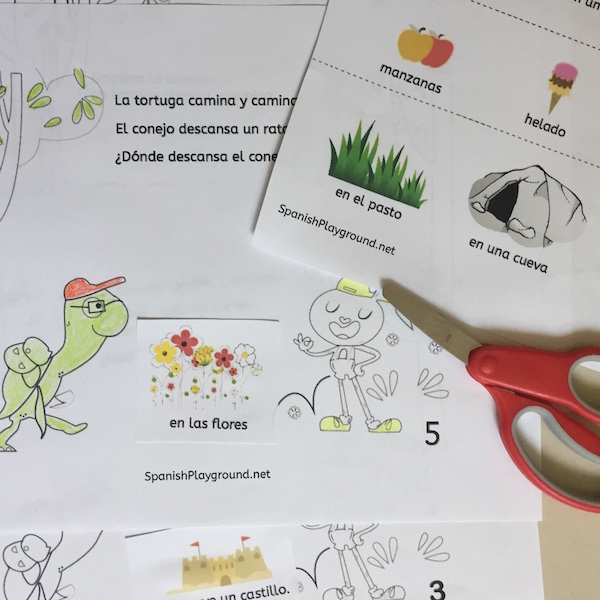 Re-reading the Spanish Story for Beginners PDF
One of the things I like about this design is that kids can decide to change details as they re-read the story. The rabbit can do something new or do more than one thing.
For example, if they decide the rabbit is going to eat birthday cake instead of carrots,  you can print them a new page or they can add cake to the picture. The story is theirs to tell and illustrate as they like.
El Conejo y la Tortuga Spanish Story for Beginners PDF
The PDF has a 6-page story, a cover, and a sheet of cut-and-paste answers. You may choose not to print the answers and let kids draw and write their own.
Download the Spanish story for beginners PDF:
El conejo y la tortuga – Cut-Paste-Color Spanish Story with Questions
What is rabbit doing during the race? We would love to see how your kids answer the questions! Share a photo and tag us on Twitter @SpanishPlaygrd or on Instagram @spanishplayground.