Spring is a wonderful season to learn new Spanish words, because Spanish spring activities include vocabulary associated with weather, plants, animals, colors and clothes. Below you will find a variety activities I have done with students over the years.
Be sure to check out our other Spanish for Kids vocabulary activities arranged by theme. We have lots of ideas and materials for you to use in your Spanish lessons.
Spanish Spring Vocabulary List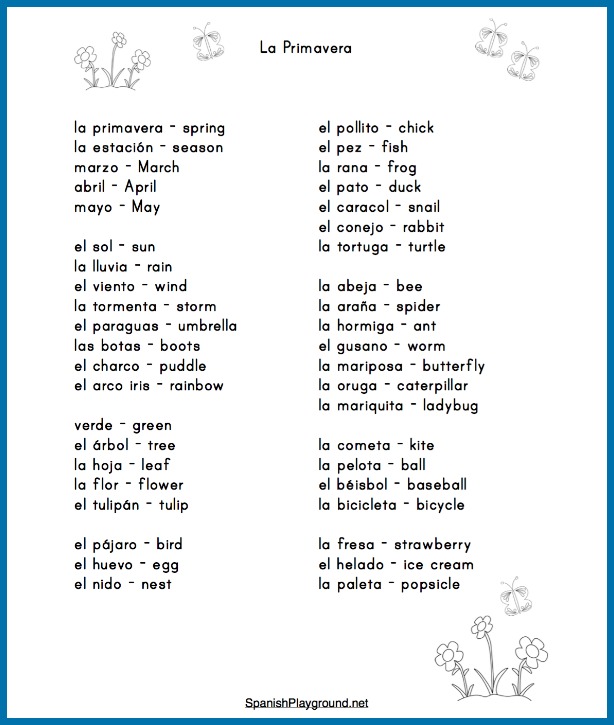 Spring words in Spanish overlap with many themes. However, the printable Spanish spring vocabulary list below has general words that I have taught in spring units over and over.
There is also specific vocabulary that also fits into a spring theme. For example, you may want to teach words for the butterfly life cycle, the life cycle of a plant, the life cycle of a chicken, the water cycle or animal homes.  I often teach those themes at this time of year, and the vocabulary reinforces more general Spanish spring words.
Download the Spanish Spring Vocabulary List.
Printable Spanish Spring Activities
These printable Spanish spring activities have a variety of vocabulary for the season.
Spanish Spring Vocabulary I spy – Kids count and record the number of different spring pictures.
Word-Building with Spring Vocabulary in Spanish – A good game for beginning readers. Kids read clues and build words from syllables.
Spanish Cup Covers for Spring – I use these printable cup covers to personalize cups that we use for counters or snacks.
Spanish Reading for Spring with Question Activity – PDFs of  a short reading, a fill-in-the-blank reading and the question activity you see below, all based on the same fun spring picture.
Spring Posters and Coloring pages with Proverbs
Clap and Count Syllable Game with Spring Vocabulary in Spanish – Players draw cards and clap and count the syllables to move around the printable board. The picture cards for this game are useful for many spring activities.
Spanish Easter Conversation Questions – Spanish conversation questions at all different levels. The questions are personal; there are no right answers.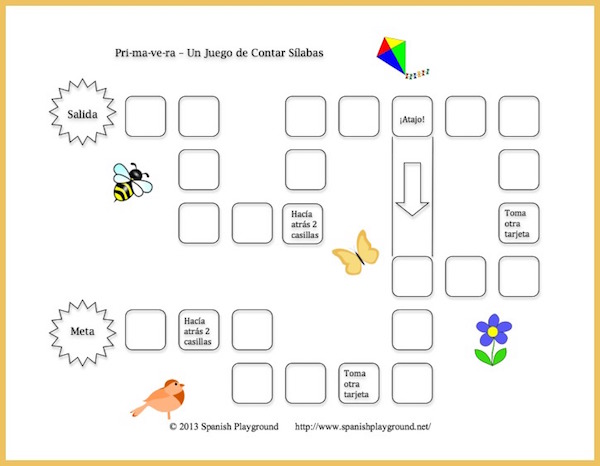 Spanish Songs for Spring
Music is a wonderful language learning resource for any age. So, in the spring, we sing about the season, the weather and animals. Add these songs to your Spanish spring activities to introduce new words and apply familiar vocabulary in the context of the season.
Canciones Infantiles: Spanish Songs for Spring
5 Spanish Chicken Song Favorites
De Colores: Spanish Spring Song and Printable Posters
Los Pollitos: A Song, Story and Coloring Book
Spanish Songs for School and Home – Mariana Iranzi's new album La primavera is full of Spanish songs for spring.
Spanish Poems for Spring
Reading and reciting poetry in Spanish helps children learn the sounds of the language as well as new vocabulary. For example, these poems have spring words in Spanish, and are short and easy enough for language learners to understand and enjoy.
Short Spanish Poems for Spring  – No los veo, ¿Mariposas en un árbol?, y Ya llegó la primavera
Spanish Poem: Spring – Hoy el día dice "viento"
Los pollitos: Poem by Olegario Victor Andrade   This is not the traditional song. It is a poem (in the public domain) by an poet from Argentina.
Spanish Poems for Kids Performed by Antonio Selfa – Pisando charcos is especially appropriate for spring!
Spanish Stories for Spring
Animals and weather feature in these Spanish stories for spring.
Spanish Story PDF: El Oso y las abejas – A free printable story at 3 levels. There are figures to cut out for telling and retelling.
Spanish Story with Cut Outs: Un picnic en el bosque – Another printable Oso story with figures to tell and retell stories.
2 Easy Spanish Stories for Spring
Spanish Yoga Books for Every Season – Books for the four seasons from Kids Yoga Stories
Spanish Easter Book – La sorpresa de Mamá Coneja
Outdoor Spanish Spring Activities
Spring is an opportunity to get outside and move with our Spanish learners. Research has shown that movement enhances language acquisition, and it also makes for happy, healthy children.
Spanish Looking and Listening Walks
Playing with Bubbles in Spanish
Water Games: Spanish Vocabulary
For more ideas, check out our Pinterest boards of Spanish activities and resources.  Do you have favorite Spanish activities for spring? Use the comment form below to tell us what grades you teach and what your favorite resources are. Happy spring!