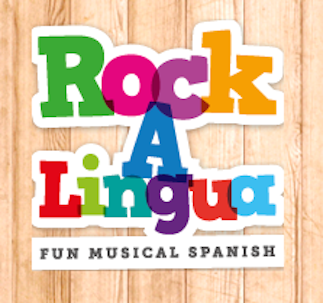 Are you looking for some fun material to get your students excited about Spanish and start the year off on an upbeat note? Take a minute and check out Rockalingua. It is a new educational website with Spanish songs for kids, videos and other materials to teach the language to children in the elementary grades. It was created by César, a musician and Spanish teacher from Spain who now works in San Francisco.
I am really excited about this new resource. The music on Rockalingua is very fun, with a style and rhythm that is sure to appeal to kids. The material is high quality and ready-to-use. It coordinates with typical units for almost all curricula and requires little or no preparation. It is dynamic, pedagogically sound and well-tested on Cesar's students!
Right now, there are 12 free Spanish songs for kids on the site. The site also has free videos, worksheets and picture dictionary pages available for some of the songs.
You can hear one of the free Spanish songs, Las partes del cuerpo, in this video and find more videos on YouTube, Vimeo and the Rockalingua site. There is a free downloadable picture dictionary page that goes with the song and video.
Spanish Songs for Kids from Rockalingua
These songs are available on Rockalingua right now:
¿A dónde vas? – The verb ir and question words
Estoy contento. – Estar vs. tener with feelings
Las cuatro estaciones
Un día de escuela – Present tense verbs in the first person singular
A mí me gusta viajar – Gustar, transportation vocabulary
Ropa y lugares – This song also teaches hace frío and hace calor
Los días de la semana
Las profesiones
Mi amigo Bob – Adjectives
Las partes del cuerpo
Colorín colorado – Numbers and colors
Los números 1-50
You can have unlimited access to the materials on the site with a Rockalingua subscription, and given the variety of relevant, easy-to-use material, it is an excellent value. In addition to worksheets, videos and games, there is a printable lyric sheet with pictures for each song. These are a great resource! The images clarify the meaning of the words and having the lyrics makes it easy for kids to sing along. Also, kids can color the pictures or you can have them cut them out to use for a variety of activities.
Rockalingua is brand new and growing fast. They are continually adding new Spanish songs for kids, games, videos and classroom printables. There is no doubt that this is an great source of supplemental activities for anyone teaching elementary Spanish or homeschooling. Kids need lots of repetition, and they need to have fun with the language. With Rockalingua songs, they get plenty of both.
You may also be interested in this post: Spanish Song and Game for Kids – 1, 2, 3, Momia Es