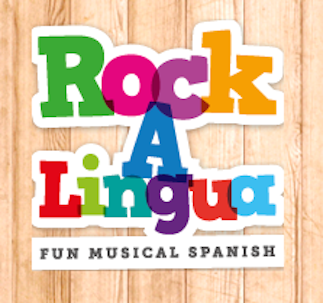 I am so happy to be able to share these great Spanish songs for kids with my readers. Rockalingua is giving away 3 copies of their CD Bienvenidos to Spanish Playground readers. Read a review of these songs and the other great materials by Rockalingua.
The CD has the following songs:
1) ¿Adónde vas?
2) A mí me gusta viajar
3) ABC
4) Colorín Colorado (los colores y los números)
5) Estoy contento (sentimientos)
6) Las 4 estaciones
7) Las partes del cuerpo
8) Las profesiones
9) Los días de la semana
10) Los números 1-50
11) Mi amigo Bob
12) U LA LA
13) Un día de escuela
You can download free song lyrics and coloring sheets in the picture dictionary section of the Rockalingua website.
The Giveaway – This giveaway is now closed. Thanks to all who entered! Winners will be notified 1-13.
– To enter, tell us in comments what your kids or students like to sing – in any language!
– The giveaway ends Sunday, Jan. 12 at 11:59 pm.
– The winners will be chosen using random.org and announced on Jan. 13.
– Read Spanish Playground's official giveaway rules here.
All the Rockalingua videos, songs and materials are available with a subscription. The subscription is one of the best values I have found because the materials are so easy to use and fit any curriculum. Most important, kids love the songs and learn so much Spanish!