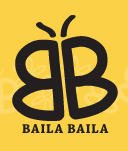 Isabel Brazon of Baila Baila recently contacted me about sharing her Spanish songs for children with my readers. She is originally from Venezuela and now teaches, performs and records her music in the Los Angeles area. Her active, entertaining songs are written for children learning Spanish. They effectively teach vocabulary, basic grammar and pronunciation.
You can listen to the songs on the Baila Baila website and download them from there. I will mention a few that I thought were particularly well done and useful, but they are all worth checking out if you are a teacher or parent with children learning Spanish.
Buenos días is a greeting song with simple lyrics and a catchy tune. There are similar songs available, but Isabel made the excellent choice of using the song to teach verb forms. With greeting songs, lots of teachers wonder whether to sing ¿Cómo estás? or ¿Cómo esta Ud.? Isabel approaches it differently. She uses her song to teach two verb forms with a clear contrast in meaning that make sense in a class setting. The first question in  the song is directed to the group: Buenos días amigos, ¿cómo están? Before the next verse, she reminds the children "Ahora tú" and they sing Buenos días, ¿cómo estás? The song is lively and fun to sing, and the contrast makes children aware of the meaning and the importance of the verb ending.
Baila Baila is a song to teach body parts. It is cumulative, so you add a new body part with each verse. El dúo Tiempo de Sol and other artists sing versions of this song, but the rhythm of this version sets it apart and makes it better for Spanish language learners. The foundation of the song –  Cuando un amigo baila and Pies, pies pies – is quick and fun, but the other body parts are sung slowly and deliberately. With the slower rhythm, children can really hear and pronounce the words. They absorb the sound and connect it to the action they are doing.
Las vocales is a much simplified version of La risa de las vocales, a song that has been recorded by many children's artists. Again, the Baila Baila version makes the most of the song for Spanish language learners. Isabel leaves out the traditional story of a king telling jokes and instead replaces it with a simple Ríe con la letra a, a, a, a – ja, ja, ja, ja, ja. Kids still have all the fun of laughing with each vowel (ja, je, ji, jo, ju) and get the same excellent practice with the sounds, but the song makes much more sense to them.
Baila Baila also has versions of the traditional songs Los pollitos and Un elefante. There are original songs to practice specific vocabulary and structures, too. If you are lucky enough to live in the LA area, be sure to check the schedule on the Baila Baila website for concerts and classes. I haven't seen Isabel perform, but based on her music, I am guessing you will have a good time.
You may also be interested in this post: Spanish Songs to Brighten Every Day – SingALingo