Kids can build reading fluency, learn vocabulary and become familiar with many grammar structures by reading Spanish song lyrics. Like all reading, what songs are right for your child depends on level and background. Fortunately, there is excellent music in Spanish for everyone!
Below you will find 5 reading activities to do with Spanish song lyrics. The song will determine the difficulty, so these activities work with beginning learners or native speakers.
Check out our Spanish reading for kids resource page for more printable reading activities, activities for favorite picture books and online stories.
Finding Spanish Song Lyrics
Many artists put Spanish song lyrics on their websites or include songbooks with their CDs. You can also search for lyrics online.
Read Spanish Song Lyrics and Sing Along
One of the best reading activities with song lyrics is to read along and sing! Following the lyrics and hearing the words, kids make the connection between text and the sounds of Spanish. In my classes, we play a game where kids follow the lyrics with their finger, and I stop the music at random places. Then, I ask students what the last word they heard was and where it is in the text.
In addition, reading lyrics and singing along is excellent for building reading fluency. Listen to music in Spanish as much as possible at home or in the car and keep the lyrics within easy reach.
Circle Words in Spanish Song Lyrics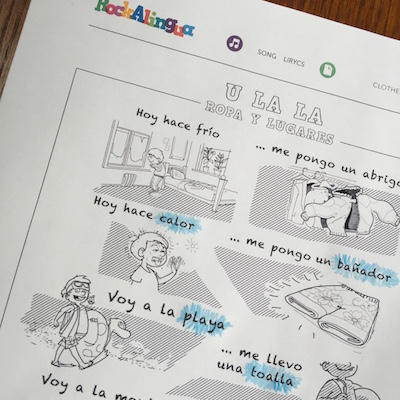 Kids look for and circle one type of word in this activity. The words can be related by meaning, such as animals, colors, or emotion. Kids can also look for a certain part of speech like action words (verbs) or words that describe (adjectives). Children can circle rhyming words to reinforce letter sounds and patterns.
Try circling the rhyming words in Ulala. Ropa y Lugares by Rockalingua.
Make a Puzzle with Spanish Song Lyrics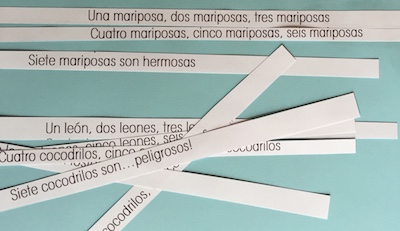 First, cut apart the lines of a song. Next, kids assemble them in the correct order by reading the text. They can do this as they listen to the song, or without listening and then check the puzzle by reading and singing along. If kids are going to try it without listening, make sure the song has a logical order. You may want to leave two or three lines together, depending on the difficulty of the song.
For beginning learners, try it with Mister G's Siete elefantes. It is great practice reading number words. Find the lyrics here.
Kids can also try it with José Luis Orozco's – De colores.  Find the lyrics here. The lines on the printable are short, so you will probably want to cut them apart in groups of 3 or 4.
Make a Collage of Spanish Song Lyrics
Kids can choose vocabulary from the song and make a collage with pictures. At first, this may not seem a reading activity, but you will be surprised how many times they read the lyrics as they make their collage.
Make a Word Search with Spanish Song Lyrics

Choose words from the lyrics to make a word search for a friend or family member. Kids write in the words first and fill in the empty spaces with extra letters. This is also a great way to review letter names, because the easiest way to fill in the empty spaces is to say the alphabet as you randomly choose squares. The puzzle in the photo is from Buenas Noches by Mister G and uses gato, hermano, abuelita, buenas, noches, perrita, sueños, animales, helados.  You can hear the song here.
Download the grid for making a song word search.
Make A Book With Spanish Song Lyrics
Kids can make a favorite song into a favorite story. Put a line or two on to each page for them to illustrate. They can do a whole song or a favorite verse or chorus.
You can also find printable books for traditional songs online. For example, I have sequencing cards for La araña pequeñita that make a nice mini-book. You can hear José-Luis Orozco sing the song here.
There is also a printable book of De Colores on Nellie Edge. José-Luis Orozco sings the song here.