Caballito blanco is one of the first songs my children learned in Spanish. We happen to have a white horse, so my kids loved it. Children all over the Spanish-speaking world sing this traditional song. I have also seen Caballito blanco identified as a jump rope rhyme, but my family learned the song and that is how I have used it in teaching Spanish to children.
There are several versions of Caballito blanco. The longest version has three distinct parts. The first asks the white horse to take the singer home, the second is about three sheep, and the third part tells Juana to get up and light a candle to investigate a noise.
Often, children learn only the first two, and many recordings are done with just those two parts. I use a version with just the first two parts for teaching.
I like to sing this song with children learning Spanish for several reasons. First, it has very concrete, common vocabulary. It also has several verb forms that children learn right away: tengo (I have), tienes (you have), da (gives). Finally, the clear rhyme scheme reinforces the correct prononciation of the Spanish vowels.
Caballito Blanco – This video uses the first two parts of the song. I like the photographs of horses and sheep! The video supports the words to the song well.
Caballito blanco Lyrics
Caballito blanco,
llévame de aquí, (sácame de aquí,)
llévame a mi pueblo
donde yo nací.
Tengo, tengo, tengo,
tú no tienes nada,
tengo tres ovejas
en una cabaña. (en una manada.)
Una me da leche,
otra me da lana,
y otra, mantequilla
para la semana.
Levántate Juana
y prende la vela (a prender la vela)
para ver quien anda
por la cabecera.
Son los angelitos
que andan de carrera
despertando al niño
para ir a la escuela.
Caballito blanco
There are many versions of this song available to download on Amazon and iTunes. If I am using a song with children learning Spanish, I look for a version that is clear and not too fast.
Here are a few versions of Caballito blanco that work well with Spanish language learners: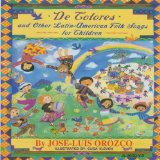 The version by José Luis Orozco is the slowest and clearest version of this song that you will find. It is wonderful for beginning learners and little children. I love the sound of the horses hooves!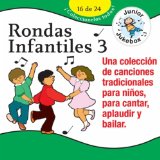 The version by Jorge Lan is from the CD Rondas infantiles 3. It is a little faster than the version by José Luis Orozco and it has a slightly different tune that the most traditional version.
There is another version from the CD Canciones infantiles y cuentos. Again, it is a little faster. It has the traditional tune.
You may also be interested in this traditional song for children: Spanish songs for children – Debajo de un botón