It is important for Spanish learners to use the language to learn about other disciplines. The ACTFL World Language Readiness Standards refer to this as Making Connections (3.1), and it is one of my favorite parts of teaching. I've found that kids especially love science lessons in Spanish class!
Be sure to check out our other Spanish for Kids vocabulary activities arranged by theme. We have lots of ideas and materials to use in your Spanish lessons.
Connecting Spanish to science builds language skills as it reinforces knowledge of science concepts. With Spanish science lessons you can include lots of hands-on learning, as well as draw on music and video to support the language and science learning.
Below you'll find resources I use to connect science to learning Spanish. These materials for Spanish science lessons cover a variety of topics at a range of levels.
Language for Spanish Science Lessons
Science lessons in Spanish are an opportunity to use language in an academic context. In addition to vocabulary related to the topic you're studying, Spanish science lessons incorporate language for:
Questioning
Students use questions to list information they would like to know about a topic. As they learn more, they record the answers.
Sequencing
Students indicate the sequence of events using numbers. They can describe a process with words such as entonces, después, próximo, and al final.
Comparing/contrasting
Students use comparative adjectives  like más largo, más corto, más grande, más pequeño, más pesado, más ligero to compare objects. Also, students can use charts, graphs or diagrams to compare or contrast two concepts. For example, Venn diagrams are an excellent tool for comparing animals or insects.
One-to-one correspondence/counting
In addition to using numbers, students make comparisons using más, menos, mayor que and menor que.
Predicting/hypothesizing
Students predict what will happen or hypothesize answers to their questions. They use language such as Creo que…, Pienso que…and Ir + a + infinitive
Songs to Introduce Spanish Science Lessons
Songs are an engaging way to introduce theme vocabulary for Spanish science lessons. They also establish a context for ideas related to the lesson. You can use the knowledge kids have about a topic to reinforce the language they are learning, and they also use the language to reinforce science concepts.
Rockalingua Songs for Introducing Science Lessons
Rockalingua songs and illustrated lyric sheets are a great resource for introducing theme vocabulary related to Spanish science lessons. These materials are available at no cost on the Rockalingua website.
In addition to the topic vocabulary, I use Rockalingua illustrations to make connections to broader concepts. For example, students identify parts of the water cycle with song illustrations related to weather, or use weather illustrations to talk about what the temperature would be. With the color song, you can talk about primary colors and how colors combine.
These are a few of the Rockalingua songs you can learn to make connections to science.
Connect to Spanish science lessons about the weather, seasons and water cycle with the Rockalingua songs ¿Qué tiempo hace?, El invierno, La primavera, El otoño and Las cuatro estaciones.
Learn the song La tierra to connect to Spanish science lessons on habitat, animals and climate.
The songs Las frutas, Las partes del cuerpo and Me duele are good for introducing vocabulary for Spanish science lessons about nutrition and health.
Learn La granja to introduce vocabulary related to science lessons about animals.
Song Collections for Science Connections
I particularly like Rockalingua because I can use the illustrations in so many ways in my lessons. However, there are many other Spanish songs that support science connections.
Check out some of our favorite Spanish rain songs,  Spanish chicken songs and Spanish color songs. These Spanish body parts songs and hand-washing songs also work well as introductions to Spanish science lessons about germs and staying healthy.
Books for Science Connections
There are dozens of books about plants, animals, the planets that help children understand science concepts. Be sure to check our out books list for some of our favorites.
For science topics you don't usually find in children's books, I love the Baby Loves Science books in Spanish. They are wonderful! You can read about them here: Spanish Science Books for Kids.
Science Lessons in Spanish
You can use many of the materials on Spanish Playground to make science connections in Spanish class. Try these free materials in your lessons.
Spanish Science Lessons about Plants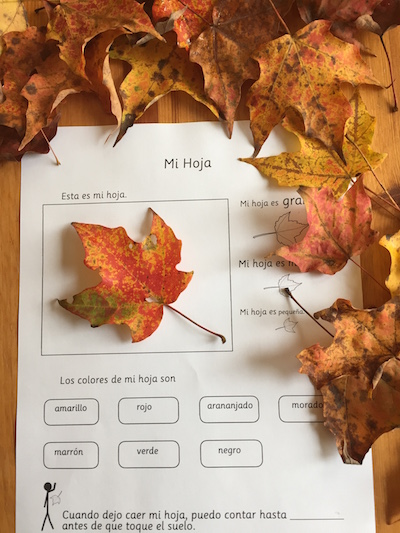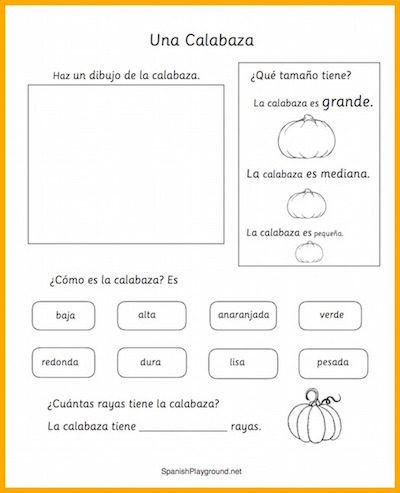 Food from Latin America: Roots of Culture
Spanish Science Lessons about Animals
Monarch Butterfly Activities in Spanish
Spanish Vocabulary Graphic Organizers – This set of Are-Have-Can Graphic Organizers includes printable pages for turkeys, bats and trees.
Armadillo Facts and Stories in Spanish
Preschool Spanish Mouse Activities
Spanish Science Lessons about the Planet
Resource for Learning about the Solar System in Spanish
Learning About Water in Spanish
Spanish Nature Walk Check Sheet
Science Experiments for Spanish Class
Kids acquire language best when they can engage with it physically. There is no doubt that sensory experience and movement enhance comprehension and retention.
So, using science experiments in Spanish class increases language learning and also engages kids with science concepts. It's a win-win!
My class time is limited, so I have to do simple science experiments that don't have a lot of materials and are easy to set up. These two experiments are always a hit with students.
Sink or Float
You can see get my printable pages for a ¿Flota o se hunde? experiment here: Sink or Float in Spanish Class
This video is a great introduction to the language kids need to do this simple science experiment in Spanish.
Simple Science Experiment in Spanish with Colors
Combining colors is another simple science experiment you can do with your youngest learners.
I've done it with water and food coloring and also with paint, but my favorite version uses shaving cream and food color. This video makes a great introduction to the experiment.
For more science experiments in Spanish, check out this wonderful resource from Teachers Try Science. There are 40 science experiments in Spanish you can try in class.
Videos for Science Lessons in Spanish Class
Video is a excellent resource for making connections to science in Spanish class.
Peep and the Big Wide World in Spanish
Peep and the BIg Wide World has an entire website with games and videos in Spanish dedicated to introducing children to science concepts. The website in Spanish is El Mundo Divertido de Peep. This is an amazing resource, with lots of support for teachers and parents.
Discovery Kids
Discovery Kids also has an excellent Spanish website and YouTube channel. There are lots of videos and games to support connections to science in Spanish class. Check out their website at Discovery Kids.
Habla Videos
The videos from Peep and Discovery Kids are authentic language resources and can be challenging for Spanish learners. However, you can also find videos for Spanish science lessons created for language learners. For example, check out the Kids Learn Spanish Habla Videos for resources like this one about trees.
More Resources for Spanish Science Lessons
For an excellent complication of resources for Spanish science lessons, see the Community Resources for Science website. There you will find a collection of Spanish resources for teaching science.
Learning About Science in Spanish
There are many reasons we should connect language learning to other disciplines such as science. Of course, as language teachers, we often focus on how the new context enhances Spanish learning.
However, it is important for us to remember that we can reinforce and expand on science content children need to learn. When we teach language and additional content, kids learn more of both. What is your favorite way to incorporate connections to science in your Spanish class? We would love to hear from you!