Reading different kinds of text in Spanish helps kids develop vocabulary and understand the different ways we use language.  The 15 types of text below can all be good Spanish reading practice. Print the reading challenge below and encourage kids to read new things in Spanish.The world is full of Spanish words, but they are not always accessible to kids. That means it is up to parents and teachers to find different things for kids to read. The following texts can make good Spanish reading practice for kids.
Be sure to check out our Spanish reading for kids resource page for online books, printable reading activities and activities for favorite picture books.
Instructions as Spanish Reading Practice

Kids can read all kinds of instructions online or you can print them. For example, you can find instructions for games like these for the pencil and paper game OSO.  Children who love horses will like these WikiHow instructions for horse care. In fact, WikiHow in Spanish is a good place to start for written instructions about almost anything.
Recipes for Spanish Reading Practice

Children learn language and much more from cooking. In addition, it is excellent Spanish reading practice. Check out this fabulous Chop Chop Pinterest board with recipes in Spanish. Click through for the printable recipes. Chop Chop an award-winning cooking magazine for kids available in Spanish and English. You can read about using the magazine with Spanish learners here or visit the Chop Chop website.  You can also find many other recipes online for kids to read and make.
Scavenger Hunts to Practice Reading
Kids love scavenger and treasure hunts, and the clues are good Spanish reading practice. Try these printable scavenger hunts for some summer reading fun.
Encuentra estas cosas (a hunt for things found in most households)  This PDF has 2 versions. One with only the picture clues and one with labeled picture clues.
Encuentra 20 cosas (10 of the clues are objects found in most households and 10 of the clues use common adjectives, for example, algo grande, algo verde.)
Treasure and scavenger hunt – ¿Qué es? The PDF has both a scavenger and a treasure hunt. The clues describe what objects are used for.
You can also find printable check lists with words and pictures in this post: Looking and Listening Walks
Comics for Spanish Reading Practice

Comic strips are good Spanish reading practice because the illustrations help tell the story. They are also short and many have characters and stories kids can follow from one day to the next. You can find online comics in Spanish here. Not all comics are intended for children, so be sure to become familiar with a strip before reading it with kids.
Family Notes to Practice Reading
Writing notes to kids in Spanish is another way of giving them extra Spanish reading practice. We had a pretty framed message board in our kitchen when my children were little and I left them notes about everything and nothing. The notes don't have to be complicated or long. A reminder (clase de piano a las siete), a question (¿Tienes mucha tarea este fin de semana?), or even a jumbled word for them to unscramble (¿Qué animal es: tórna?) make for more reading.
Letters and Email for Reading Practice
We don't sent many letters or cards through the postal system anymore, but if you have a family member or friend who is willing to write to your child in Spanish, encourage that person to do so. Kids enjoy letters and of course get even more Spanish practice if they answer. Email works well too, so don't feel as if the letters have to be on paper. With email, remember that you can attach a photo for kids to comment on.
Labels for Spanish Reading Practice

Many food items have Spanish labels. Point them out to your child and read them together. You will also find Spanish labels on shampoo, clothing and other products.
Signs and Posters to Practice Reading
Signs in the community or at home are also good for Spanish reading practice. Depending on where you live, there may be signs in Spanish everywhere or they may be hard to find. Some department stores like JCPenney and Target put all the signs in Spanish and English. Often caution and instruction signs are in Spanish and English. Point out the signs to your child and read them together.
You can also make signs or posters to display at home. If you use a frame, it is easy to change the sign and give kids new Spanish reading practice. We had a magnetic frame on our refrigerator and I printed quotes, jokes or sayings to hang at kid eye level.
Photo Captions for Spanish Reading Practice

Normally, captions inform readers about a photo. However, the photo also helps Spanish learners understand text. I have an album of photos from Spanish-speaking countries on Facebook. I chose focused photos and wrote captions children will understand by looking at the pictures.
Discovery en Español also has many photos with captions in their Facebook photos. They have information about the subject of the picture like this photo of a pez león or sometimes ask a personal question like this example. The photos with captions are excellent Spanish reading practice.
Jokes for Spanish Reading Practice
Children can also use short jokes for Spanish reading practice. You can find many sets of jokes for kids on Spanish Playground by clicking on jokes in the main menu. There is a printable set of simple jokes here. Because there are no pictures to support the text, you may have to clarify vocabulary. There are tips for telling jokes with Spanish learners in the post.
Lyrics for Reading Practice

Song lyrics are high-interest Spanish reading practice. Kids can read and sing along to their favorite songs on YouTube or you can search for lyrics and print them. You can find suggestions for activities to do with song lyrics here.
Calendars for Spanish Reading Practice

Keeping track of family activities on a paper calendar helps children know what to expect and is an easy way to add Spanish reading practice to the day.  You can print calendars in Spanish like this calendar for 2020 from Dibujos.net. In addition to the months and days in Spanish, this calendar includes holidays observed in Spanish. You can download the whole year or individual months.
Magazines for Spanish Reading Practice
There are not a lot of print magazines for kids in Spanish available in the United States. Highlights publishes High Five bilingüe and Chop Chop is a wonderful family cooking magazine. Scholastic has a Spanish edition of the weekly magazine Let's Find Out available as a subscription of 10 or more copies. Scholastic also publishes classroom magazines for Spanish learners grades 6-12.
Games with Questions

My children enjoyed reading quiz questions to me and to each other. There are board games with these questions, but we bought our when we were in Mexico. They are available here, for example this edition of Maratón.
We also have games with general knowledge questions, category questions and other reading. Check out these printable Spanish board games.
You can also put question cards from games in a jar for kids to draw and read. You can read through and take out questions that are too difficult or much too easy, and combine sets from different games.
You can also find many online quizzes and questionnaires in Spanish for kids.
Game Apps for Spanish Reading Practice
Many game apps change language with the language of the device. Although these games are not specifically for language learning, they are excellent reading practice. Read about 4 games apps that work well for kids learning Spanish.
Printable Reading Challenge
Use the suggestions above to help kids find and read different types of texts. Encourage them to try this reading challenge.
Download the Spanish reading challenge.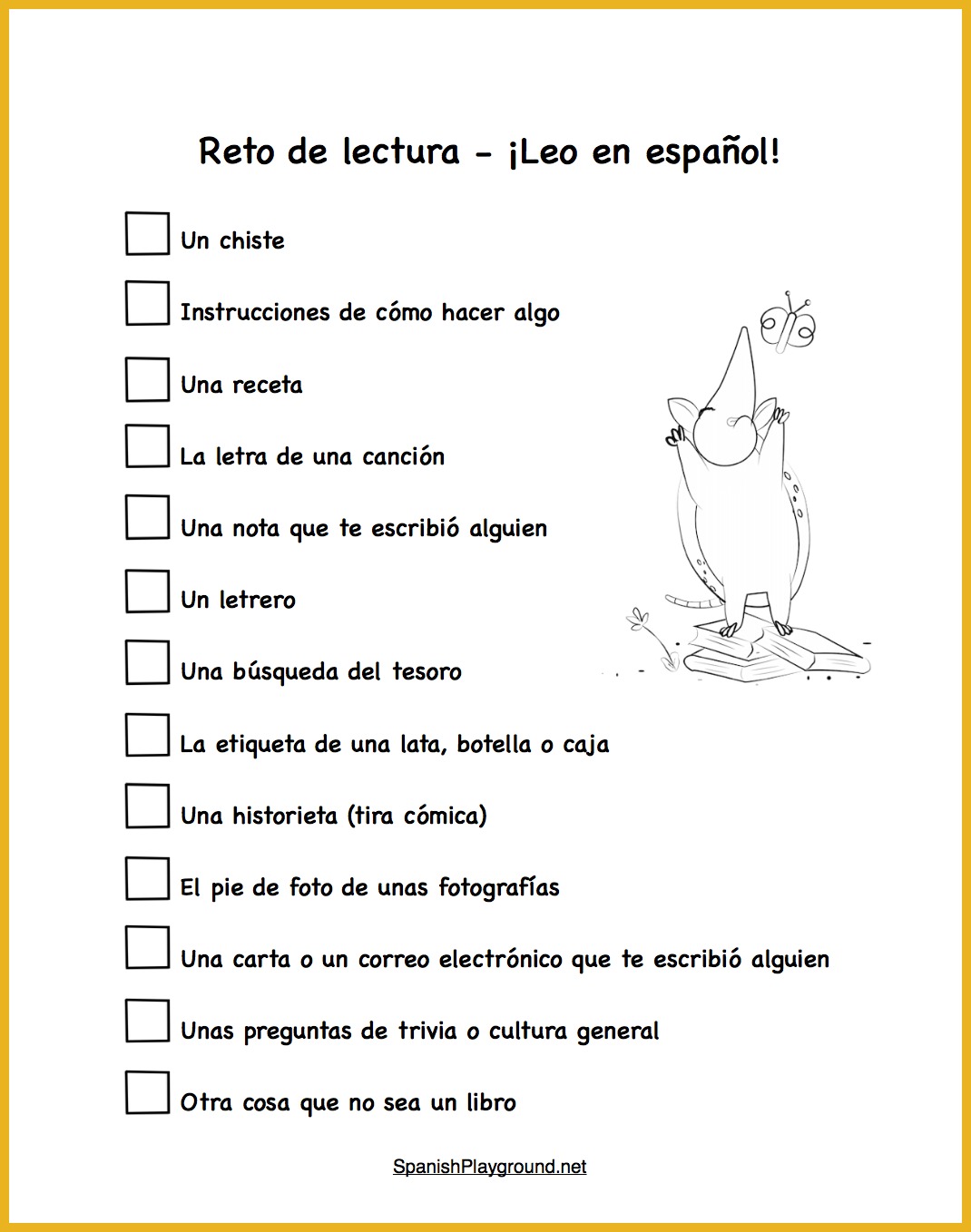 Photo Credit: mikecogh via Compfight cc