This Spanish reading practice for beginners is easy to use in different ways. The printable pages have 12 picture cards of houses and a short description card for each picture. Download the free Spanish reading practice for beginners at the end of the post.
There are many ways to use the picture cards and descriptions in this Spanish reading practice for beginners. You can adapt the ideas below to other pictures and write your own descriptions, too. For higher-level students, use more complicated pictures and text.
Check out our Spanish reading for kids resource page for more printable reading activities, activities for favorite picture books and online stories. We also offer readings related to our videos as part of our YouTube channel membership perks. Get more details about Spanish Playground YouTube Channel memberships.
You can find another picture match with 10 images of children doing daily activities here: Elementary Spanish Reading: Picture Match.
Spanish Reading Practice for Beginners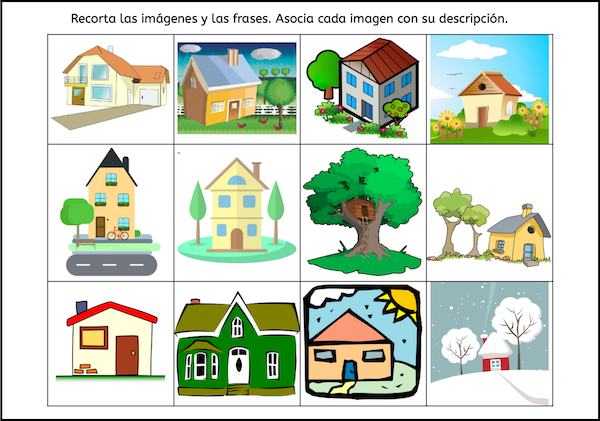 These are a few of the activities you can do with these materials:
Do the activity following the instructions. First, students cut out the cards and descriptions. Then, they read and match each description to the picture. This is a good activity for fast finishers or for elementary Spanish reading centers.
Give students several description cards. Read a description aloud and have students read to identify which description they heard. Then, match the description card to the picture.
Have students glue the picture onto a larger sheet of paper with the description below. Have them label the picture with key words in the text. This is a good activity for elementary Spanish reading interactive notebooks.
Cut apart the cards and descriptions, and place them all face down. Play Memory to find matching pairs.
Give students a description and have them draw a picture based on the text. Then, match their pictures to the picture cards.
Give students a picture and the matching text. Describe the picture aloud using slightly different and additional language, but including two or three key words from the description. Have students underline words in the text that they hear in the oral description.
Give either a picture card or a description card to each student. Students look at the picture or read the description but do not show it to anyone else. They talk to their classmates to match the descriptions to the pictures. Students with pictures describe the picture in their own words, and the ones with descriptions ask questions based on the text.
Have students write a two-sentence description of several pictures. Depending on their level, they can do this before or after having done other activities with the cards. Then, students match their classmates' descriptions to the pictures.
Remove one or two key words from the description. Have students complete the sentence based on the picture.
Give students a set of picture cards. Read the descriptions aloud and have students identify the pictures. Then, read several descriptions and have students place the cards in order.
Personalized Activities
Have students choose which house they like most and write several sentences about why they like it. 
Have students draw their own houses or apartment buildings and write short descriptions. 
Reading Practice Vocabulary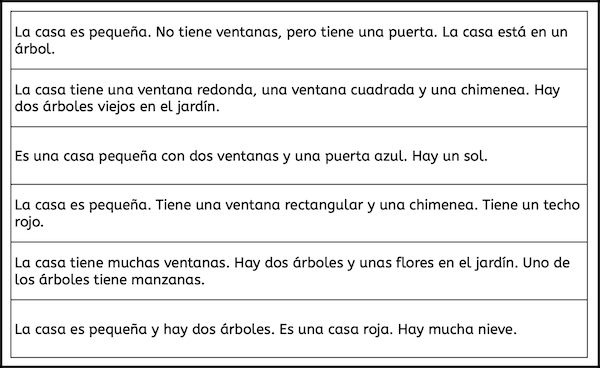 The sentences in the descriptions use this vocabulary:
tiene
es
está
hay
la casa
el jardín
el árbol
la flor
la nieve
el sol
la manzana
la ventana
la chimenea
la puerta
el techo
el balcón
el garaje
la bicicleta
semicírculo
redondo
rectangular
cuadrado
blanco
azul
rojo
amarillo
grande
pequeño
alto
viejo
mucho
Get House Picture Match
Spanish Reading Practice – Match Descriptions to House Picture Cards
Pictures with descriptions are a versatile tool in the classroom. They are useful for beginner Spanish reading practice, and you can also use them for speaking and listening activities. Try different activities with pictures and short text descriptions in your reading lessons. If you use pictures and descriptions to teach beginning Spanish reading in other ways, please share in comments.