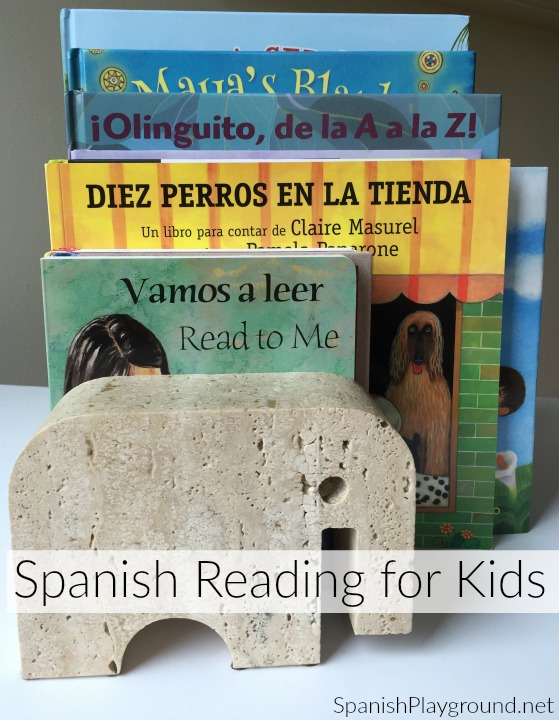 Reading is one of the most powerful language learning tools we have. With Spanish reading for kids, access to language is not dependent on travel or finding native speakers – it is something that all parents and teachers can give children every day.
Spanish stories for kids offer accessible exposure to language. Picture books, in particular, support language with illustrations and a story line. You can find reading for any level and to appeal to different interests.
Spanish Books for Language Learners
Visit our Spanish Books for Kids page for book recommendations and activities for specific picture books.
See the resources below for developing reading skills.
Jump ahead to these sections if you like:
Support for Reading in Spanish
Online Spanish Reading and Apps
Printable Spanish Books for Kids
Reading Practice – Printable Activities
Poetry in Spanish for Kids
Readings in Spanish by Theme
Summer Reading Program
Support for Reading in Spanish
Many public libraries have growing collections of children's books in Spanish. You will find some of our favorite titles here: Online and Printable Book Lists.
Also, Spanish Playground printable book logs and reading challenges are a fun way to encourage kids to read in Spanish.
The more kids engage with the text, the more Spanish they learn. These are our 10 Best Strategies for Reading to Kids in Spanish.
In addition, check out these 15 Easy Activities to Help Kids Engage with Reading and these Reading Games to Play with Spanish Books. Also, these strategies for Motivating Kids to Read in Spanish and a big help to parents and teachers.
If you're ready for a longer list, here are 50 Book Activities in Spanish for Any Book.
If you have kids who are learning to read independently in Spanish, word attack strategies are important. You can read about how to apply them in Learning to Read in Spanish: Word Attack Strategies.
Of course, kids can read things other than books. Check out 15 Things for Kids to Read in Spanish Besides Books.
Finally, these Printable Spanish Gratitude Journals are wonderful for Spanish learners. The book-inspired journals raise awareness, reinforce language learning, and engage kids with Spanish stories.
Spanish Stories Online
50+ Online Spanish Stories for Kids
Free Spanish Readers and Activity Books
Spanish Online Reading Comprehension Games
Online Spanish Reading Comprehension with Math
5 Apps for Reading in Spanish
Free Spanish iBooks for Kids – 5 free e-books at several different levels.
7 Fun Free Websites to Keep Kids Reading in Spanish
Printable Spanish Books for Kids
Printable Spanish books are an excellent option for Spanish learners. I make Spanish books and print them because I can focus on the language we're learning, and they are also a great home connection for my families. Check our Free Printable Spanish Books for Kids.
Spanish Reading Practice
Reading Activities with Printable Cards
Summer I Spy with Board and 55 Game Cards – The game cards describe the objects on the board. There are 6 different ways to play.
Spanish Trivia Questions: Printable Cards – 80 general knowledge questions kids can understand in Spanish. Many are appropriate for beginners. A super fun way to get more language into a day!
Spanish Synonyms for Elementary Students – Synonyms are an excellent way to grow vocabulary. Printable cards with game ideas and two color-the-synonyms activities – one of nouns and one for adjectives.
Sentence Building Games in Spanish – A set of sentence building games and printable cards with high-frequency vocabulary.
44 Lego Challenge Cards in Spanish – Kids follow the instructions to create with Legos.
Spanish Task Cards: Animal Vocabulary
These 10 common Spanish sayings are divided into logical halves. They are on printable matching cards. Spanish Sayings: Matching Cards
Reading Practice with Photographs and Pictures
You can use these reading activities online, on any device, or print them.
Picture-Based Spanish Reading for Beginners – A short reading for a cute illustration with lots of high-frequency vocabulary.  There is also a modified cloze exercise where students choose from a pair of words and questions to use with the reading.
Common Spanish Verbs: Picture Match and Mini-Book – This picture match and mini-book for beginning readers use common Spanish verbs and support the meaning with cute pictures of cats.
Spanish Sentence Strips and Mini-Books – These printable pages have 4 sets of Spanish sentence strips to make mini-books. The readings are also formatted as paragraphs. You can find 3 additional sets of Spanish Fluency Strips for Beginning Readers here.
Elementary Reading: Picture Match – Printable pages with 10 picture cards of children and a two-sentence description card for each picture. Also, I've suggested ways to use the cards and descriptions for reading practice.
House Picture-Text Match – PDF with 12 picture cards of houses and a two-sentence descriptions for each picture. Again, I've suggested ways to use the cards and descriptions for reading practice.
Reading Activity: Gatos en el baño
Dragon Photo: Spanish Reading Comprehension
Reading in Spanish for Spring with Question Activity – Lots of high-frequency vocabulary, supported by a silly picture. This activity is great for practicing questions, too.
Gatos en la casa – An easy reading and question activity based on cute illustrations of cats. Excellent for practicing house vocabulary.
More Printable Reading Activities
Family Members in Spanish: Family Tree Activities – Includes printable reading activities with a family tree illustration.
Spanish Logic Puzzles for Reading Comprehension – These logic problems use common winter vocabulary, but they are fun to solve anytime. Read the clues and fill in the grid. You will find instructions for solving logic puzzles in the post.
Dolphin Activities in Spanish – A short reading about dolphins with comprehension activities, graphic organizers, photos with text and more.
Reading Practice with Easy Drawing Activities
Spanish Vocabulary Practice: Draw the Details – Reading practice adding details to pictures of houses.
Vocabulary Activities with Stick Figures – Reading practice adding details to stick figures.
Easy Spanish Reading: Draw-the-Details Snowman – Reading practice adding details to pictures of snowmen.
Syllables in Spanish: Printable Wheel – A word-building activity for beginning readers.
Peru Facts and Puzzles in Spanish and English – A reading of basic facts and and a crossword puzzle introduce children to Peru.
Spanish Workbook: Aprendiendo a Leer – A printable workbook with activities for beginning readers.
Rhyming phrases kids say to each other in Spanish (similar to See you later, alligator. After a while, crocodile.) – Spanish Rhymes: Fun Phrases for Kids
Simple Spanish Analogies – Kids read and complete analogies with basic vocabulary supported by pictures. A cut and paste activity.
Spanish Song Lyrics for Reading Activities – Includes a make-your-own word search printable to make a puzzle for a favorite song.
Simple riddles appropriate for kids learning Spanish – Spanish Riddles for Language Learners
Printable Spanish Counting Activities – Printable read, count and color pages for beginners.
Spanish Poems for Kids
See our collection of Spanish poems for kids with activities for Spanish learners.
Spanish Reading by Theme
Trees in Spanish: Readings with Activities   A selection of online stories and activities for pictures books at different levels.
Spanish Stories about Armadillos – A printable reading and activity along with stories to read online or print.
Check out the Summer Reading Pinterest Board for more reading activities and resources.
Online Summer Spanish Reading Program
The Summer Reading program encourages children to read and play in Spanish during the summer months. It is a free online program, modeled on the summer reading programs that public libraries offer.
Register and find more information: Spanish Summer Program.