Mariana Llanos has just released Poesía Alada, a book of poetry and art for children. The release coincides with the birth of Cervantes and National Poetry Month, fitting celebrations of the beauty of the Spanish language and poetry. This is an lovely collection of Spanish poetry for elementary students.
Mariana Llanos is an award-winning author of children's books. She is originally from Peru, and many of her titles are available in both Spanish and English.
Read more about the author's picture books: Mara sin cumpleaños, El Monstruo Quierelotodo, and Tristán Lobo.  Poesía Alada is available on Amazon.
Be sure to check out our poetry resource page Spanish Poems for Kids.  It has more poems for children and information about sharing them with language learners.
The poems in Poesía Alada are an authentic language resource. In other words, they are written for native speakers, rather than for children learning Spanish as a second language. Authentic resources are a rich source of language and culture for both Spanish learners and native speakers. Every child will find poems they love and relate to in this new collection of Spanish poetry for elementary students.
The poems in this collection span a range of language levels. Spanish learners will be familiar with the majority of words in some of the poems, while even native speakers will acquire new vocabulary as they read others. This richness of language is one of the many benefits of authentic resources.
Repetition and Rhyme
The structure of this Spanish poetry for elementary students helps children learn language. For example, the patterns and parallel structures give children repeated exposure to common sentence structures.
The poem Sueño espacial, for example, begins
Si pudiera viajar al espacio,
jugaría fútbol con la Luna
y anotaría un gol al Sol.
Si pudiera viajar al espacio,
uniría las estrellas como puntitos
con un lapicero juguetón.
Si pudiera viajar al espacio
jugaría al hula-hula
con los anillos de Saturno…
The same structure continues throughout the poem. Patterns like this make it easy for children to join in on read alouds, and they build comprehension and confidence.
In addition to sentence structure, the rhyme and rhythm of the poems in Poesía Alada helps children acquire the sounds of Spanish, as well as new vocabulary.
For example, the poem Mi zoológico, presents a wonderful series of animal rhymes.
It begins
Hay un zoológico en mi habitación.
Si no me crees, presta atención:
Tengo un recio gorila con mochila.
Tengo jirafas con gafas.
Tengo un cocodrilo con estilo.
Tengo una cebra
casada con culebra….
The rhymes continue, adding 10 more animals to the zoo.
Themes in Spanish Poetry for Elementary Students
Several poems in the book coordinate especially well with common themes, giving teachers and parents a way to make connections across disciplines.
Space – Sueño espacial. As you can see in the excerpt above, this poem has many words related to space.
Beach – Versos en la playa. 5 poems of 4 short lines each with vocabulary such as ola, cangrejo, mar, arena, balda, marea, agua. This poem is an excellent example of how Spanish poetry for elementary students can reach across many levels.
Plants – Árbol amarillo – 3 four-line stanzas, describe how a tree reaches up and down.
Physical description/diversity – Somos lo que somos – In addition to typical descriptions of physical appearance and preferences, this poem includes wheelchairs, hearing aids and allergies in a celebration of diversity.
Animals – Mi zoológico – As you can see in the excerpt above, this is a fun rhyming collection of animals.
Helado de Cinco Bolas
Mariana Llanos has generously given me permission to share a complete poem with my readers.
I selected Helado de cinco bolas because of the conversational tone and wealth of functional language for Spanish learners. It is an excellent way to introduce how we hesitate, change our minds, or add another thought in Spanish. In addition, ice cream is fun and delicious!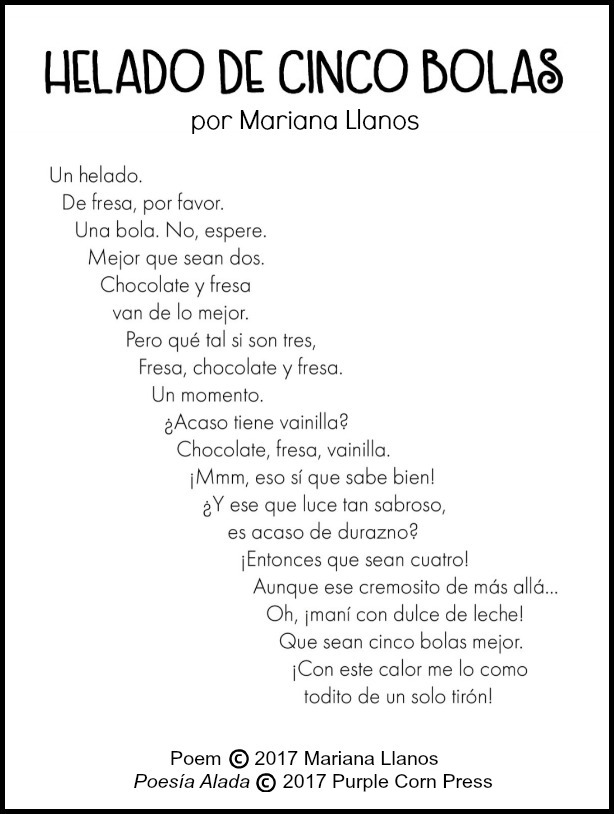 Mariana Llanos has a wonderful program of school visits by Skype or Google+. Read more about this opportunity on the author's website.
This collection of Spanish poetry for elementary students will please native speakers and also includes poems for second language learners. Share poems and art of Poesía Alada with the young people in your life.