Learning numbers in Spanish is more than learning to count. Counting is a good place to start, but numbers are important words that must be internalized individually. Below you'll find activities to teach Spanish numbers to kids.
Fortunately, number activities are easy to make because digits are picture representations of the number words. Also, many counting and math activities can be done in any language.
Be sure to check out our other Spanish for Kids vocabulary activities arranged by theme. We have lots of ideas and materials for you to share with children.
Videos with Spanish Numbers for Kids
This video uses Spanish numbers from 1-20 in the context of getting ready for a party. It's a great place to start learning numbers!
This easy Spanish conversation uses numbers to talk about time.
Printable Activities to Learn Numbers in Spanish
These printable pages with birds or dogs are one of my favorite counting activities for little ones and beginning readers. Kids color a certain number of animals a specific color, but they choose which ones. My kids love it! Get the printable Spanish counting activities.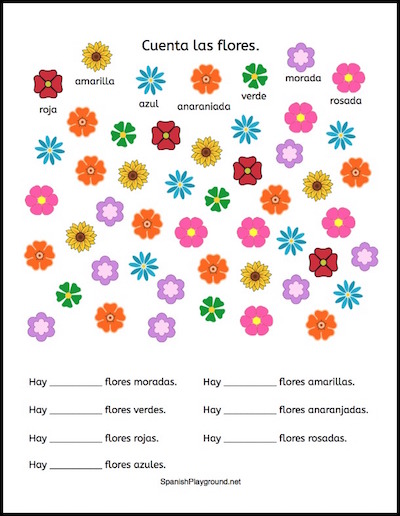 In addition, this printable color and counting activity with flowers let's kids practice hay + número. It's a fun activity to do in the spring as flowers start to bloom.
If you are working with older students who are learning to express large numbers, try this Spanish Card Game: Country Names and Size. It's a low-pressure way to practice big numbers and the names of countries.
For more printable and hands-on number activities, see our Hazlo en español Pinterest Board. It has activities that can be done in any language, and many of them are for learning numbers.
Spanish Number Games
Lots of dice and card games are a good fit for learning Spanish numbers with kids. For example, check out these 25 Spanish Number Games You Can Play Tomorrow for easy ideas for your lessons.
Online Activities for Spanish Numbers
Numbers lend themselves to hands-on activities, but online activities can be useful too. For example, they have the advantage of having audio and kids love them.
PBS has an excellent selection of online activities in Spanish. You can find our favorites for Spanish numbers for kids here: Spanish Number Games from PBS.
Of course, math is more than number skills. Math requires strong language skills, including reading comprehension. Proble+ (pronounced problemas), is a website that combines reading comprehension and math. Try it here: Spanish Reading Comprehension Through Math It's excellent!
Spanish Number Songs
There are many counting songs in Spanish, both traditional and songs by contemporary artists. Singing is a wonderful first exposure to numbers in Spanish for kids.
If you're working with little ones, try these 5 Spanish counting songs for preschoolers.
Un elefante is a traditional counting song. Check out these Un Elefante Se Balanceaba Lyrics and Activities videos, printables and games.
Rockalingua also has Spanish number songs for kids, with a videos and printable pages you can use with the songs. For the numbers 1-10, you can find information here: Spanish Color and Number Activities from Rockalingua.
In addition, Rockalingua has a song for the numbers 1-50, I haven't use it, but you can find it on their website. I have used their song for higher numbers. In this song, kids count by 10s and then 100s: Los números 10-1000.
It's important to include Spanish numbers in our lessons for kids. Numbers are basic vocabulary, and also allow learners to make connections to other disciplines like math and science. Do you have favorite number activities? We would love to discover more, so please share in the comments below.