I'm so excited about this fabulous source for Spanish nonfiction children's books. The Creative Company has three divisions that publish nonfiction titles in Spanish: Amicus, Black Rabbit Books and Creative Education. These publishers have wonderful titles for both native speakers and Spanish learners. 
Teachers and librarians, check out these publishers for your school and classroom libraries. As you'll see from the titles I mention below, their books are perfect for dual immersion and elementary Spanish programs as well as excellent choices for English language learners. 
Parents, please share these resources with your school librarians and teachers. Believe it or not, it isn't always easy to know what is available. You can suggest they add some of these Spanish non-fiction children's books to school and class collections when they have the opportunity.
Of course, you also might want to consider nonfiction books for home, especially if you are homeschooling. These are books children will enjoy reading over and over.
Be sure to visit our Spanish Books for Kids page for more book recommendations and activities for specific books.
Why Spanish Nonfiction Children's Books?
I've seen the importance of including nonfiction books as part of language learning. Here are some of the benefits I've observed during my years of teaching Spanish.
High-Interest
Kids are passionate about so many things, and non-fiction books let you tap directly into those interests to engage young readers. A child who is horse crazy will read an entire book about horses. And kids who can't contain their excitement when a firetruck speeds by will study every detail of a firetruck book. They learn so much when the subject is important to them!
Easy to Build On
I can support and expand on the language and information in nonfiction texts with video, audio and hands-on activities. For language learners, it is important to hear information repeated in different settings and with varied formats. Nonfiction lends itself particularly well to this.
Cross-Curricular Connections
Nonfiction texts reinforce important concepts from math, science, history, art and other areas of study. The texts books integrate new knowledge and language, and the more coherent and connected information is, the better students learn.
Multicultural Awareness
Spanish nonfiction children's books let students explore cultures from different points of view and see their own culture valued. Every time I see a student get excited to read about a person or event they identify with, I realize how important it is to include nonfiction texts that relate to other cultures.
Photos and Graphics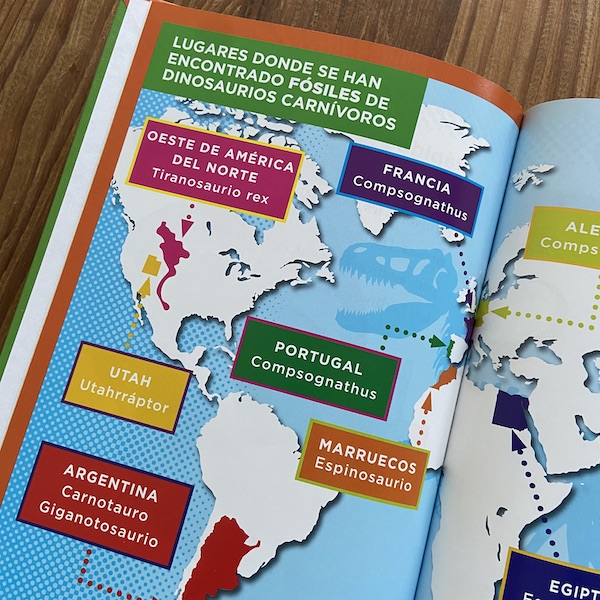 Images in books teach language. In addition, the photos, tables and infographics in Spanish nonfiction books for kids build important academic skills for native speakers and language learners.
Span A Large Age Range
One of the challenges of teaching language learners is finding texts that are age appropriate in terms of information, yet at the right language level. In other words, students do not want Spanish books that feel too young, although of course they have limited vocabularies.
Spanish nonfiction children's books close this gap. Students can read books about snakes, lions, trucks and soccer. The books have amazing photos, instead of illustrations that don't appeal. Best of all, students are engaged and learning, rather than being overwhelmed by text that is too difficult.
Spanish Nonfiction Children's Books from The Creative Company
Each of the divisions of The Creative Company has their own website for purchasing and a range of titles on high-interest topics. I'll highlight a few of the titles that I particularly liked, but be sure to use the links to check out the collections. 
Amicus Publishing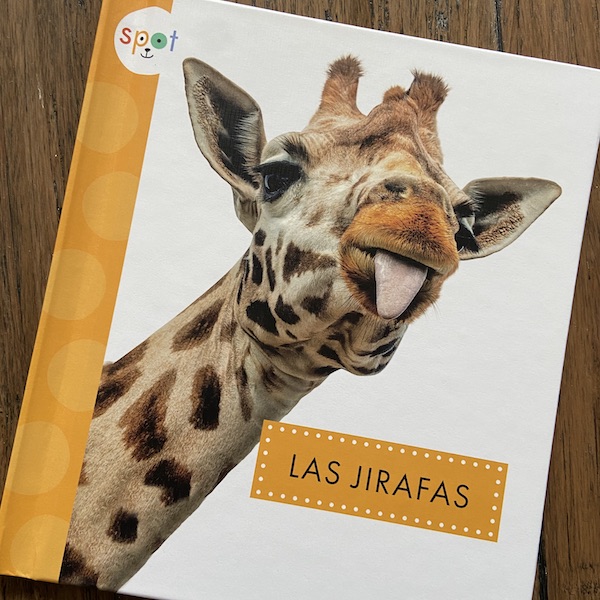 I love the Spot Books from Amicus! They are search-and-find books with captivating photos. Young readers look for new vocabulary words and pictures as they learn simple facts about a topic such as an animal, machine or season. These books are fabulous read alouds for Spanish learners and perfect for emergent readers too. Kids stay super engaged as they spot the images and words.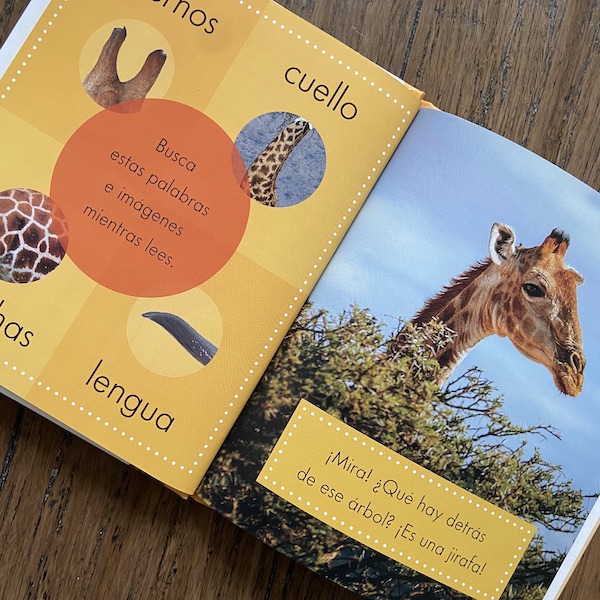 Amicus also has many high-interest books to tap into the individual interests of young readers. From sports to animal builders to favorite dog and horse breeds, these books keep kids reading and learning by giving them information that is important to them.
Check out this article to find the new Spanish titles from Amicus. Each link will take you to a full series. Again, don't miss the Spot Books series: Máquinas poderosas, Estaciones, Animales del patio and Animales africanos. These are definitely going on my list of favorites for Spanish learners. 
Black Rabbit Books
Black Rabbit Books understands how to connect to kids' interests. With titles about everything from snakes to soccer, their books give young readers the opportunity to learn about topics they find fascinating. Whether it is dinosaurs or race cars, Black Rabbit Books presents the information with engaging text and infographics.
In the Black Rabbit collection, I was happy to see the series Beisbol! Latino Heroes of Major League Baseball with four titles in Spanish. Students can learn the stories of Miguel Cabrera, Nelson Cruz, Felix Hernandez and Albert Pujols, players who started their careers in Latin America.
To find these Spanish titles, go to Black Rabbit Books and type Spanish in the search box at the top right. I can guarantee you'll find Spanish books on topics that will fascinate students even if some of them creep you out. Las cucarachas silbadoras (Hissing Cockroaches) anyone?
Creative Education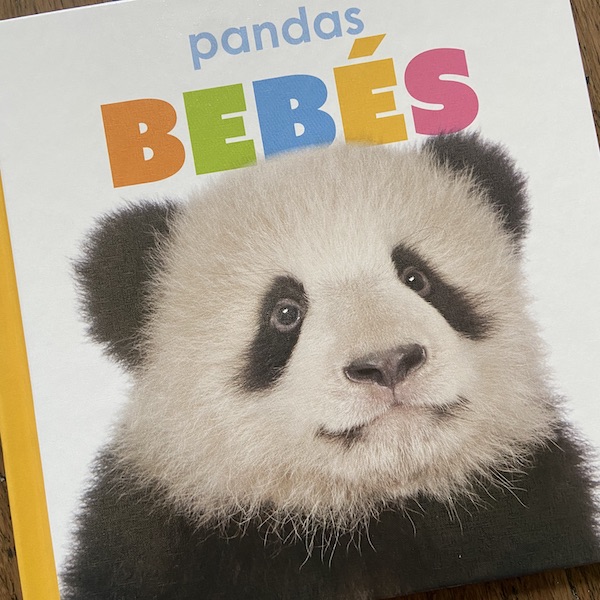 Spanish nonfiction titles from Creative Education span a range of ages and interests. I love the series Starting Out (El principio de) that narrates the development of baby animals in the wild. The books use the first person and simple language – perfect for language learners!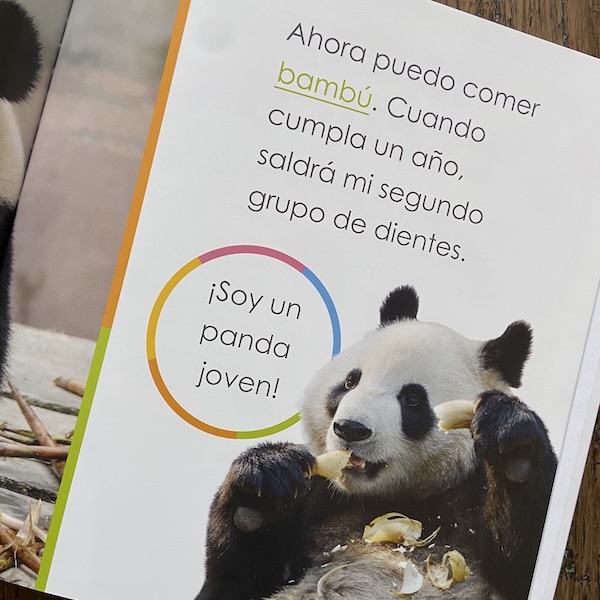 The Semillas del saber (the Spanish titles of the popular Seedings series) has books about trains, bikes, the planets, community workers, lots of animals, and more.
I love the photos and simple text in the books. They are perfect for dual language programs and Spanish language programs in the early grades.
This photo is from Los trenes subterráneos, one of a series of 6 books about trains.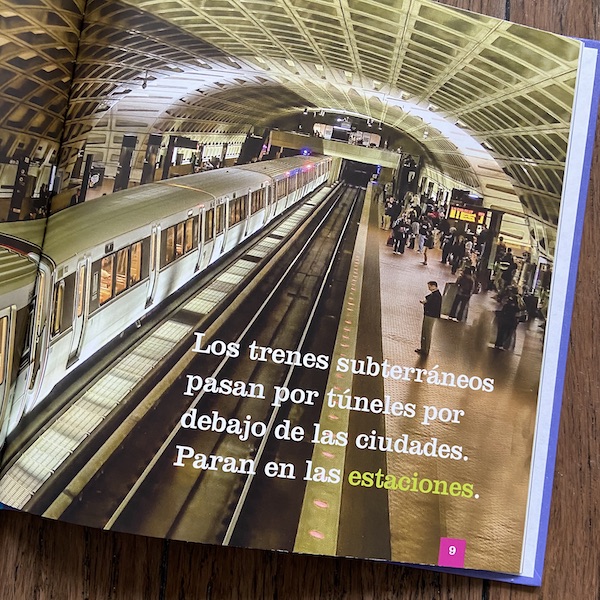 The best place to check out the books from Creative Education and buy online is from The Creative Company's publisher co-op.
There are a lot of titles, so I encourage you to type Semillas del saber and El principio de in the search box. For some reason when I sorted for Spanish using the Subject tab, just a few of the titles showed up. Believe me, that is not representative. Creative Education has many Spanish titles, and the searches I suggested will help you find them. For example, there are tons of Semillas del saber books, and I love them!
It's hard to find quality Spanish nonfiction children's books. Needless to say, I'm thrilled that The Creative Company is meeting the need for these important educational resources. Teachers and librarians, when you are building your collections, don't miss the books by these excellent publishers.
Disclosure: The publishers sent me books to be able to write this review. All opinions and ideas are my own.