Fun for Spanish Teachers is one of my go-to resources. I have been teaching with Carolina's fabulous materials for years! Today she writes about using movement in class and shares a set of Spanish movement cards for preschoolers.
Carolina is a K-5 elementary Spanish teacher. She currently resides in Texas with her husband and two children. When she is not in her classroom or with her family, she is blogging and sharing ideas on Fun for Spanish Teachers. You can connect with her on Instagram, Facebook and Twitter!
I love using movement in my classes! I am a K-5 Spanish teacher, and I have seen the wonders of using movement firsthand!  It doesn't matter how old children are, they all benefit from moving, especially if it means that it will help them regain focus in class.
I am a brain break collector! I have a long list of brain breaks that includes simple dance routines, clapping games, quick games, and yoga poses – and I use them all the time with my students.
I've often wondered why I tend to use so many movement activities in my classes. On reflection, I realize that I myself have a hard time sitting for long periods of time while in conferences, school meetings, and so on. I always place myself in the back corners of rooms or next to the doors to take breaks.
So I have taken my own feelings of restlessness and thought about my students, designing movement into my classes. I just can't imagine my students sitting for 40 minutes without having the opportunity to move. When I am teaching, I look for signals from my students, such as yawns and sleepiness, waning engagement, or fidgeting, and this is when quick movement activities come in handy.
Spanish Movement Cards
I like to print Spanish movement cards with different brain breaks and keep them on hand, next to me to use when needed. Some of these Spanish movement cards are really silly and bring humor to class.
Here are the latest additions to my brain breaks. You will need to model the cards first and/or ask volunteers to model them for the class.
Plus, these Spanish movement cards are also great to reinforce or introduce names of animals. Ready to be silly and move around the room? Download your Spanish movement cards below!
Movement Cards with Animals and Common Verbs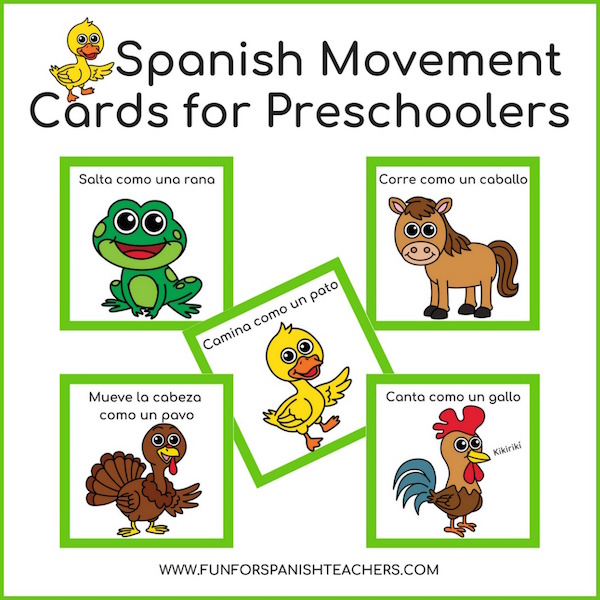 Many thanks to Carolina for sharing her experience and Spanish movement cards! Be sure to check out the Fun for Spanish Teachers TpT store for great elementary language materials.
You can find more Spanish activities to use with preschoolers and the early grades here, and these are some of our favorite Spanish movement songs. What is your favorite way to add movement to language class? Share your ideas in comments!