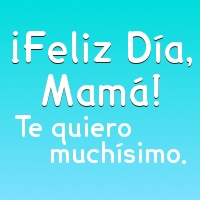 I think this is a wonderful Spanish song for kids to sing as Mother's Day approaches. It is called Yo solito Mamá (By myself, Mama) and is by Rossana Conte of Torreon, Mexico. The song has lots of simple verb forms. It also has vocabulary that children hear right away as they start to learn Spanish. The song is about wanting to be independent, a feeling that all children can identify with. Unfortunately, the song is not available to buy yet, but if you can watch the video with kids, it is a good way to learn the song.
The lyrics to this song are in the form of dialog – things that mothers and children say to each other – so many of the verbs are common and in the first person. These verbs include soy, puedo, quiero, and tengo. There are also command forms that children use like ven, dame, mírame and toma.
Yo solito Mamá has vocabulary that children learn early in their exposure to Spanish, for example mano, zapatos, perro, bebé, leche, cama, cabeza, lavar, grande. This vocabulary is supported by the photographs that Rossana Conte has put with the song.
The lyrics to the song are on the screen. There is one small error in the text on the screen. She sings Deja que te sirva tu lechita, bebé, but the text on the screen has a typo and says deje. If you sing this song with kids, they will sing solito or solita depending on whether they are boys or girls. This is a great way to practice agreement. If you are using the song in class, you may want to have the girls sit next to each other and the boy sit together as they learn the song. On the video, you will hear solita – something else I appreciate because the masculine form is modeled so often.
I am including a simple printable that I used for Mother's Day last year with a group of home schoolers. We had been talking about daily routines, so the verbs tied in well to the song. The kids added another verb phrase to describe something their mother had taught them. Then they drew pictures for each phrase and decorated the rest of the page. They added words, phrases and pictures that were important to them. On Mother's Day, they sang the song for their mom and gave her the pictures. The link to the printable is below the video.



Spanish Mother's Day Printable
Día de la Madre – Me Enseñaste Printable
You may also be interested in this post: Spanish Mother's Day Song – Mamá, te quiero mucho