I made this simple printable handout to talk about mothers and El día de la madre. In Spanish Mother's Day is El Día de las Madres or El Día de la Madre. This handout can be used as an activity to talk about moms, or as a prompt for writing a paragraph or a Spanish Mother's Day card. It uses basic vocabulary and the verb gustar.
With any age group, the idea is that kids circle the things that their moms like and do not circle things their moms don't like. Then, they add an answer of their own in the empty circles. They can read the sentences they create about their mom and can even use it as a Spanish Mother's Day card.
With young students or beginners, you can suggest that the first answer be a color. They can add the color with a crayon or marker, and you can help write the word if you like. You can also suggest that the second answer be an animal.
After they have circled the things their moms like, you can use the handout to talk about them. You can ask questions: A tu mamá ¿le gusta leer? and they can use the handout to help them answer.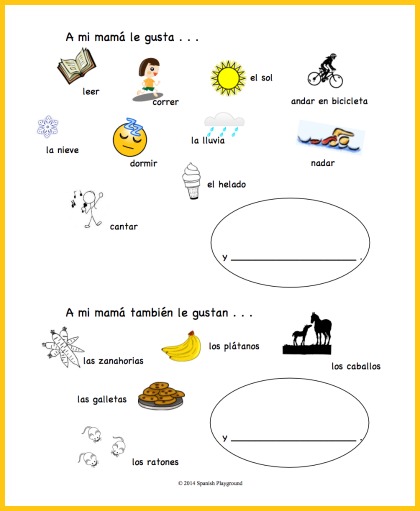 You can also talk about their answers using simple sentences. Even beginners will understand what you are saying if you point to the picture, to yourself or to them as you speak, and they can answer with sí and no. Use sentences like these:
A tu mamá le gustan los caballos.
A mí también me gustan mucho los caballos.
A ti, ¿te gustan los caballos?
A tu mamá no le gustan las zanahorias.
A ti, ¿te gustan las zanahorias?
Older students and students with more Spanish can use the handout as an organizer to help them write a paragraph about what their moms like. They can add other items to the ones mentioned.
You can also encourage kids to add additional information by including phrases like por la mañana, por la noche, en el parque, conmigo, etc. If students are aware of subject-verb agreement with gustar, suggest other subjects and have students identify if they would be included in the top group (le gusta + singular subject) or in the bottom group (le gustan + plural).
Spanish Mother's Day Printable
A mi mamá le gusta… Printable activity for talking and writing about moms.
You may also be interested in this post: Mother's Day Printable Spanish Subway Art to Color