When students are engaged with a game, they learn without focusing specifically on the language. Mirar y recordar, or Look and Remember, is an entertaining Spanish memory game that definitely qualifies as compelling content. Kids love to play! You can download a PDF of the game below.
Be sure to check out our Spanish Games for Kids page for dozens more printable games for language learners. We also have fun video guessing games on the Spanish Playground YouTube channel.
Mirar y Recordar Spanish Memory Game
Mirar y recordar is a Spanish memory game that also tests a player's attention to detail. I incorporate lots of high-frequency language into the questions and structure them to help students learn new vocabulary from context.
The game consists of 12 different pictures. For each picture, there is a question card with 6 questions. You can print the pictures and questions back-to-back if you like, but they are numbered so you can also print them separately.
How to Play Mirar y Recordar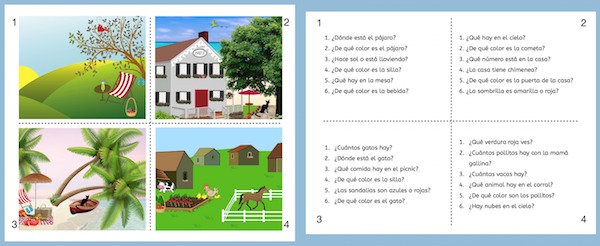 To play, all you need is the picture and question cards, a die to roll, and a timer.
A player draws a picture card and has 10 seconds to study the picture. You can increase the time 20 or 30 seconds if it works better for your group.
When the time is up, the player rolls the die. Another player reads the corresponding question. For example, if the die shows a 4, the player reads question 4.
If players answer correctly, they get a point. Return the picture card to the pile and it is the next player's turn.
Get the Spanish Memory Game
Get the Spanish memory game to learn language with pictures here: Mirar y recordar 2: Spanish Learning Game.
You can find another Mirar y recordar game here: Spanish Game to Learn Vocabulary with Pictures
Use Picture Cards for Conversation
You can also use pictures and questions as conversation prompts, rather than making it a memory game. When I use the pictures this way, we start by describing the picture, talking about the scene in general and naming what we see. Then we'll take turns answering the questions. I add personal questions to connect the activity to kids' lives and make the language relevant.
Playing this Spanish memory game, I've found my students have an amazing ability to remember details. Mirar y recordar is an excellent way to learn new vocabulary in context and use familiar language in a fun way. We'd love to know how this game works for you!