Spanish jokes are a fun way to introduce kids to language and culture. In addition to hearing and understanding jokes in Spanish, children can learn to tell them. Below you will find several collections of my favorite jokes for you to share with children. There is also information on different kinds of jokes and tips for telling jokes in Spanish to kids.
Why Tell Jokes in Spanish?
You should tell jokes to kids because they are fun! Learning a language is a long-term endeavor, and it is not always easy for children to stay motivated. If they are having fun and laughing, they are much more likely to want to keep learning.
In addition to motivating learners, jokes are authentic resources that communicate culture as well as language. The setting of jokes, the characters, and the twist that makes them funny can reflect values and attitudes of Spanish-speaking countries.
Beyond the interest factor and cultural considerations, jokes belong in the classroom because they are target language content appropriate for kids.
Jokes
are short.
can be supported by pictures and actions.
use common vocabulary.
contain dialog.
include material at a wide range of levels.
relate to a countless number of themes.
provide both interpretive and presentational language practice.
Jokes and Language Learning
There are lots of jokes kids can understand. Many are tiny stories, with a setting and characters. When you tell jokes to children in Spanish, create comprehensible input the way you do with other new material.
When kids like a joke, they want to hear it again and again. That repetition is essential to learning, so be ready to indulge your students or children.  As kids listen to a joke they have heard before, they are learning it so they can retell it to friends. When you are confident a child can repeat a joke, offer the opportunity to practice by asking her to tell it to you.
There is a growing body of research and information about using jokes and humor with language learners. For more background about the value of jokes in class, see Using Humor in the Second Language Classroom by Paul-Emile Chiasson and Why Language Learners Don't Have to Miss the Punchline from The Guardian.
Types of Spanish Jokes
There are many different types of jokes in Spanish. Some depend on the double meaning of a word. Other jokes play with the way sounds combine or how the meaning of a noun changes when the gender is changed.
There are also jokes featuring specific characters and structures. Pepito jokes are a good example of a character. Jokes that have three parts, Primer Acto – Segundo Acto – Tercer Acto, are based on a specific structure, like knock-knock jokes in English.
Funny Jokes for Beginners
Start with these First Spanish Jokes for Kids Learning Language. They are the easiest because the structures and vocabulary are familiar. Also, they include jokes with body parts that you can support with actions. The post has a PDF you can download and print.
This set of jokes is also very accessible to kids. Again, the words are familiar, with jokes about letters, numbers and animals: Spanish Jokes for Children: Easy Language Fun
Short Spanish Jokes
Short jokes are not always easier for children to understand. Although they don't have to hold as much language in their heads, there is often word play that is harder for them to hear. In my experience, the very easiest jokes take the form of stories, with patterns and repetition. That said, there are lots of fun, short jokes. Remember that it is important to tell a short joke slowly, so that kids have time to process what you are saying.
This set of short jokes uses a wider range of vocabulary than the jokes for beginners. The jokes are short, but they do use more word play. Of course, which jokes a child understands depends on many factors, so evaluate them considering the experiences and vocabulary of your kids: 10 Simple Spanish Jokes for Kids
You can find 10 more short jokes here: More Jokes for Children Learning Spanish. The trick to several of them is how sounds blend in Spanish to produce new words. For example, espera (wait) and es pera (is a pear) or sincero (sincere) and sin cero (without a zero). These are excellent jokes to make Spanish learners aware of the different meanings that the same sounds can have.
Jokes About Animals
These jokes about animals are at a variety of levels. The longer jokes at the end are actually easier to understand because they have a story-like structure. The joke about the cricket and the elephant is one of my favorites to tell with kids learning to work with past tenses. Find the jokes about animals here: Spanish Jokes for Kids: 10 jokes about Animals
Jokes about School
School is a huge part of life for kids (and teachers), so they love to laugh about it. Many of these school jokes are simple enough for beginning learners: Easy Spanish Jokes for Kids: La escuela
Videos of Spanish Jokes
We made two videos of jokes in Spanish. We selected jokes that work well with language learners, and Juan and Pamela tell them slowly and clearly, with expressions and props to increase comprehension. You can watch the videos below or find them on our YouTube channel at Spanish Jokes Chistes 1 and Spanish Jokes Chistes 2.
Jokes about Food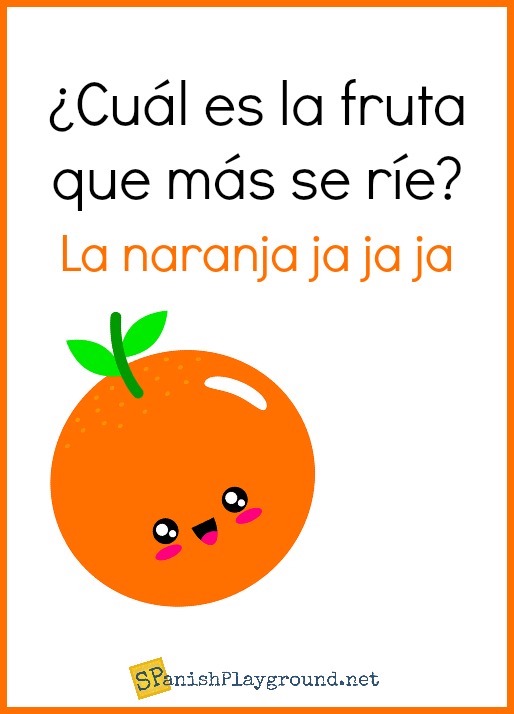 Jokes about food have lots of familiar vocabulary. There are jokes about fruit, vegetables and many jokes that are set in restaurants. Check out these 15 Jokes about Food.
Jokes about Halloween
Although Halloween is not a traditional holiday in Spanish-speaking countries, there are many jokes with ghosts, vampires, skeletons and other scary characters.  These jokes are perfect for the end of October or anytime: 10 Spanish Halloween Jokes.
Pepito Jokes
Pepito is a little boy who turns up in many jokes. In some countries Jaimito or Benito take his place, but regardless of the name, these are some of the best known jokes in Spanish. Not all Pepito jokes are appropriate for children, but many of them are. You can find 10 of them here: Pepito Jokes for Spanish Learners.
Tips for Telling Spanish Jokes to Kids
Use these suggestions to make the most of jokes with language learners.
First, tell kids you are going to tell a joke. Teach the word chiste and the phrases Te voy a contar un chiste and ¿Te cuento un chiste?
Next, establish a context for a joke. For example, if the joke is about a fish, tell it when you can point to a fish in a book, an aquarium, or draw a picture of a fish.
Also, tell jokes slowly. Give kids time to process the information.
In addition, tell jokes with expression and give the characters different voices.
Finally, use gestures, point to body parts and act jokes out. Telling a joke is a small performance!
The vocabulary in jokes varies a lot, so children understand some perfectly and others not at all.  So, look for jokes that kids will understand, teach specific words if they are only missing one or two, and come back to other jokes when they have acquired more Spanish.