Spanish jokes for kids use familiar vocabulary in a fun, new context. For example, Spanish jokes about food have words children learn in elementary and middle school language class. Share these 15 chistes de comida with Spanish learners.
These are many advantages to telling jokes with language learners. Check out Why Language Learners Don't Have to Miss the Punchline in The Guardian. In addition, for all of our collections of Spanish jokes organized by theme and level, read Spanish Jokes for Learning and Fun.
Spanish jokes about food are a great addition to a food unit or a Spanish Thanksgiving celebration. They have words and language we use at the table or in restaurants.
In general, you want to support the language in these Spanish jokes about food as much as possible by providing a context. For example, tell Joke #1 below when you have an orange that you can show kids.  Also, use gestures and lots of expression in your voice when you tell any joke.
Because vocabulary varies, you may have to explain Spanish jokes to kids who are not familiar with key words. You can teach specific words to tell a joke, especially if there are visual cues to give the words meaning. You will usually be able to tell which jokes use structures and vocabulary kids know, but don't worry if a joke isn't a hit. After all, listening is low-stress, and at some point Spanish learners will understand the word play.
Spanish Jokes about Food with Fruit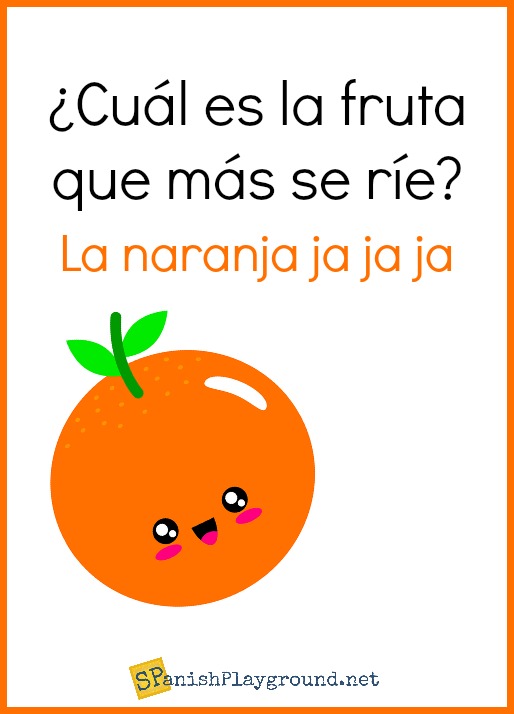 1. ¿Cuál es la fruta que más se ríe?
La naranja ja ja ja ja.
(Which fruit laughs the most? The orange. This joke depends on the final syllable in naranja being the same as the sound for laughing in Spanish.)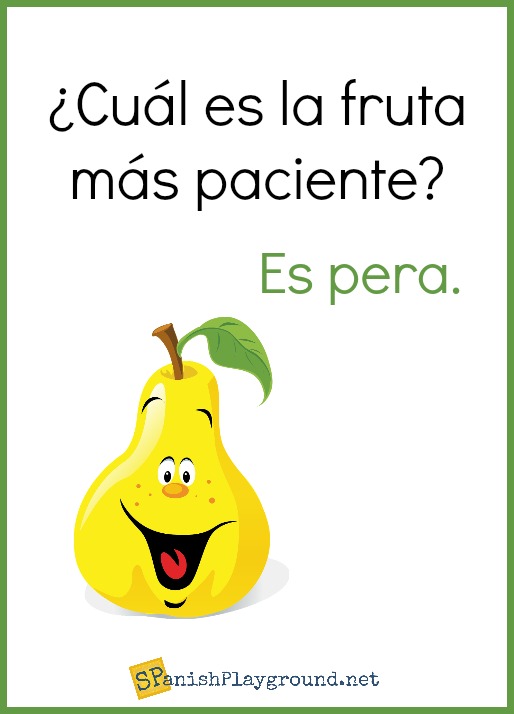 2. ¿Cuál es la fruta más paciente?
Es pera.
(This joke depends on es-pera meaning both It's a pear and wait.)
3. Una manzana está esperando el autobús. Llega un plátano y le pregunta a la manzana:
– ¿Hace mucho que usted espera?
Y la manzana responde:
– ¡Soy manzana!
(An apple is waiting for the bus. A banana arrives and asks "Have you been waiting long?" The question sounds exactly the same as ¿Hace mucho que usted es pera? which means "Have you been a pear for long?"  The apple answers, "I'm an apple!")
4. La maestra pregunta:
– Jaimito, si en esta mano tengo 8 naranjas y en esta otra 6 naranjas ¿Qué tengo?
– Unas manos enormes, señorita.
(The teacher asks:
– Jaimito, if I have 8 oranges in this hand and 6 oranges in this one, what do I have?
– Huge hands, Miss.)
Spanish Jokes about Food and Restaurants
5. – Mesero, ¿el pescado viene solo?
– No, se lo traigo yo.
(Waiter, does the fish come solo?  Solo here means without side dishes, but it can also mean by itself.  – No, I bring it.)
6. En un café:
– Perdone, ¿me trae un café?
– Sí, por supuesto.
– ¿El azúcar es gratis?
– Sí.
– Estupendo, tres kilos para llevar, por favor.
(In a cafe:
– Excuse me, can you bring me a cup of coffee?
– Yes, of course.
– Is the sugar free?
– Yes.
– Excellent, three kilos to go, please.)
7. – ¡Mesero, ya le he pedido cien veces un vaso de agua!
– Sí, ahora mismo. ¡Cien vasos de agua para el señor!
(- Waiter, I have asked 100 times for a glass of water!
– Yes, right away. 100 glasses of water for the gentleman.)
Spanish Jokes about Coffee
8. – Cuando tomo un café no duermo.
– Pues, a mí me pasa lo contrario. Cuando duermo, no tomo café.
(- When I drink coffee, I don't sleep.
– The opposite happens to me. When I sleep, I don't drink coffee.)
9. ¿Qué le dijo la cucharita al azúcar?
Te espero en el café.
(What did the teaspoon say to the sugar?  I'll wait for you in the café. This joke is based on the word café meaning coffee and cafe.)
More Spanish Jokes about Food
10. Un paciente llega a ver al doctor con una zanahoria en un oído y una cebolla en la nariz.
Preocupado, pregunta al médico:
– Doctor, ¿Qué me pasa?, ¿Qué me pasa?.
El doctor le responde:
-Yo creo que no estás comiendo bien".
(A patient goes to see the doctor with a carrot in his ear and an onion in his nose. Worried, he asks the doctor," Doctor, what is wrong with me?  What is wrong with me?" The doctor answers "I don't think you are eating well.")
11. ¿Qué le dice una barra de pan a otra?
¿Te presento a una miga?
(What does one loaf of bread say to the other? Should I introduce you to a friend/crumb? The question ¿Te presento a una amiga? and ¿Te presento a una miga (crumb)? sound identical because the initial a in amiga and the final a in una combine.
12. ¿Por qué los leones comen carne cruda?
Porque no aprendieron a cocinar.
(Why do lions eat raw meat? Because they never learned to cook.)
13. ¿Cuál es el baile favorito del tomate?
La salsa
(What is the tomato's favorite dance? Salsa)
14. – Yo, si quiero, puedo estar 10 días sin comer.
– ¿Y cómo lo haces?
– ¡Como por la noche!
(- If I want, I can go 10 days without eating.
– How do you do it?
– I eat at night!)
15. – ¿Por qué no tomas leche fría?
– Porque la vaca no cabe en el refrigerador.
(- Why don't you drink cold milk?
– Because the cow doesn't fit in the refrigerator. )
Do you know more Spanish jokes about food for kids? Please share your favorites in comments!