The game I Spy in Spanish is called Veo veo. It is a quick way to have fun with language, and you can easily adapt the game to different levels. This summer version incorporates reading by using a set of cards with descriptions. Play this Spanish I Spy reading game with your family or students using one of the suggestions below.
If you're looking for more specific vocabulary activities, check out all our Spanish vocabulary games grouped by theme.
You can also check out our Spanish reading for kids resource page for online books, printable reading activities and activities for favorite picture books.
In Spanish, Veo, veo is a song as well as a game. You can hear several versions of the song, learn more about playing Veo, veo with Spanish learners and find more printable I Spy activities here: Veo, Veo Song and Activities.
This Spanish I Spy reading game is based on a printable sheet of pictures of summery things. There is also a set of 55 cards with descriptions of the pictures.
Find more fun summer reading ideas on our Spanish Summer Reading Program Pinterest board.
You can play the Spanish I Spy reading game in different ways. Here are a few ideas to get you started.
How to Play the Spanish I Spy Reading Game
In pairs or small groups:
One person draws a card and reads it aloud. Then, the other person finds the picture.
Flip one card over and try to find the picture before the other players.
One person draws a card and reads it to herself. Then, the other person asks questions about the pictures to figure out which card it is. For example "¿Es algo amarillo? (Sí.)  ¿Es una flor? (No.) ¿Es un animal? (Sí.) Es el pato? (Sí.)
Each player takes half (or a third) of the cards and a colored pencil or marker. Then, they read the descriptions to themselves and check off the pictures on the game board. The first one finished wins.
Using just the pictures, identify items by a characteristic, such as: Busca y nombra las cosas rojas.  ¿Cuántas comidas puedes encontrar? Busca y nombra los animales. Hay varias cosas que se usan en la playa. ¿Las puedes encontrar? Busca y nombra las cosas azules.
Without looking at the printed pictures, kids draw their own pictures for 3 cards. Then, they exchange drawings and try to match the drawings to the pictures on the sheet.
I Spy Reading Game Pictures
Download the I Spy Game Pictures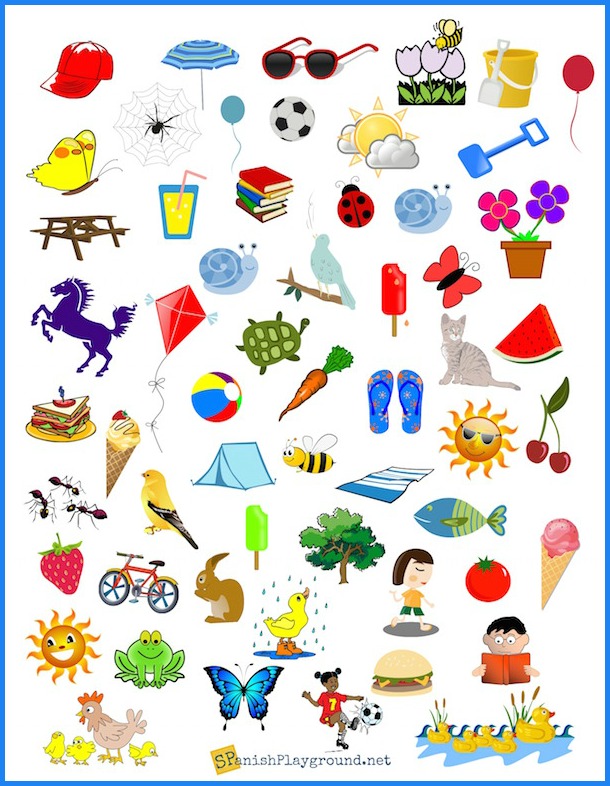 Cards for I Spy Spanish Reading Game
Download the 55 Cards for Spanish Reading Game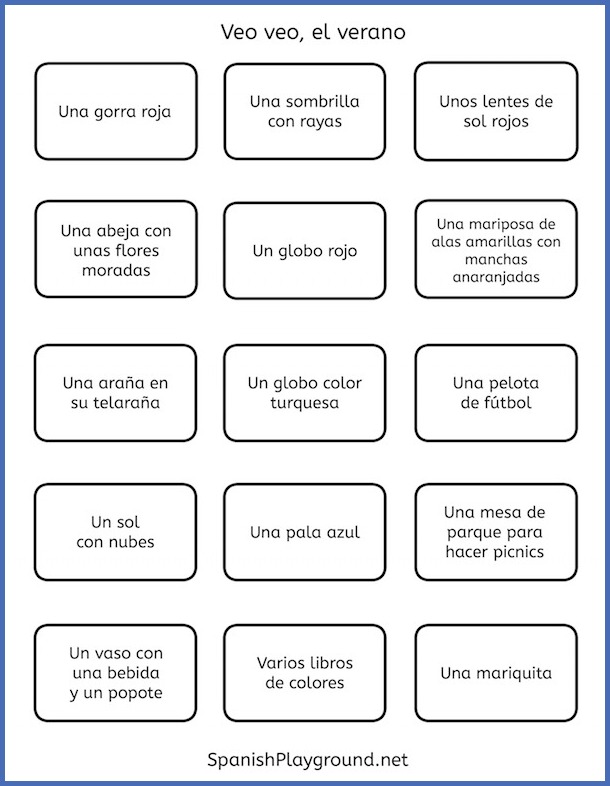 Let us know if you find other ways to use these cards and pictures with your students or family. Do you have other variations of I Spy? We would love to hear about them in comments!