Home is the center of a child's world, so kids need Spanish house vocabulary to be able to talk about their daily activities. The rooms of the house, furniture and basic household items are some of the first vocabulary children learn. Below you will find 7 activities that connect images to words to help language learners master Spanish house vocabulary.
Be sure to check out our other Spanish for Kids vocabulary activities arranged by theme. We have lots of ideas and materials to use in your Spanish lessons. Also, check out our Spanish vocabulary games to keep kids learning and playing.
House Words Infographic
I love images as a reference for new vocabulary. It saves me from translating because I can point to the pictures. Here's a handy image with common words related to la casa.

Spanish House Vocabulary Reading Activities
These activities work well as read-aloud stories or for children who are beginning to read in Spanish.
Spanish PDF Book
¿Dónde está el gato? is a PDF ebook to learn furniture and house vocabulary in Spanish.  It has wonderful photographs of cats in different places.
La Casa Vocabulary Reading Activity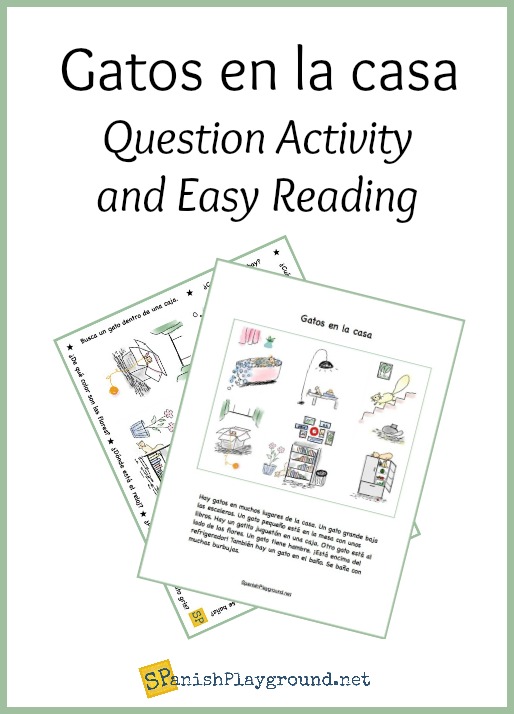 These activities both use drawings of cats in houses to help kids learn vocabulary for la casa. One is an easy reading and the other has questions. Check out these La Casa vocabulary reading activities.
Draw the Details on the Houses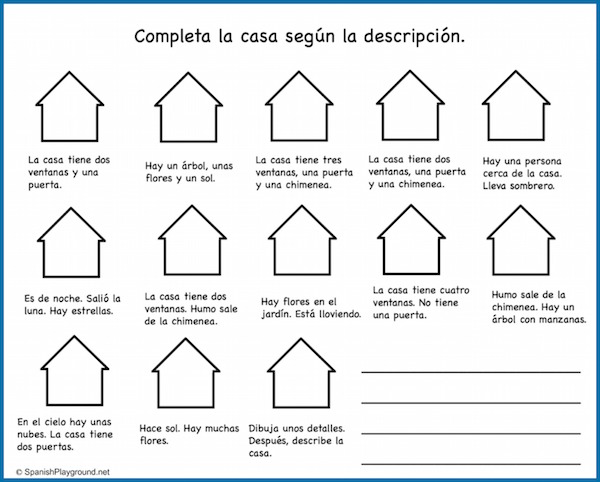 Drawing can be fun Spanish vocabulary practice. Here, kids read short descriptions of houses and then add the details to the pictures. Get the Spanish house vocabulary practice activity .
Gatos en el Baño Reading
This photograph with text uses a fun picture of cats in a bathroom sink to practice basic vocabulary. Spanish Reading: Gatos en el baño.
Printable Games to Learn Spanish House Vocabulary
Buscando por la casa
I made the printable game Buscando por la casa to encourage kids to use Spanish house vocabulary in natural sentences. The game is based on Go Fish, and players ask each other if objects are located in certain rooms of the house. In addition to the rooms of the house, children learn the words for common household objects.
Rooms of the House Cube
ISLCollective.com has a printable die with a room of the house on each side. You can use the die in lots of different ways. For example, as a speaking or writing task, students can roll and say (or write) an object commonly found in the room or something they do in the room. You can also use the die for board games, where players roll a normal die and the house cube. Players name something in the room and move the number of squares.  You can download the printable cube for practicing Spanish house vocabulary by right clicking on the image and selecting Save as. You can also get a free account and download the die as a PDF.
Scavenger Hunts
Scavenger hunts are a fun way use your house for active learning. Kids practice Spanish house vocabulary for rooms and furniture as they decipher one clue and hunt for the next. You can find printable hunts in Treasure Hunts and Scavenger Hunts, and several of them focus on household words. Be sure to read the tips for doing hunts with Spanish learners.
Sentence Building with House Vocabulary
Sentence building activities are helpful for children who are learning to read and also for second language learners as vocabulary practice. These three sentence building activities have printable downloads using Spanish house vocabulary.
Sentence Building in Spanish: La Casa
Book to Learn House Vocabulary
Oso en casa by Stella Blackstone introduces children to Spanish house vocabulary in a sweet story. The sentences follow a pattern, naming a room and an action that Oso does in that space. For example, Y éste es el comedor donde Oso se sienta a comer. The beautiful illustrations are focused to support the text, so you always know where Oso is and what he is doing.
On the last pages of the book there is a floor plan of Oso's house. This is an excellent resource for talking about the story and reinforcing Spanish house vocabulary. For extra learning fun, act out the story with your child. Go from room to room and do the things that Oso does. You can purchase Oso en casa from Amazon.
Songs to Learn about La Casa
Spanish for You has a fun song to learn vocabulary for la casa. Mariana Iranzi wrote and performs the song and it has the lyrics on the screen. Listen to the Mi casa song here.
Rockalingua has two songs to learn house vocabulary. Level one focuses on the rooms of the house and verbs associated with each place. Then, Level two adds more detail and family members. Both of the songs have free illustrated lyrics sheets and there is also a set of worksheets to practice Spanish house vocabulary.
House Vocabulary in Spanish Class
Of course, there are many other activities you can do to incorporate house vocabulary into your lessons.
For example, kids can draw a floor plan of their home or of their ideal house and label the rooms. They can also make a replica of one room and label furniture. In addition, older students can look at descriptions of houses and furniture for sale online and create their own ads.
Do you have favorite activities for working with vocabulary related to houses and furniture? We would love suggestions, so share in the comments below.