New Spanish language books, games, music or toys are excellent gifts for kids. Speaking and learning a language is fun, and we want it to stay that way. Spanish gifts for kids keep them motivated and engaged. Of course, Spanish teachers love quality language products as much as kids! This list has language gifts for a variety of ages and levels. Check out our new updated list of Spanish language gifts for 2017, too.
A few of these recommendations include Amazon affiliate links. If you click through and make a purchase from Amazon, Spanish Playground receives a small commission. Thank you for your support!

Books as Spanish Gifts for Kids
Books makes wonderful Spanish gifts for kids. These are a few of our favorites.
Language Together Spanish Books Set 1
Language Together publishes a fabulous set of 10 little books that make wonderful read-alouds or first books for emerging readers. Perfect for Spanish learners, they connect to themes like clothing, fruit, animals, family, shapes and toys. Most important, they use the vocabulary in fun little stories kids will want to hear again and again. There is also audio available for the stories online and they are now available as e-books. Set 2 is coming in 2018!
Spanish Picture Books by Monica Brown
Monica Brown's latest bilingual book featuring Marisol McDonald will delight children. Marisol McDonald and the Monster / Marisol McDonald y el monstruo is satisfying and wonderfully accessible to kids learning Spanish. In addition, the story has captivating content that children can bring into their world in various ways. If you don't know the other Marisol McDonald books, be sure to look at those too.  There are some of my favorite Spanish gifts for kids!
La manta de Maya is another wonderful story by Monica Brown. If you have a child learning Spanish, I recommend you go out of your way to find it. Is is one of the best read-alouds I have read in years.
Spanish Picture Book – Call Me Tree / Llámame árbol
Llámame árbol is a marvelous reading experience for any child and perfect for young Spanish learners. It is a story to wake up to, to stretch and start the day.
Arriba, abajo y alrededor
I read Arriba, abajo y alrededor in my classes. It is a wonderful introduction to how plants grow, and the rich illustrations make for endless conversation with Spanish learners.
Spanish Poems for Children
The Poetry Friday Anthology for Celebrations makes an excellent gift for Spanish learners.  35 poems from the book are now available as free audio downloads at SoundCloud! It is a great gift for a child, but also a wonderful gift for a Spanish teacher!
Magazines as Gifts for Kids Learning Spanish

Chop Chop is a wonderful cooking magazine for children. It is published 4 times a year and is available in English and Spanish. There is an option to choose the language when you subscribe. It is one of my favorite gifts for kids learning Spanish.
High Five Bilingüe (2-6 years for native speakers. Appropriate for older Spanish learners too). All the charm of Highlights with Spanish language learning added!
Spanish Toys, Games and Accessories for Kids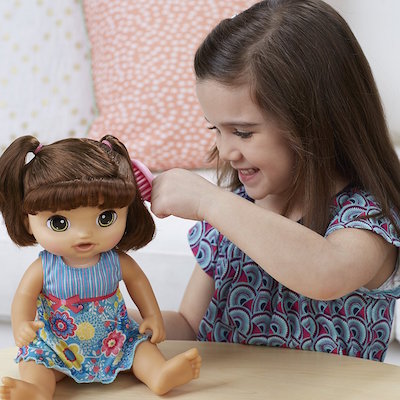 Hasbro has a new doll that says words and phrases in Spanish. The Baby Alive Sweet Tears was nominated as Doll of the Year and is a fun way for young Spanish learners to hear the language in a natural context.
La Casa – Tablero Magnético is one of the new Spanish gifts for kids in 2016. The magnetic board has a house, figures and word magnets in Spanish and English. It is a versatile toy, providing dozens of ways to engage kids who are learning to read in Spanish. This toy available new on Ebay from OnlineFreeSpanish. The number on Ebay appears to be limited, but the company assured me that is a technicality and there are plenty available.
Baby Abuelita makes dolls that sing traditional Spanish songs.
These dolls are also available at major retailers in many parts of the country.
Spanish Bingo by Eeboo has clear pictures labeled in Spanish. Each of the cards has a theme, so children are listening for related rather than random words.
This Spanish alphabet floor puzzle is an excellent gift for preschoolers and beginning readers. Kids who already know their letters will quickly learn the words associated with each initial sound.
Spanish Gifts for Kids: Music

If you are looking for Spanish gifts for kids be sure to consider music. Songs are a fabulous way to learn language!
Cántale a tu bebé by Cathy and Marcy
Cántale a tu bebé is an amazing book and CD of songs and finger-plays. It's my new favorite baby gift! It was released in the fall of 2017, and it is a perfect way for parents, both native speakers and non-native speakers, to connect in Spanish with children.
Cathy and Marcy composed these beautiful songs specifically for parents to sing to their children, and Jorge Anaya and Sonia de los Santos sing them on the CD (a version for Papá and Mamá for each song). Listen below to see why I love these songs so much! The second song Uno, dos, tres is a finger-play and the actions are in the book.
Read about more of our favorite Spanish baby gifts.
123 Andrés won the Latin Grammy for Best Children's Album with his new CD Arriba Abajo. This is an wonderful CD and Andrés has free learning guides for all the songs available on his website. This album makes an excellent gift for a Spanish learner or a Spanish teacher.
José-Luis Orozco has new CD called ¡Come bien! Eat Right!. It is perfect for younger Spanish learners.
Rockalingua writes and performs Spanish learning songs, and they also make games, videos and printable materials. The materials are related to themes included most elementary Spanish programs. Rockalingua CDs, DVDs and subscriptions are a wonderful Spanish gifts for kids and teachers!
One of my favorite artists for teaching preschoolers and kinders is Susy Dorn. The songs on Cantemos en español correspond to themes we teach children of that age. The songs use the theme to effectively teach language and concepts. My students love them!
Rimas y más Rimas is another excellent choice for little ones learning Spanish. Rhyme is an important early literacy skill and these short rhyming songs are a perfect way to introduce kids to the concept.
Mister G won the 2015 Latin Grammy for Best Children's Album for his new CD Los animales.
Coloreando: Traditional Songs for Children in Spanish by Marta Gomez was the Latin Grammy winning album for children in 2014. Both Mister G and Marta Gomez make wonderful Spanish gifts for kids.
Kids in upper elementary grades love the pop music from the hugely popular Disney Latinoamérica series Violetta. Two of the popular CDs include Hoy somos más and Cantar es lo que soy.
There is great new music in Spanish that appeals to adults as well as kids. If you don't know Lucky Diaz and the Family Jam Band, be sure to listen to the clips from their new CD Adelante.
Sonia de los Santos is another artist recording music in Spanish that the whole family will enjoy. Her debut album is Mi Viaje: De Nuevo León To The New York Island
Video as Spanish Gifts for Kids

There is a Spanish audio track is available on most kids' movies and television programs. These are excellent exposure to the language, but can be challenging for Spanish learners. The videos mentioned below are alternatives that make good gifts for kids learning Spanish.
Videos by Whistlefritz
are an effective, fun way to expose kids to more Spanish.
Pocoyo is a series that originated in Spain, although it has since become popular in many parts of the world. Children and adults alike are enchanted by the low-key humor. These videos are excellent gifts for kids learning Spanish!
The Book of Life is a beautiful animated adventure from producer Guillermo del Toro. It is rich with Mexican culture, explaining El día de muertos, and a film the whole family will love.
La misma luna is a family film that puts a human face on the dilemma of Mexicans without documents living and working in the United States and the loved ones they are supporting back home.
Spanish Subscription Box
My Mochila is a curated collection of Spanish language learning materials that arrives at your door each month. This wonderful gift doesn't fit into the categories in the rest of this post, because it includes so much – books, music, arts and crafts, and lessons to do with your child. My Mochila is personally curated by bilingual teacher Irma Vazquez and inspired by over 25 years of Spanish instruction & hundreds of students at her Spanish school My Escuelita.  It is a fabulous gift!