Games in Spanish are an important part of language class and learning at home. Kids love to play. After all, they are children! Below you will find our favorite Spanish games for kids, grouped by theme and type.
Many of these Spanish games for kids have picture printable cards, question cards or game boards for specific content. However, you can adapt them for different themes.
We organized our Spanish games for kids into the following categories, so you can jump ahead if you like!
Spanish Classroom Games
Traditional Spanish Games
Online Spanish Games
Active Spanish Games
Spanish Games for Preschool
Spanish Classroom Games
We sure have fun in Spanish class, don't we? Of course, it's not all fun and games. Rather, the games we play in Spanish class are serious learning. So, teachers choose and create Spanish classroom games to give students exposure to the target language. In addition, we structure play so they can use Spanish in a natural context.
Spanish Vocabulary Games for Themes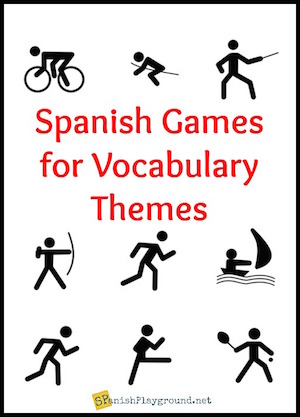 We all need fun activities to introduce and practice vocabulary. See our favorite Spanish vocabulary games organized by theme.
Spanish Verb Games
Verbs are essential to building communicative skills. So, include some of these Spanish verb games in your class plans.
Verb Conjugation Games
I made this set of printable dominoes to help kids see the patterns in verbs forms. Students match a pronoun or a conjugated verb to another verb in the same person. See Spanish Verb Games: Conjugation Dominoes.
Also see Spanish Verb Practice Game of Paper Basketball, an entertaining way to get in repetition of conjugations.
Verb Games with Tener
Tener is one of the super seven verbs, meaning that once students master it, they can communicate a lot!
These Spanish sentence building games with tener use this important verb and lots of common vocabulary.
Also, try this printable tener expressions game. It can be used with beginners, or add questions to use it with more advanced learners.
Verb Game with Gustar
I love games that get kids up and moving. In these large group power point games with the verb gustar, kids move to one side or the other to anwer ¿Cuál te gusta más? It's a fun way to practice gustar and high-frequency vocabulary. See Spanish Powerpoint Games with Gustar
Spanish Question Games
Asking questions is the basis of many Spanish games for kids, and it's also important to everyday conversation. Try these Spanish question games in your class.
This is one of my favorite games! It's a memory challenge where players look at a picture and then answer questions about it. You can find 2 free versions of the game on Spanish Playground. Each is a download with 12 detailed pictures and questions cards.
Find the first game here: Mirar y recordar Spanish Learning Game and the second Mirar y Recordar Spanish Memory Game here.
These Printable Spanish Board Games have question cards at different levels. For beginners, there are choice questions with a picture. For more advanced learners, there are category questions and general knowledge question.
El repollo is a Spanish question game I learned from students in Nicaragua. Learn about this fun, fast-moving game at Spanish Question Game: El Repollo
I love using trivia type questions to draw on what students know to increase their Spanish comprehension and vocabulary. Try the games and cards at Spanish Trivia Questions: Printable Cards.
Information gap activities can be time consuming to make and often don't hold the interest of students the way a game does. So, a colleague and I sat down and came up with an information gap game to play with picture cards. Read about it at Spanish Information Gap Game: Name That Card.
This is a 10- page activity book with pictures and questions. You can find it here: Spanish Question Words Practice – Dibujos Divertidos.
Spanish Board Games
Board games are perfect for small group work in class or an evening at home. These are some of the Spanish board games we think work best for language learners.
Spanish Synonym Games
Synonyms are an excellent way to grow kids' vocabulary. Check out these Spanish synonyms for elementary students with printable synonym cards.
Category Games
Spanish category games are a fabulous way to practice vocabulary. These are two of our favorite Spanish games for kids that use categories. They are great for class or to play at home.
I made a printable Name 3 Things Spanish vocabulary game with categories with language learners in mind. The categories consider words kids learn in Spanish class.
Basta is a Spanish category game played in dozens of countries. I made printable boards with categories for Spanish language learners: Basta Game for Spanish Vocabulary Practice
Spanish Listening Games
Spanish listening games are a fun way build this important language skill and also review vocabulary. Check out 5 Spanish Listening Games, and picture cards you can use to play
Traditional Spanish Games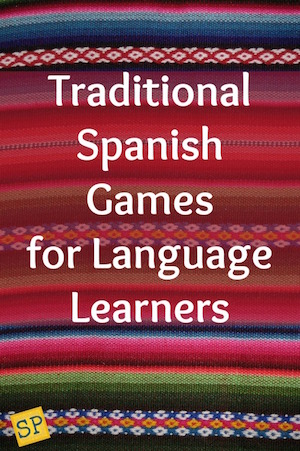 In addition to being fun language learning, games teach the culture of Spanish-speaking countries. Traditional Spanish games are language rich play, with songs and rhymes. Teach language learners Spanish hand-clapping games, jump-rope rhymes and other playground games to grow their skills and cultural awareness.
See our favorite Traditional Spanish Games for language learners.
Online Spanish Games
Online Spanish games and apps are high-interest language learning tools. Although we need to be aware of limiting screen time, web-based games and apps engage kids and provide excellent access to native speaker audio.
For example, Oh Noah on PBS KIDS introduces children 4-7 to Spanish in a very gradual, entertaining way.
OnlineFreeSpanish also has a large selection of online Spanish games. For example, this Online Spanish Game: Letters and Vocabulary is good for beginners. In addition, they have games to focus grammar points like this Spanish Online Activity for Kids: Practicing Gender with OnlineFreeSpanish.
There are also many online Spanish games for native speakers that kids learning language can play.
For example, this Spanish online game, Un día en el circo, is from a set of activities called Diverland, and it works well for practicing prepositions and position words.
Also, read about two websites with online Spanish games to learn shapes and other basic concepts.
Spanish Learning Apps for Kids
You may want to tap into Spanish learning apps for language learners. Here are a few I have tried.
Educational Games: Pacca Alpaca Apps
Spanish Learning App for Kids: Peg and Pog
iPad Apps for Kids Learning Spanish: Gus on the Go
Active Games
Movement engages kids and also enhances language learning. So, you can't go wrong with active Spanish games.
For example, try these 8 Spanish Games for Kids Using Bean Bags. Likewise, these 7 Spanish Beach Ball Games are always a hit.
Of course, there are lots of traditional children's games that involve movement and language that you can adapt to any language.
Games for Preschool
Many of the games above can be adapted for preschool, but there are activities that are especially age appropriate.
Little ones love hiding games. They learn ¿Dónde está? and vocabulary from searching or guessing where something is. For example, try Paper Cup for Hiding or ¿Dónde está el pájaro?  with preschoolers.
Be sure to read 10 Favorite Spanish Preschool Activities. After all, everything is a game with preschoolers!
Learning a language does not have to be boring or frustrating. In fact, the best learning happens in context, and when children are having fun. Spanish games for kids are an important part of using language naturally and enjoying the process of acquiring a second language.