I play this simple Spanish game for kids with students and they love it. I usually play with preschoolers, but I have also played with students as old as eight and they have fun with it too. It is a guessing game and it teaches color words and other vocabulary.
You have a set of paper cups that you have labeled, put stickers on, or covered with different color paper. For my classes with lots of kids, I invest in sets of different colored paper cups. If I'm working with a small group, I have them help me cover the cups because it is an excellent language activity.
To play, one person hides a small object under a paper cup and the other person guesses where it is by saying  "It is under the blue cup" or "It is under the three." I use a little bear and call the game ¿Dónde está el osito?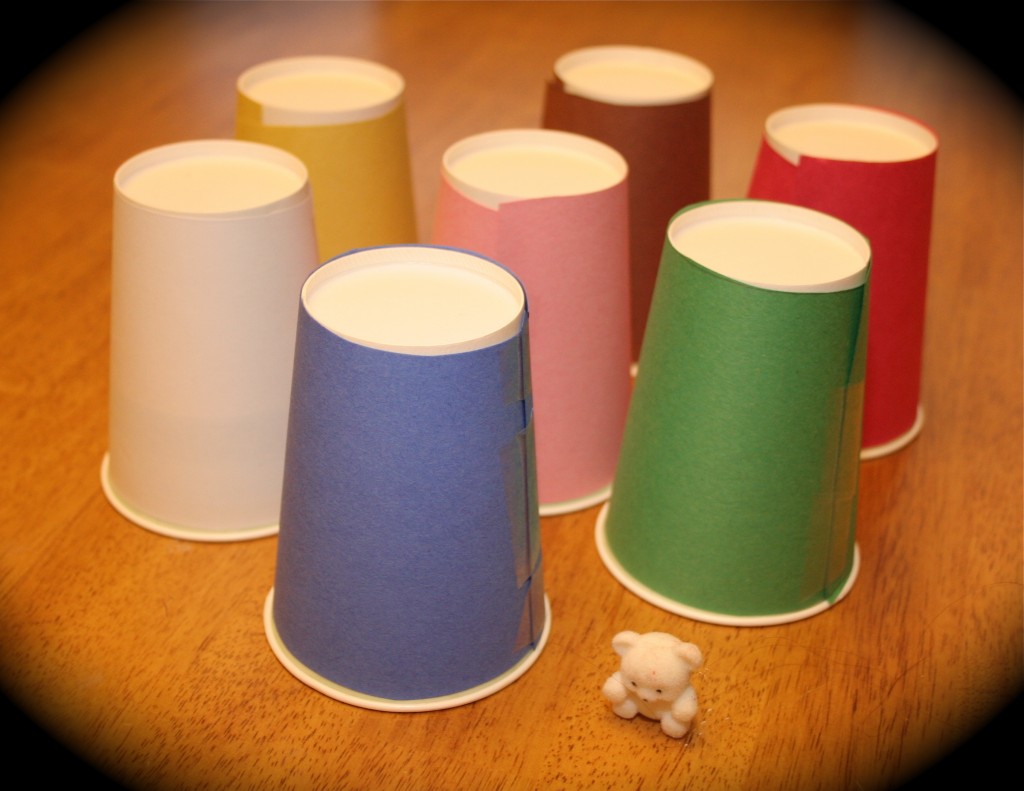 You can also label the cups with numbers, letters, words or stickers to make them different. This is a fun way to practice vocabulary like Spanish colors, numbers or letters, but I play the game because kids hear and use language in context to communicate real information.
Suggestions for Playing the Spanish Game for Kids
– Review the vocabulary that kids need to distinguish between the cups. For example, if the cups are different colors, touch each one and say the Spanish color word together.
– If the vocabulary is new, start with just three or four cups. If your child is familiar the words, you can play with lots of cups.
– I always guess first so that kids can hear what they will say when it is their turn.
– I close my eyes and turn my head. The child hides the object under a cup. When she is ready, she says Ya or Estoy lista.
– Only the person who hides the object can touch the cups. The other person just guesses. This is important because when it is their turn to guess, kids are motivated to speak Spanish if they cannot turn over the cups and look.
Sometimes, because I guess first, kids expect me to turn over the cup, but it is important that they do it. It is good vocabulary and listening comprehension practice and it establishes the pattern that the person who hides the object turns the cup over.
– Before I guess, I have kids ask me ¿Dónde está?. I prompt them by whispering Pregúntame ¿dónde está?  If the object is not under the first cup, I tell them again Pregúntame ¿dónde está?  I do this each time before I guess. They figure out the pattern quickly and ask so that I will guess.
– When I guess, I always use a full sentence El osito está bajo el vaso…azul. I say the sentence deliberately, with the rhythm of an announcement and a pause, like for a drum roll, before the color (number, letter). I do this because it makes the sentence easier for children to repeat when it is their turn. If you are using letters or numbers, the sentences would be Está bajo la (letter) or Está bajo el (number). Letters are feminine and numbers are masculine.
– I guess three times. If I do not find the object in three guesses, sometimes the kids show me where it is and other times I guess until I find it. It depends on who I am playing with and what they want to do.
– Usually I want the child to hear more of my modeling, so I make it my turn to guess several times in a row. Then it is their turn several times in a row.
– When it is their turn to guess, we follow the same pattern. I ask ¿Dónde está el osito? each time they are going to guess.
If they answer with just the color (number, letter, word) it is fine. As I lift the cup, I repeat the whole phrase ¡Está bajo el vaso….azul! with the same dramatic intonation I used earlier.
You may also be interested in this post: Spanish Game for Children – ¿Dónde está el pájaro?