Planning Spanish lessons for kids is one of the most enjoyable parts of my job and one of the most important. My goal is create a setting where children learn Spanish naturally, hearing the language in a context where they understand it. In other words, as comprehensible input.
I use content themes to structure Spanish for kids. These lessons correspond to traditional vocabulary themes at times. However, I use the language in context and limit the number of words and structures I teach.
Below, I have grouped resources for teaching Spanish by common vocabulary themes. You can also check out the Spanish Playground YouTube channel. We have playlists with videos and songs for common vocabulary themes.
Spanish Vocabulary for Kids
This set of 12 Spanish vocabulary infographics comes in handy teaching Spanish to children. Read about how to use the images and get the free downloads here: Spanish Vocabulary Infographics.
Spanish Colors for Kids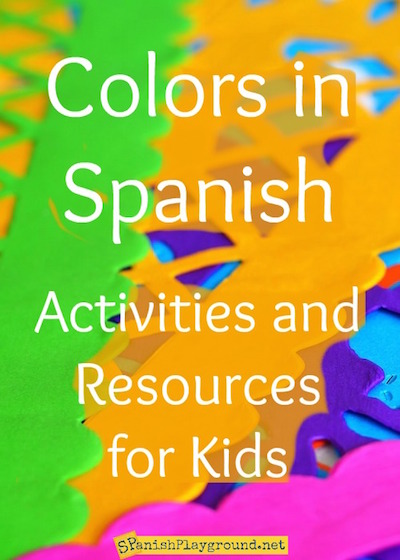 Kids learn colors as you describe what they can see. Spanish color words are often some of the first vocabulary young children produce, learning them at the same time they learn the colors in English. Go here to find printable pages, songs, videos and crafts to help kids learn Spanish colors.
Learn Animals in Spanish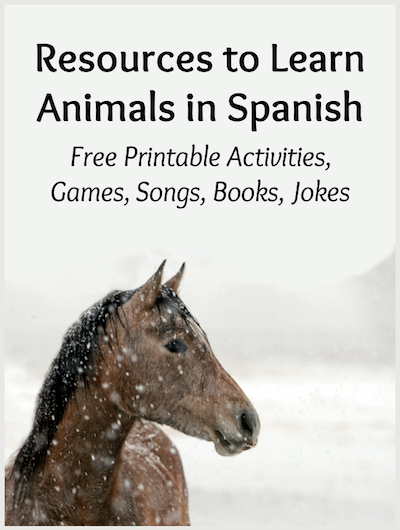 Kids love animals, and they are also curious about them. Their natural emotion and interest make animals an excellent way to engage children with Spanish. On this Learn Animals in Spanish resource page you'll find printable vocabulary activities, games, books, songs, poems, jokes and activities for learning about specific animals.
Spring in Spanish for Kids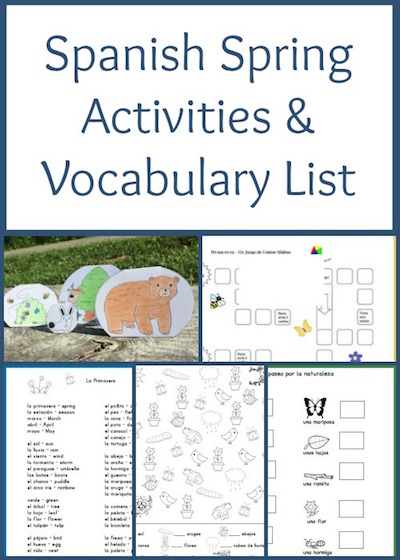 The seasons are a natural context to learn Spanish.  As spring comes, the changes in weather, plants and animals make excellent lessons for kids. These activities for learning about spring in Spanish include vocabulary cards, songs, readings and picture activities.
Spanish Body Parts for Kids
I teach Spanish body parts right away because there are so many fun, active games and songs that use the vocabulary. Also, because kids can use their own bodies as a reference, it is requires very few props. We have an collection of activities for learning Spanish body parts with lots of movement as well as printable games and crafts.
Fruit in Spanish for Kids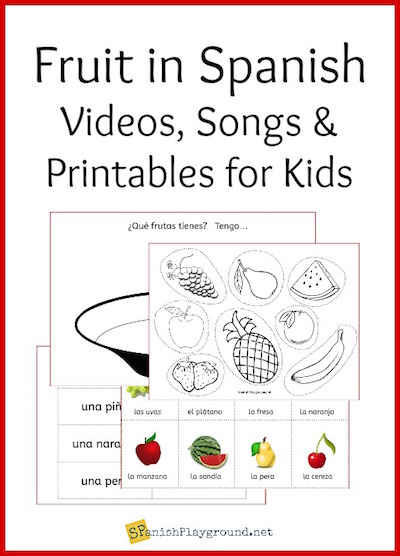 You can encourage healthy eating and also teach children about the culture of Spanish-speaking countries with lessons about fruit. Check out these videos, songs and printable pages for kids to learn fruit in Spanish.
Learning About the House in Spanish
Learning house vocabulary in Spanish lets students talk about their surroundings and every day activities and make comparisons with other cultures. In my Spanish lessons, I include this vocabulary in stories and activities, and we also sing songs with the parts of the house in Spanish.  Check out these Spanish house vocabulary activities for kids.
Learning about the City in Spanish
Like words for the house, city vocabulary helps kids talk about their surroundings and learn about other places. Find songs, printables and online games for learning Spanish city vocabulary for kids.
Learning about Science in Spanish
Plants, animals and nature provide a natural context for learning Spanish. You can find Spanish science lessons for kids and activities for learning about the natural world here: Spanish Science Lessons: Making Connections.
Learning the Days of the Week in Spanish
Learning the days of the week in Spanish helps children talk about their activities and schedules. Adapt these Spanish days of the week activities to your class schedule or use them at home.
Spanish Numbers
Numbers are basic vocabulary in any language. Try these activities songs and games to learn Spanish numbers for kids.
Spanish Animals for Kids
Kids love animals! Check out these songs, stories and printable pages about Spanish animals for kids.
Clothing in Spanish
You can incorporate Spanish vocabulary for clothes into lessons about the seasons, weather and places. You can also pairs clothes in Spanish with body parts and colors. Here are some of our favorite ways to teach clothes in Spanish to kids.
Learning about Emotions in Spanish
It is important for children to learn to express their emotions and to recognize the emotions of others. We have songs, videos and activities to learn about emotions in Spanish.
Learning about Family in Spanish
There are lots of fun activities, songs and books to teach children family vocabulary. In addition, Mother's Day and Father's Day provide opportunities to talk about important family member and different kinds of families. Find a variety of activities to learn family vocabulary in Spanish here.
Food in Spanish
Learning about food is an opportunity to learn about nutrition, culture, the environment and geography. Food activities also make wonderful hands-on learning. Check out our activities for learning about food in Spanish with kids.
Spanish Greetings
Greetings and polite expressions are some the first vocabulary that I teach. In addition to being basic communication, they are important culturally. See these activities for teaching Spanish greetings to kids and these activities to learn polite expressions.
Spanish Letters
In general, I teach children the Spanish letters and letter sounds in the context of words they are learning. In addition, I spend time on the vowels and vowel sounds specifically because they are so important to pronunciation and reading. Check out these activities to help kids learn Spanish letters.
Means of Transportation in Spanish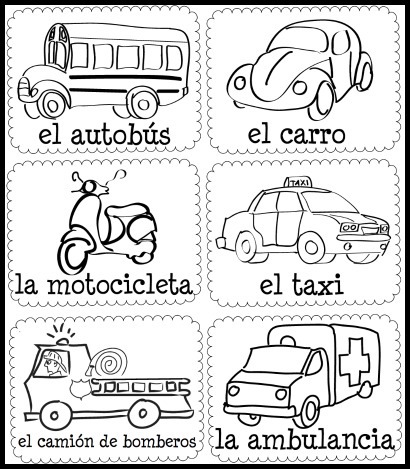 I always have a few students who are particularly interested in vehicles. When we learn about cars, trains, airplanes and boats, they are thrilled! Of course, as they learn about transportation kids learn important verbs. In addition, we talk about what we learn when we travel.
Find videos, picture cards and songs to learn means of transportation in Spanish.
Spanish Verbs for Kids
Verbs are not a vocabulary theme by any means. On the contrary, all communication, regardless of topic, depends on verbs. However, it is hard to know where to put these activities, so I am hoping readers find them here. These printables pages, songs and reading activities teach Spanish verbs for kids.
There is no doubt that children learn language best when they are engaged with interesting content and meaningful communication. We hope these supplementary materials help you create effective, fun lessons. We appreciate feedback, so let us know how the activities work for you!