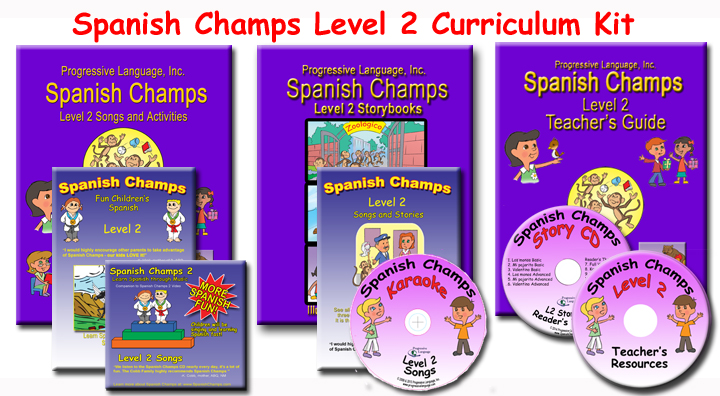 Spanish Champs has recently released a Level 2 curriculum. This program builds on the company's first level of Spanish for kids, offering engaging activities based on the principles of language acquisition. Progressive Language, Inc publishes the curriculum. The PLI method was developed in consultation with linguists from top universities, and PLI was granted a US patent in 2013 for their unique language learning methodology.
The program emphasizes oral communication in Spanish for kids 4 through 10 years old. Some of the topics covered in Spanish Champs Level 2 include descriptions, family, animals, manners, home, daily routine, days of the week, action verbs, emotions and feelings, more numbers, and more colors.
Spanish Champs Level 2 retains the structure and key components of the first level. I wrote about the features of Level 1 in an earlier post. In addition, the new material encourages more production appropriate to the level and makes classroom use even easier for teachers. The earlier review goes into detail about why Spanish Champs materials and activities are effective learning tools. Here I am going to mention a few of the components of the program that I particularly appreciate.
Spanish for Kids with Spanish Champs
Lots of language – Spanish Champs introduces children to a significant amount of language. It is important to realize that the material covers an entire school year and is meant to be repeated. In addition, the language is very well supported with lots of repetition in different formats.

Stories – Narrative is one of the best ways to create context for children learning language. As kids follow a storyline, important language is repeated and they understand and internalize new words based on the situation. Just as important, stories are fun. Spanish Champs incorporates stories into different activities, such as songs, readers theater, video and of course their story books. This makes for repeated exposure in context – the way language makes sense.  

Songs – Melody and rhythm help kids produce Spanish that they would not be able to use spontaneously, so it is one of the best ways for children to learn new language. The Spanish Champs songs incorporate the new vocabulary and structures, and the song book makes them easy to use by providing images, lyrics and translations. The songs are included on the DVD with images from the song book, and there are also coloring pages of the the pictures.
Hands-on, active fun – The teacher's guide includes detailed instructions for many activities as a part of the lesson plans. These are hands-on activities that get kids moving and using Spanish. This active engagement with the language continues with coloring, both the coloring pages and the black and white flash cards and with actions to accompany songs.

Teachers resources – This program provides significant support for teachers of Spanish for kids. The materials are well-organized , easy to use, and well-coordinated. This is important not just because it makes our lives easier, but because it ensures children get the exposure they need to learn.
The Level 2 Teacher's Resources CD includes digital versions of the coloring and activity books for both Levels 1 and 2,  so teachers can make as many copies of the coloring or activity sheets as they like. This is a useful resource and an excellent value. I appreciate materials like the picture cards and coloring pages when teaching Spanish for kids because they can be adapted to many extra activities. It lets us easily add variety, but stay focused at the same time.
Parent letters – Spanish Champs considers parents to be partners in their child's education. The parent letter provides them with all the vocabulary and suggests several activities. With this information, parents have the option of being as involved as they like.
Spanish Champs offers a variety of packages for classroom or homeschool. For each level, there are three kits: Starter, Deluxe and Curriculum. There is also a Super Kit that  includes a Level 1 and a Level 2 kit and offers a 25% discount over the individual items. You can find all the details on the Spanish Champs website.
Disclosure: The company sent me a copy of this product to be able to write the article. I may have been compensated for my time. All of the ideas and opinions are my own.