Food words are some of the first vocabulary we teach language learners. Learning about food lets kids talk about likes and dislikes, has a wonderful cultural component and also provides an easy way to teach several common verbs. Below you'll find a set of printable activities to introduce basic Spanish food vocabulary.
The printables below are a few ways to practice Spanish food vocabulary. Of course, in class or at home you can do many food-related activities. You might explore foods from different countries or learn to order in a restaurant. Kids can make menus or share recipes. The basic Spanish food vocabulary in these printables will give language learners the words they need for additional activities.
These picture cards and activities have common Spanish food vocabulary, but do not include words for fruit. You can find picture cards for Spanish fruit vocabulary here. There are a few vegetables on these cards, but you can also find more vegetable picture cards here.
Food Vocabulary and Verbs
As kids learn about Spanish food vocabulary, they can also practice common verbs. If you explicitly teach verb conjugation, you may want to use the printables of comer and beber in this -er  and -ir verb practice.
Learning Spanish food vocabulary is the perfect opportunity to practice gustar. Try quick class polls by using the board to record answers to a question about food preferences, for example ¿Te gustan más las zanahorias o los tomates?
Activities with Spanish Food Vocabulary
This is the vocabulary on the picture cards and in the activities.
el arroz
el brócoli
el cereal
el espagueti
la galleta
la hamburguesa
el helado
el huevo
la leche
el pan
el pastel
la pizza
el pollo
el queso
el sandwich
el tocino
el tomate
la zanahoria
Picture Cards of Spanish Food Vocabulary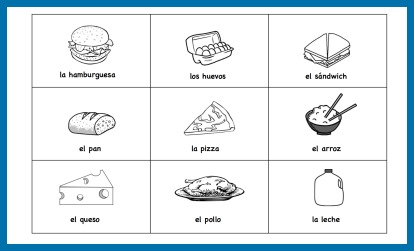 Use these 18 picture cards to play memory and as support for speaking tasks. For example, you can practice a verb and vocabulary by asking ¿Qué comes? (¿Qué quieres comer? / ¿Qué vas a comer?). Students turn over or draw a card and respond according to the picture: Como (Quiero comer/ Voy a comer)…
There are two sets of cards. Download the Spanish food vocabulary picture cards with text, or the picture cards without text.
Complete the Sentence
This activity has 10 sentences with images for more vocabulary and reading practice. Download the Spanish food vocabulary sentence completion activity.
I Spy – Counting Version

You can use this activity to practice numbers and can also assign colors to the different foods. As you go over the answers ask, for example, ¿Cuántos sándwiches vas a comer?/¿Cuántos sándwiches comes? The answers are ridiculous, but it is good practice and kids think it is funny.
Download the Spanish food vocabulary I spy activity.
Elimina los intrusos – Spanish Food Vocabulary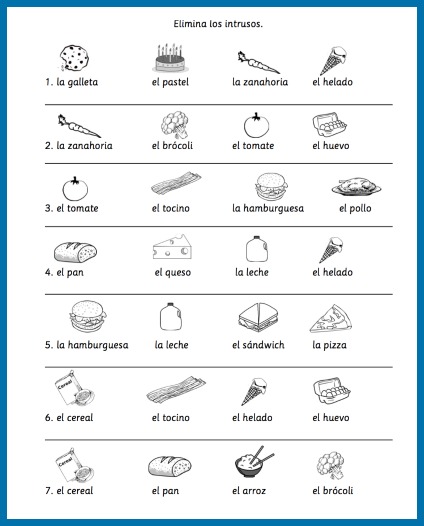 This activity is excellent Spanish food vocabulary practice, as students say which word does not belong and explain why. There are two versions. One has pictures to support the vocabulary. The other has pictures at the bottom of the page for kids to label if they choose. Download the Elimina los intrusos activity with images above the words or with reference images at the bottom of the page.
Poner La Mesa Spanish Video
I often teach or review words for table settings while we are talking about food. This video is an easy way for kids to hear the words. Then, they have fun acting it out.
Spanish food vocabulary opens a door to cultures and countries. This general food vocabulary is a first step in the many food-related lesson that are a part of language learning.