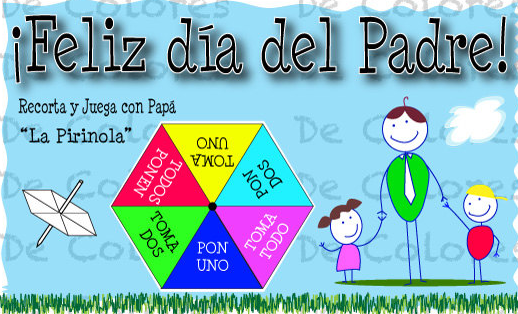 I love this card for Día del Padre! Several of my private students are going to be giving this tarjeta to Dad this Father's Day. The printable card has a pirinola that you can cut out to play Toma todo with Dad. A pirinola is a top with instructions on each side. Toma todo is a traditional game that my kids played all the time in Mexico. In some countries the top is called a perinola, but the game is the same. It is an excellent Spanish language activity.
Since I wrote this post, the card is no longer available. I'll let you know if I find another one like it.
Traditionally la pirinola is made of wood, but this printable version works just as well. You simply cut it out and put a pencil through the center. A golf pencil is perfect, but any pencil will do. The players also need tokens of some kind. My children used dry beans, and children sometimes play with candy. Each player should start with about ten tokens.
To play, each player puts two of their tokens in el pozo (the pot).
One player spins the top and when it stops she follows the directions that are on the highest part of la pirinola.
These are the instructions on la pirinola:
Toma uno. – Take one (token from the pot).
Toma dos. – Take two (tokens from the pot).
Toma todo. – Take it all (the whole pot).
Pon uno. – Put one (in the pot).
Pon dos. – Put two (in the pot).
Todos ponen. – Everyone puts a token in the pot.
When toma todo comes up, in order to continue, everyone must put one token in the pile. Play continues until one person has all the tokens.
This game is a great language activity. Pon (put) and toma (take) are verbs that are often used in these command forms. In addition to the instructions on the top, you can use other common Spanish sentences with your child as you play. Use simple phrases like these:
¿A quién le toca? – Whose turn is it?
Te toca. – It's your turn.
Me toca. – It's my turn.
Ganas. – You win.
Ganaste. – You won.
Gano – I win.
Gané. – I won.
Papá gana. – Dad wins.
Papá ganó. – Dad won.
This card is a PDF that you can print as often as you like (for personal use), so you can make more pirinolas. It would be great for kids getting together to play, a slumber party or a family camping trip.
¡Feliz día del padre y buena suerte a todos!