I love the power of a familiar story for language learning, and fairy tales have an added dimension of magic and fun that appeals to learners of all ages. However, translations of authentic versions can be long and dense with unusual, high-level language. That is why I'm excited Adam Beck, author of the popular book Maximize Your Child's Bilingual Ability, has published a set of short Spanish fairy tales and fables for language learners. 
28 Bilingual English-Spanish Fairy Tales & Fables: Short, Simple Stories for Language Learners of All Ages, with Online Audio is an excellent choice for working with Spanish or English learners. Below you'll find a list of general activities that work well for these stories, as well as a free download with printable activities for the version of Los tres cerditos in the book.
You can purchase 28 Bilingual English-Spanish Fairy Tales & Fables: Short, Simple Stories for Language Learners of All Ages with Online Audio on Amazon
Spanish Fairy Tales and Fables
This book has 28 familiar stories. That's a fabulous amount of content to use with language learners!
The stories are short, clever and very effective. They tap into the action and patterns of the classic stories, without elaborate descriptive language or excessive detail. The simplified versions use general vocabulary and structures that are easy to apply in other situations.
These concise stories are the perfect length. Reducing the plot to the principal action makes it easier for language learners to predict the meaning of the text.
The sentences within the stories are also short. Again, using only essential language allows students to apply their knowledge of the story. Short sentences also create momentum they understand and keep reading.
Bilingual English-Spanish Stories with Audio
This is a bilingual edition, with Spanish and English on facing pages. Although I don't teach using translation, having the other language available can be a useful reference for language learners.
In addition, for the many families supporting their language learners at home right now, as well as homeschool families, the bilingual edition is very helpful.
Some dual language programs use the same text in both languages. If you're teaching in that situation or have children learning in a dual language program, this book is a great resource.
There is Spanish and English audio for all the stories available online. This is a huge support for families learning to pronounce the language, as well as a useful tool for teachers.
Activities for Spanish Fairy Tales and Fables
These short versions of Spanish fairy tales lend themselves to a wide range of activities for different ages and levels. Here are a few to consider:
Tell and retell the story using paper figures. Because these are classic stories, there is a lot of free clip art online. For example, Kidzclub has free patterns to print and cut out for 9 of the stories (Be sure to click on BW or Color below the title and image. The image takes you to the Yes24 store to buy Korean versions of the books). I make stick puppets to tell stories all the time. It increases comprehension, and students can use the same figures to retell the story.
Illustrate and label a scene with vocabulary from the story.
List familiar synonyms and antonyms for vocabulary in the story. Re-read the story substituting the new vocabulary. (Antonyms make it funny.)
Make a comic version of the story with speech bubbles and dialog from the story.
Read the story as a reader's theater or act it out. Be sure to listen to the online audio first.
Use the online audio and act out the story with paper figures as you listen.
Use the online audio or read the story aloud. Have students do specific actions or hold up pictures to represent key vocabulary. This activity takes advantage of repetition and patterns.
Make a copy of the story and cut the paragraphs apart. Order the paragraphs as you listen to the online audio, pausing the audio as needed. You can also do this activity after reading the story without using the audio.
28 Bilingual English-Spanish Fairy Tales & Fables by Adam Beck
Los tres cerditos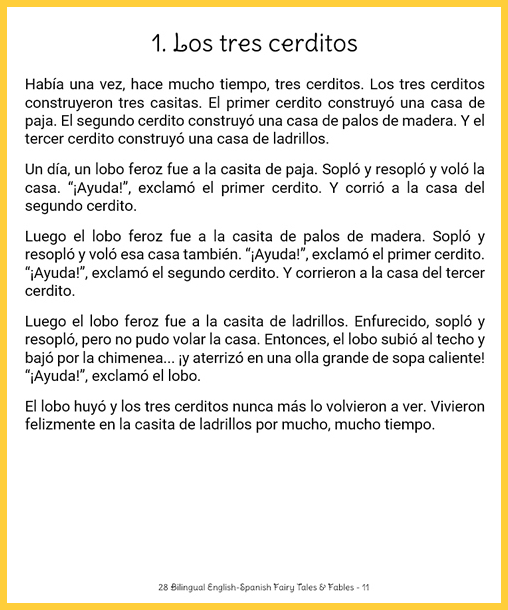 Activities for Los tres cerditos
Spanish fairy tales and fables are first and foremost fun readings, so you should do any of the usual activities you do when introducing new language and developing reading skills.
With stories for example, I always teach TPR gestures for new vocabulary. I also do pre-reading activities related to the topic so that students are thinking about what they will read.
In terms of follow-up activities, there are many activities you can do to engage learners with these Spanish fairy tales. I've included a download with a few of my activities to use with the Los tres cerditos.
Download Activities for Los tres cerditos
Download Reading Activities for Los tres cerditos
Size Comparison
The first activity on the PDF is a size comparison. Learners read two words and circle the item that is bigger.
This is an effective vocabulary review because it is natural to imagine the two items as you compare them mentally. If you like, you can have students write a sentence with the comparison as well: Una casita es más grande que un lobo.
Associating Vocabulary to Characters
The second activity is a table where learners indicate which characters are associated with a word from the story. They can indicate more than one character for a word.
This activity helps students think through the action of the story again. It also helps them see patterns and similarities as they review key vocabulary.
Comprehension Questions
The final section is a set of comprehension questions. Comprehension questions about such a familiar story may seem unnecessary, but they serve as additional reading practice. In addition, once students understand the question, they often return to the story and re-read to check vocabulary and language structures as they answer.
These are examples of easy-to-make activities you can create for the readings in this book. Of course, these can be done orally with a group or one-on-one as well.
Easy Spanish Fairy Tales
Fairy tales and fables are a natural choice for language learners because familiar stories increase comprehension. However, short, accessible versions are hard to find. Most authentic fairy tales are full of difficult, rarely-used vocabulary and complicated structures.
Fortunately, 28 Bilingual English-Spanish Fairy Tales & Fables: Short, Simple Stories for Language Learners of All Ages, with Online Audio offers playful, clever versions of favorite stories. Be sure to check it out and let us know what you think.