Earth Day is an opportunity for children to learn more about our planet and understand their critical role in protecting it. The language in Earth Day lessons ties easily into units about spring, plants, water,  animals and community. Here are a few Spanish Earth Day resources.
Spanish Earth Day Video
This short Spanish video has tips to remind us how to take care of the planet.
Spanish Earth Day Songs
Somos como las flores
I teach early Spanish learners Somos como las flores. The song has familiar vocabulary and also introduces the verbs calentar, refrescar, arrullar and alimentar. We talk about the verbs, and kids sing and do gestures to help them understand. They won't use them spontaneously yet, but they are building their future vocabularies.
Aviso al público
The tongue twister Aviso al público is perfect for Earth Day. It is a traditional tongue twister with several versions.  Here are two of the best known.
1.
Aviso al público de la República
que el agua pública se va a cobrar
para que el público de la República
tenga agua pública para tomar.
2.
Aviso al público de la República
que el agua pública se va a acabar,
para que el público de la República
lleve agua pública del manantial.
Aviso al público is also a hand clapping game. Here are the hand-clapping instructions from the book ¿A que jugamos? available online from the Bibiloteca Digital of Mexico.
Cantoalegre has an excellent song version of Aviso al público . You can hear it in the video below. The song available to download free on their website Musicalibre. You'll find it under Descargas in the collection Agua pasó por aquí. In the collection Agua pasó por aquí you will also find Canta la lluvia a la tierra. It is another great Spanish Earth Day song.
La tierra
Rockalingua produces wonderful music for kids learning Spanish. They have a new song specifically for Earth Day. It directly addresses the state of the planet and the need to care for it. Listen to La Tierra and download a free lyric sheet.
Printable Spanish Earth Day Activities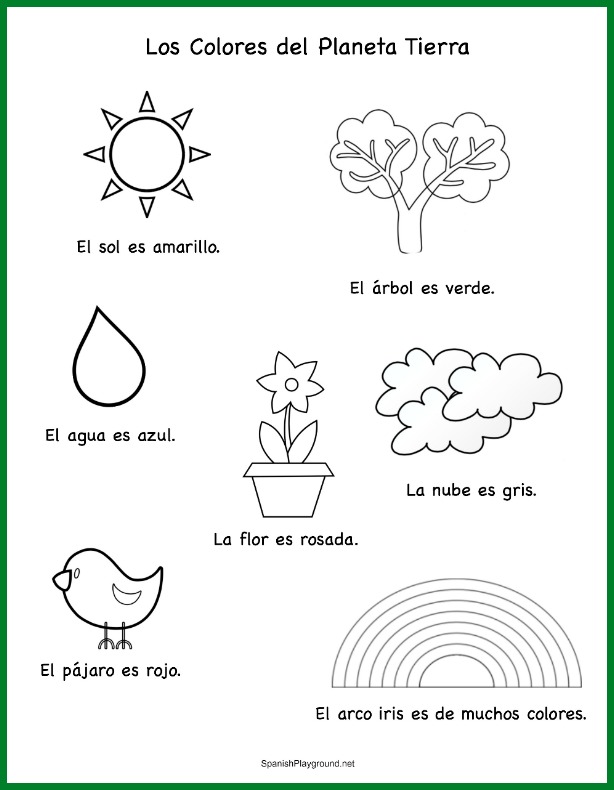 You can find lots of printable games and activities about the environment and the planet. Here are a few made specifically for Earth Day or about conserving resources.
The post Celebrate Earth Day in Spanish: 5 Activities has a coloring sheet for early Spanish learners and a memory game for kids who are beginning to read in Spanish. In the memory game, kids match conservation tips to pictures of keywords in the conservation tip.
The EPA offers a free 12-page activity book on conserving resources. Find more information here: Free Spanish Activity Book for Earth Day
Kids can use these Spanish Earth Day Phrases in any number of ways. The phrases can be written or printed on the reverse side of anything you no longer need – homework, letters from school, junk mail, envelopes or cardboard from cereal boxes. Kids can use them as reminders to hang around the house, bookmarks to share with a friend or with pictures in a collage to decorate a room.
Spanish Earth Day Books
Sharing picture books about the plants and animals on our amazing planet is a fun way to celebrate Earth Day.
Cuidemos la Tierra is a short book that my children had when they were small. I was surpirsed it was still in print! It has simple, repetitive sentences and basic vocabulary. It works well with beginning learners and early readers. Our copy has been well used.

Lee & Low has several bilingual pictures that fit into a Spanish Earth Day celebration. You can read about two of them, Call Me Tree and Water Rolls, Water Rises here: Bilingual Picture Books Celebrate the Earth
Julieta y un día en el jardín is published by Kids Yoga Stories. The yoga poses are woven into the narrative and children do the poses as they listen to the story. The book is full of color words and spring vocabulary: sol, jardín, cielo, lluvia, árbol, hojas, tierra mojada, pájaro, nido, semillas, plantar, oruga, flores, abejas, mariposa, arcoiris. This is the perfect story to read aloud with Spanish learners for Earth Day.
Día de la Tierra is part of the Fiestas series. This easy reader is about the holiday, rather than about the Earth. It focuses on why and how it is celebrated.
Online Spanish Earth Day Resources
OnlineFreeSpanish has a set of activities with Earth Day vocabulary: Earth Day Activities in Spanish.
You can also find lots of videos online that fit into Earth Day themes. Try some of the activity suggestions for this short video from Discovery Kids about taking care of water.
Photo Credit: Paul2807 via Compfight cc