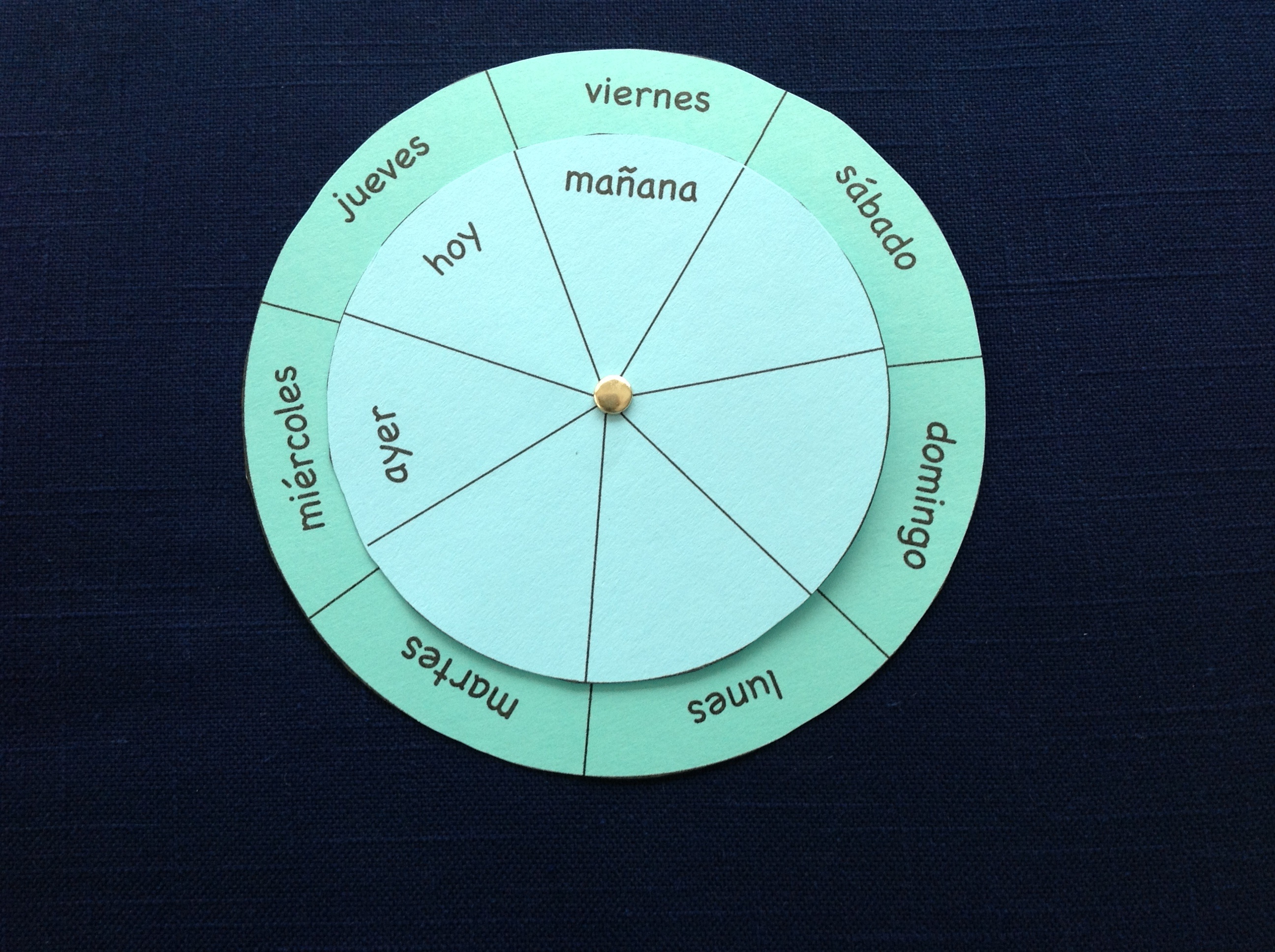 These printable wheels make it easy to talk about the Spanish days of the week. The days are on the outside wheel, and the inside wheel helps kids talk about them relative to hoy. There are two versions of the inner wheel. One has ayer, hoy and mañana and the other adds anteayer and pasado mañana.
I have to admit that I really do not like to teach the days of the week. I know they are necessary vocabulary, and I do it, but it just not vocabulary that I get excited about or want to spend a lot of time on. I know that kids will learn the days of the week in Spanish as they naturally get more exposure to the words. The words hoy, mañana and ayer are actually more useful to kids, and these wheels let me incorporate that vocabulary easily. There is a version of the inner wheel with the verbs, too.
Since I do not want to spend too much class time on the days, the wheels come in really handy. Kids just cut out the wheels and use a metal brad to join them at the center. Of course, if you have more time, or want a project to do at home, kids can easily make their own wheels with paper plates or any cardboard circles. They can write in the words and color the different sections. You can also print these wheels on light-colored card stock and kids can color those.
Using the wheels, kids can answer the questions ¿Qué día es hoy? ¿Qué día es mañana? and ¿Qué día fue ayer?  They can also answer questions like ¿Qué día viene antes del sabado?

Links to Printable Spanish Days of the Week Wheels
Outer wheel – the days of the week
Inner wheel – anteayer, ayer, hoy, mañana, pasado mañana
Inner wheel – ayer, hoy, mañana
Inner wheel – ayer, hoy, mañana with verbs
You may also be interested in this post: Song for Learning the Days of the Week in Spanish