Mi rutina diaria is a short video conversation about daily routines using reflexive verbs in Spanish. Juan and Pamela talk about how Pamela can change her routine to leave the house earlier. Watch the video and try the listening comprehension activities in the packet.
In addition, be sure to check out our Spanish Videos resource page for other fun videos and more listening comprehension activities. You'll find over 150 videos to learn Spanish on the Spanish Playground YouTube Channel.
Get Video Listening Activities
Pre-Listening Activities
Before I watch videos with my students, we predict what they will hear in the video. To do this, you can tell students the general topic is Pamela's daily routine and ask questions such as ¿Qué haces tú antes de salir de la casa? ¿A qué hora te despiertas? ¿Qué haces antes de acostarte?
Learn Spanish Daily Routine and Reflexive Verbs
With my students, I usually watch videos all the way through once before doing activities. If you are assigning the video for remote learning, encourage students to watch once before trying answer the questions. Our easy Spanish conversations videos are short and comprehensible. Students will understand a lot the first time. In addition, watching the whole video provides important context that helps them understand when they watch a second time.
You can watch the video below or on YouTube: Spanish Daily Routines and Reflexive Verbs.
Vocabulary for the Spanish Daily Routines and Reflexive Verbs
This image has a preview of vocabulary in the video. You may want to do pre-viewing activities to teach these words if your students haven't heard them before. See Listening Activities You're Not Doing (But Should Be) for suggestions of narrow listening activities that incorporate vocabulary.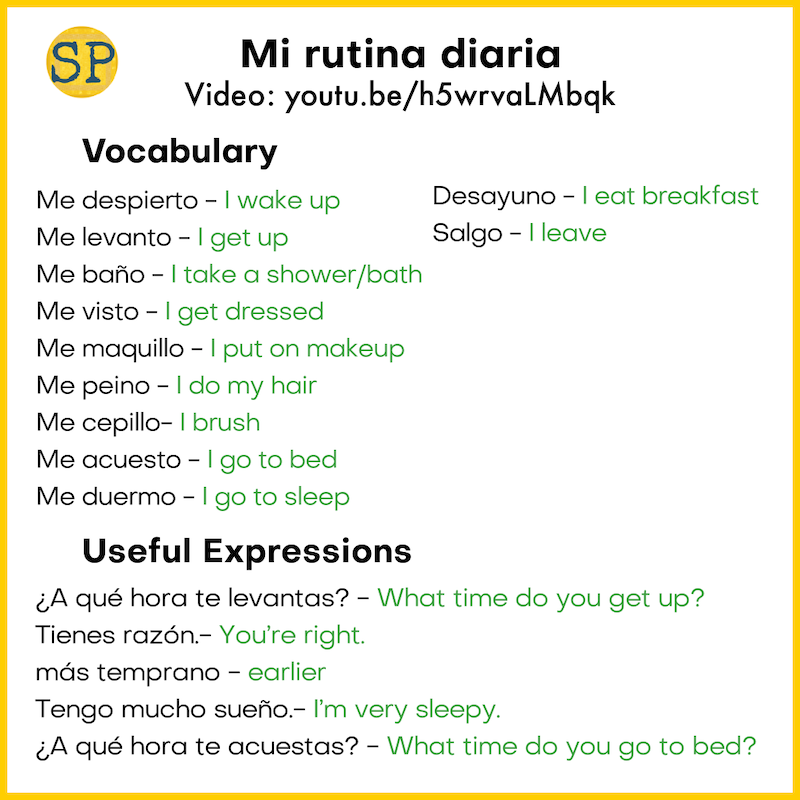 Comprehension Activities for Spanish Daily Routines
Vocabulary
First, learners match vocabulary words to pictures. Students may be able to do this without watching the video again. If so, when you watch again, they can check answers or fill in any they didn't answer.
Matching
Next, learners match a time to what Pamela does during the day. This activity reinforces the meaning of the reflexive verbs. It also gives students an opportunity to read the third-person present tense of the verbs as they are engaged with the meaning.
Questions
Finally, there are a few additional questions about the video content and personal questions related to daily routine.
We hope this video and the questions are useful in class, for families, and for independent learners. We appreciate your feedback, so let us know how they work for you in the comments below.