I've spent a lot of time looking for easy Spanish conversation videos for my students. Specifically, I look for short, class-appropriate videos with natural conversations that I can use with novice learners. Unfortunately, they are very hard to find!
Finally, I ended up making my own, and they have worked well for my students and now there are 41 of these short conversation videos on YouTube. We get lots of requests for more of these videos, so we add new ones regularly.
Features of Spanish Conversation Videos
These video conversations between two or three people are very short. In addition, they use vocabulary related to a theme in typical situations to provide context. Most are intended for novice learners, and incorporate plenty of repetition and visual support for the vocabulary.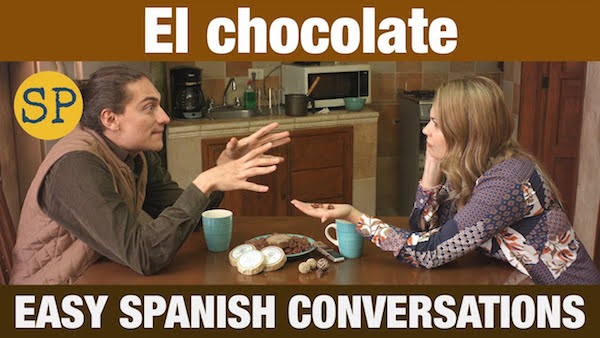 In addition to common vocabulary themes, you'll find videos related to Mexican culture such as Día de los Muertos, el café, los chiles, el chocolate and more.
Check out the complete playlist of over 40 Easy Spanish Conversation Videos on YouTube. 
Comprehension Activities for Spanish Conversation Videos
I'm sharing comprehension activities for a number of the Spanish conversation videos below.
The activities build listening skills with several kinds of exercises. You will find links to the posts with PDFs below. You can also make your own activities for the videos that best fit your needs.
With these listening practice activities, first, learners listen for key vocabulary. For example, they circle the word or picture each time they hear it, or match a picture to the word.
Next, they listen for complete sentences. When they hear the sentence, they mark which speaker said it.
Finally, students answer comprehension questions about the video and related personal questions. When they answer these questions, it gives them a chance to make the language relevant by making connections to their own lives.
Printable Activities for Spanish Conversations
Daily Routines and Reflexive Verbs
Spanish Weather and Clothes Vocabulary Listening Activities
Prices in Spanish Listening Activities
El café – Spanish Video Conversation and Listening Activities
Learn Spanish Health Listening Activities
School Supplies Listening Activities
Setting the Table Listening Activities
Thank You in Spanish Listening Comprehension
Finally, watch for more activities for our easy Spanish conversation videos. Also, be sure to check out our other Spanish videos for kids and video activities.