Spanish clothing vocabulary is important for kids to learn because we all have to get dressed every day, and we talk about clothes in relation to places, weather, seasons and activities. Below you will find some of our favorite Spanish clothing songs.
La Ropa en Español Para Niños
Spanish clothing vocabulary varies a lot from country to country. I have my own active la ropa vocabulary list, but students will hear different words as they listen to Spanish clothing songs, watch videos and read stories. In my classes, we talk about the variation, and to create activities and clothing in Spanish worksheets, I pull from my list.
Check out more of our favorite Spanish songs for kids grouped by theme.
Clothes in Spanish Video
In addition to songs, it's important for kids to hear Spanish clothes vocabulary in natural contexts. We love this short conversation about what to wear.
Spanish Songs about Clothes
Children learn all kinds of vocabulary from songs, and Spanish clothing songs work particularly well. It is fun to act out putting on clothes as you sing! In addition, actions help kids remember Spanish clothes words.
There are many Spanish clothing songs specifically for language learners, and also a couple of traditional songs that add a wonderful cultural component to class. The traditional Spanish clothing songs are not difficult, but I start with short simple songs for Spanish learners. Then, I teach the traditional songs when students are familiar with the clothes vocabulary and can focus on the other language in the songs.
Easy Spanish Songs about Clothes
These songs are canciones para aprender la ropa en espanol, in other words, songs designed for Spanish learners to teach clothes vocabulary, related verbs and other language. They are both easy to sing with a lot of repetition.
Ponte tus zapatos by Super Simple Spanish.
Ponte tus zapatos is a song by Super Simple Español. It is repetitive and limits the vocabulary to a few key items of winter clothing: zapatos, chaqueta, bufanda, gorro. It also teaches the very handy phrase Date prisa.
Ponte la ropa by Piña Madera
Ponte la ropa is a song that Piña Madera of Singalingo uses in her classes. She put this video of the song on YouTube, and as you'll see the tempo is perfect for adding actions. It is an "echo song", so it's super easy to teach kids.
Spanish Clothing Songs by Rockalingua
I have used two Spanish clothing songs by Rockalingua with my classes. Ulala associates Spanish clothes vocabulary with weather and places. After you sing this song in class, take a few minutes to talk about rhyme and find the rhyming words. The illustrated lyric sheet is perfect for this activity,
Listen to this Spanish clothing song with the free illustrated lyric sheet.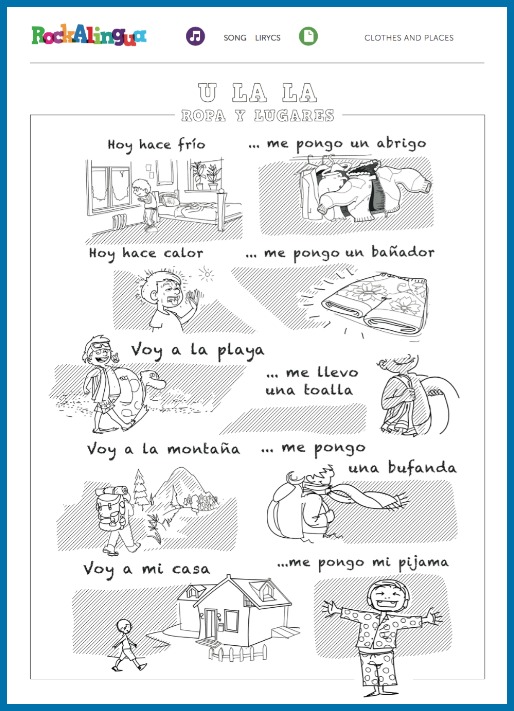 El invierno is a short winter poem that Rockalingua set to music. It's a chant, or rap, so it transfers easily into speaking the same lines. In fact, I have had students sing the lines Me pongo bufanda, guantes y abrigo as they are putting their coats on. Again, there is a free download of an illustrated lyric sheet. Find the printable lyrics and listen to El invierno on Rockalingua.
Canción de la Ropa by Susy Dorn
I think this is a very fun song to sing. It gets in lots of everyday clothing words at a quick tempo. The tune is She'll be Coming 'Round the Mountain. My students like the song a lot! You can hear it below and La ropa is available to buy on iTunes.
Canciones de Ropa en Español
Children throughout the Spanish-speaking world grow up singing these last two songs. In addition to being culturally-rich authentic language resources, they have several features that work well with Spanish learners.
Juguemos en el bosque
Juguemos en el bosque is a song and a game that reinforces Spanish clothing vocabulary. My kids played it in Mexico when they were little, and it is definitely a favorite! It is so well-know that there are several story  book versions you can add to your classes. This is the one I have and the kids love it: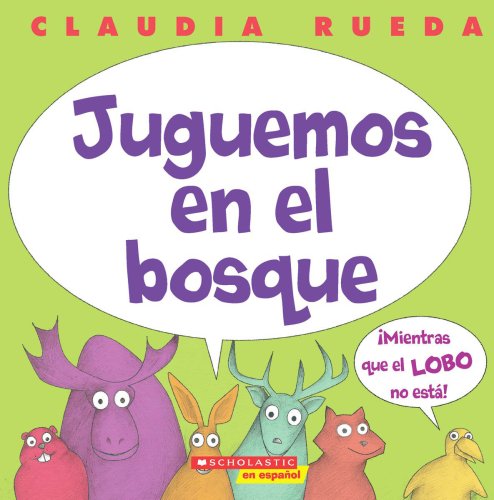 To play the game, the children join hands and walk or skip in a circle. One person, the wolf, remains outside the circle, a short distance away. The children sing "Juguemos en el bosque mientras el lobo no está. Juguemos en el bosque mientras el lobo no está." Then they stop and ask "¿Lobo, estás?"
The wolf, answers by saying that he is putting on a piece of clothing, and acts out putting it on.  For example, the wolf might say "Me estoy poniendo los pantalones"  or "Me estoy poniendo la camiseta".  As you can see, this is a great way to practice the Spanish words for clothes! The wolf can also be brushing his teeth, eating breakfast, or whatever else keeps him busy.
This is one of the best-known Spanish clothing songs and games, so there are many videos online. Here is one so that you can hear the song, but if you do a search for "¿Lobo está?" Or "Jugemos en el bosque" you will find many others.
A mi burro
A mi burro is a cumulative song about a sick burro. The doctor gives him various items, including clothes. Each verse repeats all of the others, and the song is wonderful fun. This is a traditional song, so you can find many versions on YouTube.
My kids grew up on the version by José-Luis Orozco. That version is not on YouTube, but you can find it on Amazon. It's called Mi burrito enfermo from José-Luis Orozco's CD De colores.  It is the most Spanish-learner friendly version I have found, and it has the most clothes vocabulary, so it is the one I teach.
This version by Guia Infantil has a similar tune, but the lyrics are a little different. In José-Luis Orozco's version, instead of repeating "Mi burro enfermo está," the line is "y mueve las patitas." Needless to say, the kids love acting that out!
Clothing in Spanish Worksheets, Cards and Video
You'll want to expand on the language in Spanish clothing songs by doing other activities. Here are a couple that might come in handy.
With this La ropa video kids learn Spanish clothing words and the verb llevar. There is a question-answer format in the second half.
These picture cards have the Spanish clothing vocabulary from the video. They are excellent for activities and games.
Printable Spanish Clothing Vocabulary Cards
This Spanish clothing worksheet uses the vocabulary from the video. Students complete the words with the correct vowels, which is important for correct pronunciation. They also write about what they are wearing.